The Ultimate Compilation of Exchange-Traded Funds (ETFs)
So…
You are looking to dip your toes into investing but you do not wish to expose all your money to only one stock.
Or if you are looking to invest in a certain industry or index but do not wish to get a headache choosing any particular stock ticker to focus on.
In short, you looking for the 'Cai Png' of the investment realm.
Something that satisfies all your needs on a plate.
With that, an Exchange-traded Fund (ETF) will be your answer.
---
The Ultimate Compilation of Exchange-Traded Funds (ETFs)
This article is inspired by a thread on Reddit, and the editorial team added in a list of ETFs which are relevant to Singaporeans too.
If you are looking to invest in ETFs, the good news is that there is an ETF for almost everything you can think of. We managed to compile a list of more than 100 ETFs according to the benchmark or industry that they track.
Top 30 companies in Singapore? Checked.
3D Printing technology? Got it.
Even for casinos and gambling? Yes!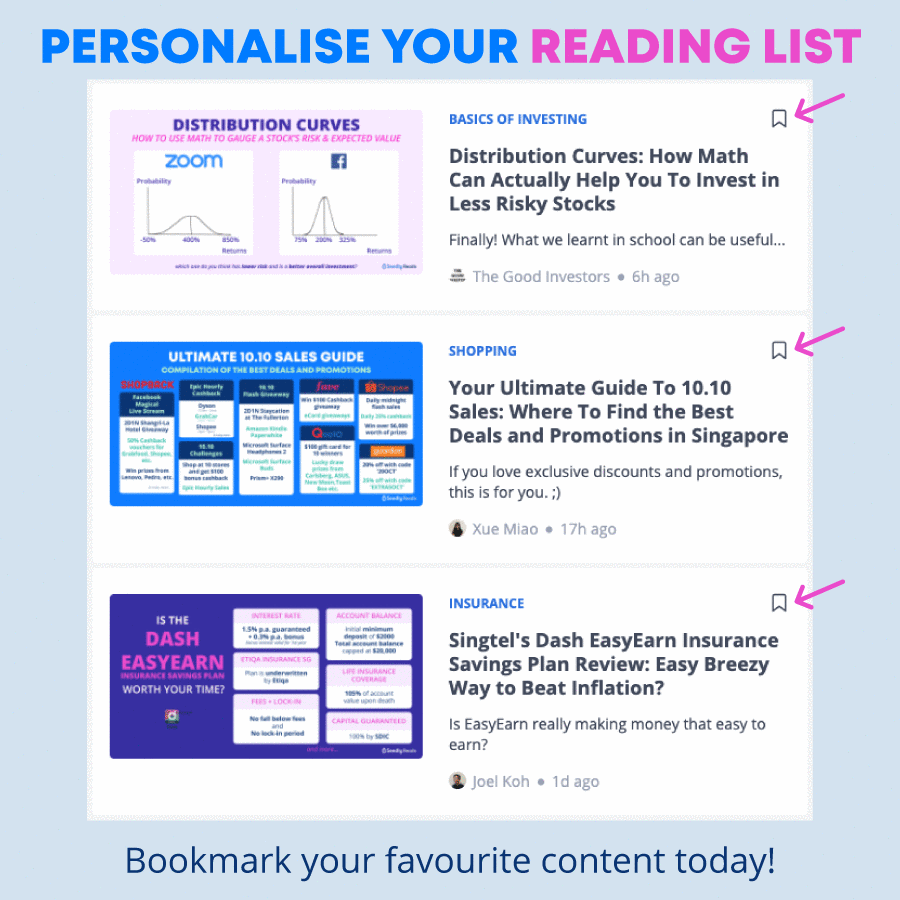 We recommend that you Bookmark this article using the Seedly Bookmark feature so that you can refer to it whenever you need it.
Here we go, ultimate compilation of all the Exchange-Traded Funds (ETFs) to cater to your every investment need.
Benchmark/ Industry
Name of ETF
Ticker
Listed on
Benchmark
What does the ETF track?
Straits Times Index
(STI)
STI ETF
ES3
SGX
Top 30 companies in Singapore
NikkoAM STI ETF
G3B
SGX
ABF Singapore Bond Index
ABF SG BOND ETF
A35
SGX
ABF Singapore Bond
SGD Money Market ETF
Phillip SGD Money Market ETF
MMS/MMT
SGX
FTSE SGD 3-month SOR Index
Morningstar Singapore Yield Focus Index
Phillip SING Income ETF
OVQ
SGX
Morningstar Singapore Yield Focus Index
FTSE SGD three-month Singapore dollar swap offered rate (SOR) Index
Phillip SGD Money Market ETF
MMS
SGX
Measures the performance of one-, three- and six-months
Swap Offered Rate (SOR)
Hang Seng Index
(HSI)
Tracker Fund of Hong Kong
2800
SEHK
50 Biggest companies by market cap, trading on SEHK
Hang Seng HK 35 Index
Amundi Hang Seng HK 35 Index ETF
3012
SEHK
35 largest companies listed in Hong Kong market with majority of their revenue from outside mainland China
FTSE China A50 Index
iShares FTSE A50 China Index ETF
2823
SEHK
50 largest A-share companies listed on the Shanghai Stock Exchange and Shenzhen Stock Exchange.
Hang Seng China Enterprises Index
Hang Seng China Enterprises Index ETF
2828
SEHK
Mainland China incorporated companies that issue H-shares, a class of ordinary shares that are traded outside mainland China.
FTSE Chinese Government Bond Index
ICBC CSOP FTSE Chinese Government Bond Index ETF
CYC/ CYB
SGX
Fixed-rate government bonds issued in mainland China
REITs
Lion-Phillip S-REIT ETF
CLR
SGX
S-REIT
NikkoAM-Straits Trading Asia Ex-Japan REIT ETF
CFA
SGX
FTSE EPRA/NAREIT Asia ex-Japan Net Total Return REIT Index
Phillip SGX APAC Dividend leaders REIT ETF
BYI/BYJ
SGX
30 highest total dividend-paying REITs in the Asia Pacific ex-Japan region
NASDAQ 100
Invesco QQQ
QQQ
NASDAQ
100 of the largest international and US companies in the technology, healthcare, industrial, consumer discretionary, and telecommunications sectors.
S&P 500 Index
Vanguard 500 Index Fund ETF
VOO
NYSE
500 of the largest US companies
SPDR S&P 500 ETF Trust
SPY
NYSE
iShares Core S&P 500 ETF
IVV
NYSE
Dow Jones Industrial Average
(DJIA)
SPDR Dow Jones Industrial Average ETF
DIA
NYSE
30 of the largest US companies
Russell 1000 Index
iShares Russell 1000 Index ETF
IWB
NYSE
Top 1,000 companies by market capitalisation in the US
iShares Russell 1000 Value ETF
IWD
NYSE
A selection of large- and midcap value stocks, selected from the top 1,000 market cap US stocks.
Vanguard Russell 1000 Growth ETF
VONG
NASDAQ
600+ growth stocks selected from the Russell 1000 Index
Russell 2000 Index
iShares Russell 2000 ETF
IWM
NYSE
Invests in stocks of 2,000 small-cap US companies stocks
Vanguard Russell 2000 ETF
VTWO
NASDAQ
Russell 3000 Index
Vanguard Russell 3000 ETF
VTHR
NASDAQ
3,000 stocks representative of 98% of the US market
FTSE Asia ex Japan Index
Vanguard FTSE Asia ex Japan Index ETF
9805
SEHK
700 plus companies in 11 developed and emerging markets in Asia (excluding Japan, Australia and New Zealand).
FTSE Global All Cap ex US Index
Vanguard Total International Stock ETF
VXUS
NASDAQ
Broad exposure across developed and emerging non-US equity markets. Holdings include Alibaba Group Holding, Tencent Holdings, Nestle and Samsung etc.
MSCI Emerging Markets Index
iShares MSCI Emerging Markets ETF
EEM
NYSE
800+ stocks of large and mid-sized companies in emerging market.
Includes companies such as Alibaba, Tencent, JD.com etc.
Avantis Emerging Markets Equity ETF
AVEM
NYSE
Innovator MSCI Emerging Markets PB ETF
EJUL
NYSE
MSCI EAFE Index
iShares MSCI EAFE ETF
EFA
NYSE
Large and mid cap developed market equities, excluding companies in the US and Canada.
Includes companies like Toyota, Nestle, LVMH and AIA Group


Sector Focused ETFs

Fintech
ARK Fintech Innovation ETF
ARKF
NYSE
Companies that focus on Fintech innovation, including platforms that work on Transaction Innovations, Blockchain Technology, Risk Transformation, Frictionless Funding Platforms, Customer Facing Platforms and New intermediaries
DNA Technologies
ARK Genomic Revolution ETF
ARKG
NYSE
Companies that focus on benefiting, extending and enhancing quality of human or other life, including companies that produce or enable CRISPR, Targeted Therapeutics, Bioinformatics, Molecular Diagnostics, Stem Cells, Agricultural Biology
Disruptive Companies
ARK Innovation ETF
ARKK
NYSE
Companies within ARKK include those that benefit from the development of technologies in the areas of DNA Technologies, Industrial Innovation, Next Generation Internet and Fintech Innovation.
iShares Hang Seng Tech ETF
3067
9067
HKG
30 Hong Kong listed companies in the technology sector or with tech-enabled businesses.
Holdings include Tencent, Alibaba, Xiaomi, Meituan Dianping, Lenovo etc.
Internet/ Technology
ARK Next Generation Internet ETF
ARKW
NYSE
Companies that develop, produce or enable Cloud Computing, Cyber Security, E-Commerce, Big Data, AI, Mobile Technology, Social Platforms, Blockchain and P2P
Technology Select Sector SPDR Fund
XLK
NYSE
The Index seeks to provide an effective representation of the technology and telecom sector of the S&P 500 Index.
Top holdings includes Apple, Microsoft, Visa, NVIDIA etc.
3D Printing
3D Printing ETF
PRNT
BATS
Companies involved in the development and production of 3D printing-related hardware or software, and of materials and equipment related to 3D printing.
Renewable Energy
iShare Global Clean Energy ETF
ICLN
NASDAQ
30 of the most liquid companies in the clean energy industry.
Invesco Solar ETF
TAN
NYSE
Index of solar energy companies.
First Trust Global Wind Energy ETF
FAN
NYSE
Index of companies in the wind energy industry.
Energy Slect Sector SPDR Fund
XLE
NYSE
US Energy companies in the S&P 500.
Consumer Discretionary
Consumer Discretionary Select Sector SPDR Fund
XLY
NYSE
Index of consumer-discretionary stocks of companies in the S&P 500.
Financial
Financial Select Sector SPDR Fund
XLF
NYSE
Index of S&P 500 financial stocks.
Vanguard Financials ETF
VFH
NYSE
Financial stocks of the top 98% of U.S
iShares US Financials ETF
IYG
NYSE
US stocks of companies in the financial service sector.
Utilities
Utilities Select Sector SPDR Fund
XLU
NYSE
US utilities stocks from the S&P 500
Materials
Materials Select Sector SPDR Fund
XLB
NYSE
US basic materials companies in the materials components of the S&P 500.
Cloud Computing
WisdomTree Cloud Computing ETF
WCLD
NASDAQ
US companies focusing on cloud software and services.
Companies include Zoom, salesforce, Zendesk etc.
First Trust Cloud Computing ETF
SKYY
NASDAQ
Tracks the ISE Cloud ComputingTM Index.
Global X Cloud Computing ETF
CLOU
NASDAQ
Tracks the Indxx Global Cloud Computing Index
Wedbush ETFMG Global Cloud Technology ETF
IVES
NYSE
Tracks the Dan Ives Global Cloud Technology Prime Index .
Aerospace and Defence
SPDR S&P Aerospace and Defence ETF
XAR
NYSE
Tracks the S&P Aerospace and Defence Select Industry Index.
Holdings include Hexcel Corp, Howmet Aerospace, Maxar Technologies Inc etc.
iShares US Aerospace and Defence
ITA
BATS
Tracks the investment results of the Dow Jones US Select Aerospace and Defence Index composed of US equities in the aerospace and defence sector.
Holdings include Boeing, Lockheed Martin Corp, Raytheon Technologies Corp etc.
Invesco Aerospace and Defence ETF
PPA
NYSE
Tracks the investment results of the SPADE® Defence Index.
Direxion Daily Aerospace and Defence Bull 3X Shares
DFEN
NYSE
Tracks 300% of the daily performance of the Dow Jones US Select Aerospace and Defence Index.
Real Estate
Vanguard real Estate Index Fund ETF
VNQ
NYSE
Tracks the MSCI US INvestable Market Real Estate 25/50 Index.
Real Estate Select Sector SPDR Fund
XLRE
NYSE
Tracks the Real Estate Select Sector Index. It is a representation of the real estate sector of S&P 500 Index.
Fidelity MSCI Real Estate Index ETF
FREL
NYSE
Tracks the performance of the MSCI USA IMI Real Estate Index.
Schwab US REIT ETF
SCHH
NYSE
Tracks the total return of the Dow Jones Equity All REIT Capped Index. The index composed of US real estate investment trusts classified as equities.
iShares US Real Estate ETF
IYR
NYSE
Tracks the Dow Jones US Real Estate Index.
Invesco Active US Real Estate Fund
PSR
NYSE
Tracks the US real estate industry and included within the FTSE NAREIT All Equity REITs Index.
JPMorgan BetaBuilders MSCI US REIT ETF
BBRE
BATS
Tracks the MSCI US REIT Index.
Transportation
First trust Nasdaq Transportation ETF
FTXR
NASDAQ
30 most liquid eligible transportation securities from the NASDAQ US Benchmark Index
SPDR S&P Transportation ETF
XTN
NYSE
Tracks the S&P Transportation Select Industry Index.
iShares Transportation Average ETF
IYT
BATS
Tracks an index composed of US equities in the transportation sector.
SPDR S&P Kensho Smart Mobility ETF
HAIL
NYSE
Tracks the S&P Kensho Smart Transportation Index.
US Global Jets ETF
JETS
NYSE
Tracks the US Global Jets Index. The Index is composed of stocks of US and international passenger airlines, aircraft manufacturers, airports and companies servicing the airport terminals.
Consumer Staples
Fidelity MSCI Consumer Staples Index ETF
FSTA
NYSE
Tracks the MSCI USA IMI Consumer Staples Index
Vanguard Consumer Staples Index Fund ETF
VDC
NYSE
Tracks MSCI US Investable Market Index/Consumer Staples 25/50. The index is made up of stocks of large, mid-size, and small US companies within the consumer staples industry.
iShares Evolved US Consumer Staples ETF
IECS
BATS
Provides access to US companies with consumer staples exposure.
Holdings include companies such as Coca-cola, Pepsico Inc, Procter & Gamble etc.
Media and Entertainment
iShares Evolved US Media and Entertainment ETF
IEME
BATS
Provides access to US companies with media and entertainment exposure.
Invesco Dynamic Media ETF
PBS
NYSE
Tracks the Dynamic Media Intellidex Index.
Holdings include Match Group, Spotify, Netflix etc.
Invesco Dynamic Leisure and Entertainment ETF
PEJ
NYSE
Tracks the Dynamic Media Intellidex Index.
Robotics and Artificial Intelligence
ARK Autonomous Technology & Robotics ETF
ARKQ
BATS
The ETF seeks to focus and benefit from the development of disruptive innovations such as Robotics, Alternative Energy Sources, Energy Storage, Autonomous Vehicles, Development of Infrastructure, 3D Printing, Space Exploration, and Innovative Materials.
ROBO Global Artificial Intelligence ETF
THNQ
NYSE
Tracks the ROBO Global Artificial Intelligence index that tracks 80 stocks across 12 sub-sectors in 14 countries. The Index is built to minimise risk by limiting reliance on the largest-cap players, and it is carefully structured to capture the growth of rapidly developing robotics and automation companies around the globe.
ROBO Global Robotics and Automation Index
ROBO
NYSE
Tracks the ROBO Global Index, focusing on robotics, automation and AI revolution for investors.
SPDR FactSet Innovation Technology ETF
XITK
NYSE
Tracks the FactSet Innovation Technology Index
Goldman Sachs Data-Driven World ETF
GDAT
NYSE
Tracks the performance of the Goldman Sachs Data-Driven World Index.
Semiconductors
iShares PHLX Semiconductor ETF
SOXX
NASDAQ
Tracks the PHLX SOX Semiconductor Sector Index
First Trust NASDAQ-100 Tech Sector Index ETF
QTEC
NASDAQ
Tracks the NASDAQ-100 Technology Index
Defiance Quantum ETF
QTUM
NYSE
The underlying index, BlueStar Quantum Computing and Machine Learning Index (BQTUM), tracks approximately 82 globally-listed stocks across all market cap.
VanEck Vectors Semiconductor ETF
SMH
NASDAQ
Tracks the MVIS US Listed Semiconductor 25 Index (MVSMHTR), which is intended to track the overall performance of companies involved in semiconductor production and equipment.
First Trust Nasdaq Semiconductor ETF
FTXL
NASDAQ
Tracks the Nasdaq US Smart Semiconductor Index.
5G Technology
Defiance Next Gen Connectivity ETF
FIVG
NYSE
Tracks the BlueStar 5G Communications Index.
First Trust Indxx NextG ETF
NXTG
NASDAQ
Tracks the Indxx 5G & NextG Thematic Index.
Holdings include Xiaomi, Advanced Micro Devices, Infosys, NVIDIA etc.
Esoterica NextG Economy ETF
WUGI
BATS
Securities of companies which will benefit from the fifth generation digital cellular network technology ("5G") enabled digital economy, including companies involved in the production of 5G technology and companies that may benefit from the use of 5G.
Self-Driving Electric Vehicles
iShares Self-Driving EV and Tech ETF
IDRV
NYSE
Tracks the NYSE FactSet Global Autonomous Driving and Electric Vehicle Index.
Holdings include Tesla Inc., Apple Inc, Toyota Motor Corp. etc.
Global X Autonomous & Electric Vehicles ETF
DRIV
NASDA
Tracks the Solactive Autonomous & Electric Vehicles Index
SmartETFs Smart Transportation & technology ETF
MOTO
NYSE
Invest in approximately 35 companies that will benefit from the revolution in transportation.
Esports
The Roundhill BITKRAFT Esports & Digital Entertainment ETF
NERD
NYSE
Tracks the the Roundhill BITKRAFT Esports Index.
Holdings include Activision Blizzard Inc, Tencent, Corsair Gaming, Electronic Arts, SEA etc.
Global X Video Games & Esports ETF
HERO
NASDAQ
Tracks the Solactive Video Games and Esports Index.
VanEck Vectors Video Gaming and eSports ETF
ESPO
NASDAQ
Tracks the MVIS® Global Video Gaming and eSports Index.
Wedbush ETFMG Video Game Tech ETF
GAMR
NYSE
Tracks the performance of the EEFund Video Game Tech Index.
Global X Social media ETF
SOCL
NASDAQ
Tracks the Solactive Social Media Total Return Index.
Holdings include Twitter, Facebook, Naver etc.
Casino and Gambling
Roundhill Sports Betting & iGaming ETF
BETZ
NYSE
Tracks the Roundhill Sports Betting and iGaming Index.
Holdings include William Hill, Pointsbet, Draftkings etc.
VanEck Vectors Gaming ETF
BJK
NASDAQ
Tracks the MVIS® Global Gaming Index, which tracks the overall performance of companies involved in casinos and casino hotels, sports betting, lottery services, gaming services, gaming technology and gaming equipment.
Online Retail
Amplify Online Retail ETF
IBUY
NASDAQ
Tracks the EQM Online Retail Index which is made up of publicly-traded companies with at least 70% of revenue from online and virtual sales.
Global X E-commerce ETF
EBIZ
NASDAQ
Tracks the Solactive E-commerce Index.
ProShares Online Retail ETF
ONLN
NYSE
Tracks an in-house index that measures the performance of online retailers, e-commerce retailer or internet and direct marketing retailer.
ProShares Long Online/Short Stores ETF
CLIX
NYSE
Tracks the ProShares Long Online/Short Stores Index consisting of long positions in the ProShares Online Retail Index and short positions in the Solactive-ProShares Bricks and Mortar Retail Store Index.
Goldman Sachs New Age Consumer ETF
GBUY
NYSE
Tracks the Goldman Sachs New Age Consumer Index
Franklin Disruptive Commerce ETF
BUYZ
BATS
Invest in innovative companies benefitting from transformation in the e-commerce space.
Health Care
Health Care Select Sector SPDR Fund
XLV
NYSE
Tracks the Health Care Select Sector Index which consist of companies in the industries of pharmaceuticals, health care equipment & supplies, health care providers & services, biotechnology, life sciences tools & services, and health care technology.
Fidelity MSCI Health Care Index ETF
FHLC
NYSE
Tracks the MSCI USA IMI Health Care Index.
Vanguard Health Care Index Fund ETF
VHT
NYSE
Track the MSCI US Investable Market Index/Health Care 25/50, an index made up of stocks of large, mid-size, and small U.S. companies within the health care sector.
iShares US Healthcare ETF
IYH
NYSE
Tracks the Dow Jones US Healthcare Sector Index.
Medical Devices
iShares US Medical Devices ETF
IHI
NYSE
Tracks the Dow Jones U.S. Select Medical Equipment Index
iShares Evolved US Healthcare Staples ETF
IEHS
BATS
Tracks US Healthcare companies defined by the iShares Evolved Sector classification scheme.
SPDR S&P health Care Equipment ETF
XHE
NYSE
Tracks the S&P Health Care Equipment Select Industry Index
Utilities
iShares US Utilities ETF
IDU
NYSE
Tracks the Dow Jones US Utilities Sector Index.
Vanguard Utilities ETF
VPU
NYSE
Tracks the MSCI US Investable Market utilities Index.
Fidelity MSCI Utilities Index ETF
FUTY
NYSE
Tracks the MSCI USA IMI Utilities Index.
Invesco S&P 500 Equal Weight Utilities ETF
RYU
NYSE
Tracks the S&P 500 Equal Weighted Telecommunication Services and Utilities Sector.
Cyber Security
ETFMG Prime Cyber Security ETF
HACK
NYSE
Tracks a tiered, equal-weighted index that targets companies actively involved in providing cyber security technology and services.
First Trust NASDAW CEA Cybersecurity ETF
CIBR
NASDAQ
Tracks a liquidity-weighted index that targets companies engaged in the cybersecurity segment of the technology and industrials sector
Global X Cybersecurity ETF
BUG
NASDAQ
Tracks the Indxx Cybersecurity Index. The fund invests at least 80% of its total assets in the securities of the underlying index and in American Depositary Receipts ("ADRs") and Global Depositary Receipts ("GDRs") based on the securities in the underlying index.
iShares Cybersecurity and Tech ETF
IHAK
NYSE
Tracks the NYSE FactSet Global Cyber Security Index
SPDR S&P Kensho Future Security ETF
FITE
NASDAQ
Tracks the S&P kensho Future Security Index.
Oil and Energy
iShares US Energy ETF
IYE
NYSE
Tracks the Dow Jones US Oil and Gas Index.
Fidelity MSCI Energy Index ETF
FENY
NYSE
Tracks the MSCI USA IMI Energy Index.
Mobile Payments
ETFMG Prime Mobile Payments ETF
IPAY
NYSE
Tracks the Mobile Payments Index
---
Assembling Your ETF Portfolio Like a Pro
We came across a suggestion online that suggests how one can look to allocate his ETF portfolio.
Disclaimer: The information provided by Seedly serves as an educational piece and is not intended to be personalised investment advice. ​Readers should always do their own due diligence and consider their financial goals before investing in any stock.
20% of Investment –
Broad market US fund such as QQQ, SPY, VOO etc.
or if you are a fan of Singapore's growth, your usual STI ETF.
20% of the investment – Broad exposure internationally, such as VXUS.
20% of the investment – Small to Mid-cap ETFs
The last 40% can be split into a few sectors which you are keen and familiar in.
Of course, we can do better by doing our due diligence.
Follow the ETF Topic Page on Seedly to stay updated on the latest discussion on ETF.
Here are some articles which you can bookmark and read up on:
About Ming Feng
A stint in
Bloomberg
gifted me with a beer belly, which only grew larger when I moved on to become a Professional Trader. Now I turn caffeine into digestible finance-related content.
You can contribute your thoughts like Ming Feng
here.