Huat ah! Congratulations on landing your first job.
Embarking on your first job can be pretty challenging. Your relative education institute may have equipped you with a whole lot of knowledge (many times too much), but when it comes to the real world, there might be some limitations to what your textbook knowledge can do.
With individual's EQ out of our reach, here's a guide on creating that first impression, and personal finance as a first-jobber.
Building Your Career Wardrobe (Cheap!)
Affordable formal office wear is probably one of the main challenges most fresh graduates face.
Having been mostly in a casual outfit for the past 20 odd years, the transition to daily formal office outfit can be daunting to your wallet. With first impression and appropriate work outfit being a priority, here are some places to get them CHEAP!
Affordable Formal Shirt and Pants In Singapore
Nothing fits better than made to measure shirt and pants, tailored to an individual's body physique.
Not only does it look good, it feels good too.
Here are some places where we can get them at an affordable rate, according to The Smarter Way Community. These are real user input recommendations by our community members.
Ai Lee Tailor
Located at Seah Im Food Court, Ai Lee tailors affordable formal shirts and pants.
Depending on the choice of material, formal shirt and pants can be as affordable as below S$50.
GrandCity Shirt Manufacturer
Recommended by Community Member Huanmin, GrandCity Shirt Tailor is located at Frontier Building.
Wide selection of fabrics, with reasonable pricing at $50-$60 for 3 ply cotton, $35-$50 for polyester. Do take note that lead times can be long at about 3-4weeks.
Red Dot Bespoke 
Community Member Benjamin Loh recommends Red Dot Bespoke having had a good experience with them.
Serangoon Lian Hin Tailor
Located at 955 Upper Serangoon Road
Recommended by Vickers Ng. 3 pieces of pants for $100. Tailor work is done in-house instead of outsourcing it.
If you are alright with getting your formal wear off the shelf, here are some places to go to:
G2000 outlet at IMM
Damien Png recommends this as a venue to get shirts at $29, pants at $39 and jackets at only $99. Do look out for sales too.
Mango
For ladies, if the office is not in a too formal setting, Choy Foong from the community suggests Mango.
City Plaza
Definitely, a good spot to check out for ladies looking for nice office dress as recommended by Wen Yi.
Work Appropriate Bag
Work appropriate bag can easily be found online if one is not a fan of expensive brands.
Simply head over to Lazada to search for Business bags and you will end up with a long list of nice looking bags, with lots of them at the price of less than $100.
Do remember to use an appropriate cashback credit card or Shopback to get cashback on your online shopping.
Ensuring That You Stay Healthy For The Job
Working life can mean a lot of things when transiting from life as a student.
From changes in sleep timings, lack of sleeping hours, to the lesser time to exercise, health becomes an important aspect to take care of.
This is where affordable health supplements can be of a help, especially when healthy food around your office may be expensive or less readily available.
Now that almost everything can be bought online, one can easily purchase their health supplements from iHerb, Watsons or guardian online. We are advocating online shopping to help save more from cash backs and possible promo code which one can scrape the internet for.
Opening A Working Adult Bank Account
Now that you are going to be receiving proper pay cheques, it is about time to get rid of those POSB Kids account and grow up. Simply because of the difference in interest rates.
Getting the right savings account that best caters to your spending habits and salary can generate extra interest for you every month.
Here's a comparison of some of the best savings account in 2018 for your reference:
Read more: Cheat Sheet: Best Savings Accounts For Working Adults 2018
The HR team will usually ask for your bank account on your first day at work, it is good to have it ready by then, to reduce any trouble to change it after.
The Right First-Jobber Personal Finance Mindset
Most commonly asked questions when embarking on your career include:
Should I invest, clear my debt or get my insurance coverage first?
How much of my salary should I be saving?
What insurance should I be getting?
How to kick start my investing journey?
Invest, Insurance, Debt, Which One First?
Should one view personal finance as a football team just like how we view it, where: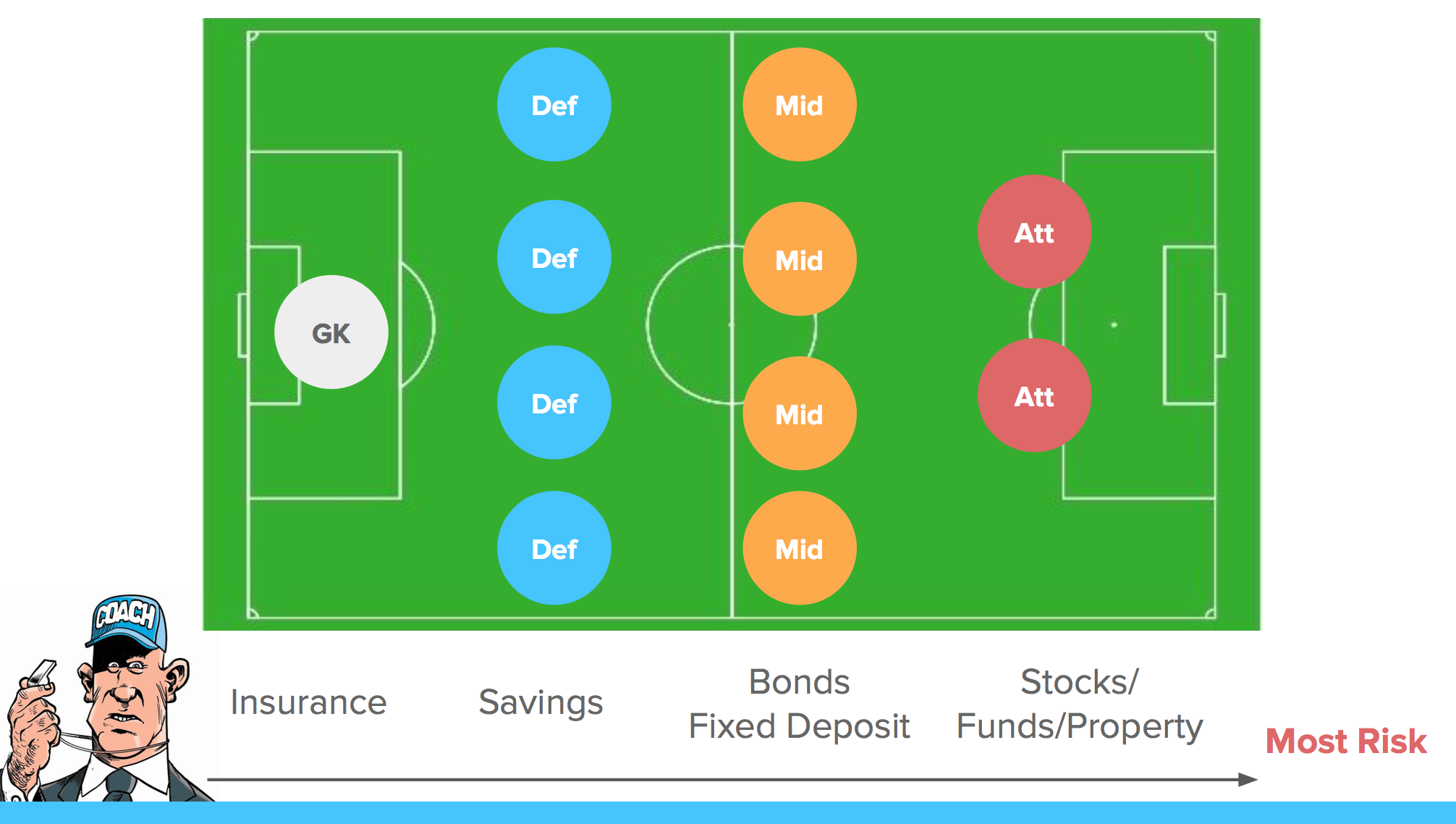 Insurance is the Goalkeeper
Savings, the defenders
Bonds and fixed deposits our midfielders
Stocks, funds, and property investing our strikers
In that order, it will be best we:
Get our Goalkeeper first: Getting ourselves covered with the necessary insurance policies.
Find the fastest way to get our defenders up. This can be done with a plan to clear our debt as fast as possible.
Once we clear our debt, the process of getting our savings up will be accelerated.
After which, the investing portion, which are out attackers will then kick in.
Insurance
Upon graduation and landing your first job, it is common to be receiving calls from financial advisors with regards to getting yourself covered.
While getting yourself covered is of the highest priority, it is important to know the correct type of policy that a fresh graduate should be getting.
Here are the key insurances that one can consider getting:
Read also: What Are The Key Insurance Policies You Should Get In Singapore?
Budgeting
How much of my salary should I be saving?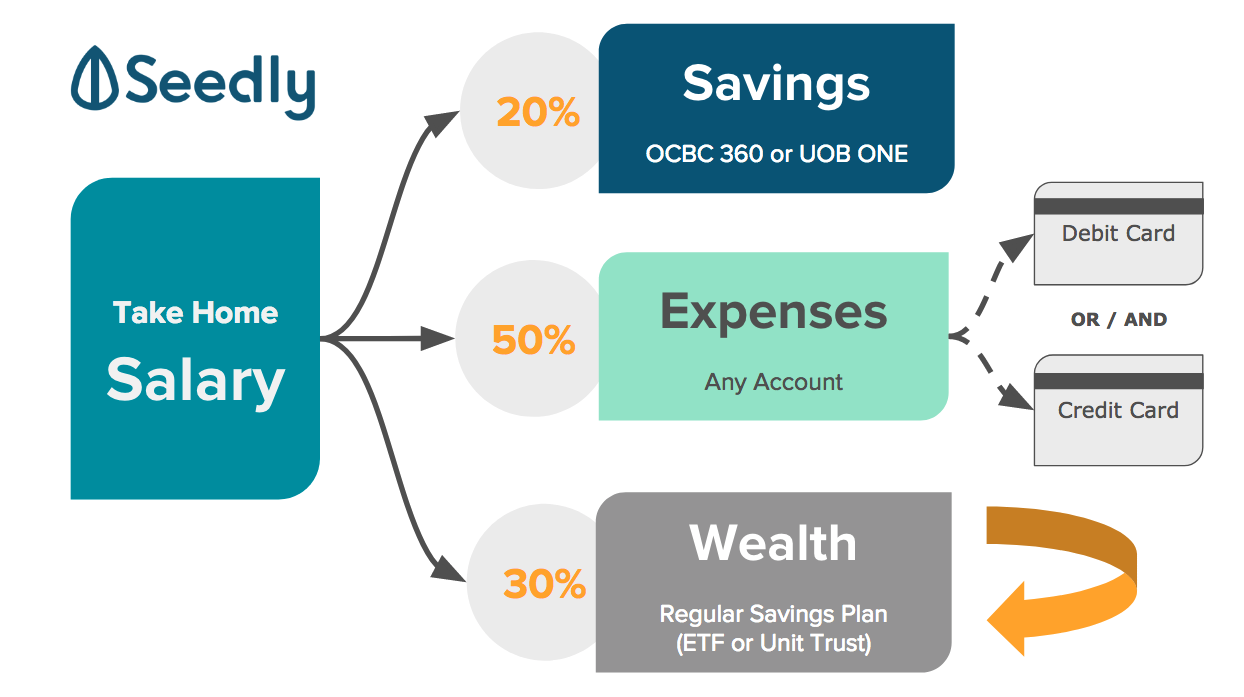 Following the rule: 20% Savings, 50% of your salary into expenses, 30% into wealth.
Here's how it works:
On your payday, you get paid a salary credited into your Savings Account
One day after your payday, you set up an automated transfer of 50% to your Expenses Account
In the middle of the month, a preset amount (around 30%) will be deducted with an automated Regular Savings Plan (RSP) for your Wealth Account to buy the STI ETF
Read more: How To Allocate Your Monthly Salary?
Investing
Once you are ready to embark on your investing journey, here are some steps to take.
Now, assuming you have opened your CDP and stocks trading account, based on your monthly salary, here are some possible investment products to kick off your investing journey.
Read also: Step-by-step Guide: Opening A CDP and Stock trading account in Singapore
Read also: Working Adults: Investment Products That Requires Less Than S$1,000 To Invest
About Ming Feng
A stint in
Bloomberg
gifted me with a beer belly, which only grew larger when I moved on to become a Professional Trader. Now I turn caffeine into digestible finance-related content.
You can contribute your thoughts like Ming Feng
here.