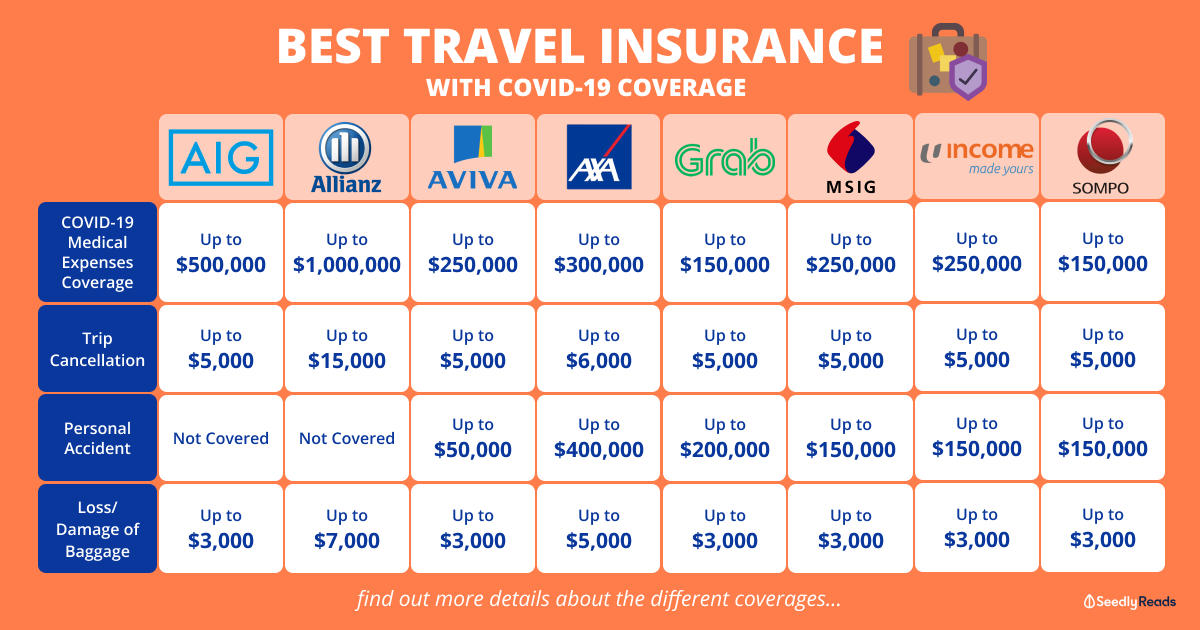 Best Travel Insurance With COVID-19 Medical Coverage: What To Choose For My Vaccinated Travel Lane (VTL) Getaway?
Remember 2 years ago, you made plans with your family and/or friends to travel to *insert country here*?
Well, COVID-19 happened and you're stuck in your boring house, looking at travel brochures and tourist videos on YouTube…
But wait no longer! The government announced Vaccinated Travel Lanes (VTLs) and you can gather up your friends and/or family!
Let's not get too excited just yet, after all, travelling during a pandemic does carry its risks.
Especially with VTLs opening up for more and more countries, travel insurance becomes more of a necessity. Besides protecting yourself from travel-related emergencies, it's important to keep yourself covered for COVID-19 as well!
Disclaimer: The Information provided by Seedly does not constitute an offer or solicitation to buy or sell any insurance product(s). It does not take into account the specific objectives or particular needs of any person. We strongly advise you to seek advice from a licensed insurance professional before purchasing any insurance products and/or services.
---
TL;DR: Travel Insurance Policies With COVID-19 Medical Coverage
| Travel Insurance | COVID-19 Medical Expenses Coverage | Trip Cancellation | Personal Accident | Loss/Damage of Baggage |
| --- | --- | --- | --- | --- |
| AIG Travel Guard® Direct | Up to S$50,000 | Up to S$5,000 | - | Up to S$3,000 |
| Allianz Travel Insurance | Up to S$1,000,000 | Up to S$15,000 | - | Up to S$7,000 |
| Aviva Travel Lite | Up to S$250,000 | Up to S$5,000 | Up to S$50,000 | Up to S$3,000 |
| AXA SmartTraveller | Up to S$300,000 | Up to S$6,000 | Up to S$400,000 | Up to S$5,000 |
| GrabInsure Travel Cover | Up to S$150,000 | Up to S$5,000 | Up to S$200,000 | Up to S$3,000 |
| MSIG TravelEasy® | Up to S$250,000 | Up to S$5,000 | Up to S$150,000 | Up to S$3,000 |
| NTUC Income Travel Insurance | Up to S$250,000 | Up to S$5,000 | Up to S$150,000 | Up to S$3,000 |
| Sompo Travel (Covid-19) | Up to S$150,000 | Up to S$5,000 | Up to S$150,000 | Up to S$3,000 |
Couple of things to note:
The policies listed are for adults under 70 years old going on 7-day single trips
We are using Australia as the country travellers are going to as an example
The coverages are listed from the most basic plans of each company, you can opt for more coverage at a higher cost
Here we have compiled a handy list of different travel insurance policies that are offered to you which includes COVID-19 medical coverage.
We have also included different coverages that travellers like you would prioritise when choosing the best travel insurance for you and your family.
---
What Coverage Should I Look Out for in COVID-19 Travel?
Before we take a closer look at the various coverages, take note that different countries have different cultures and regulations. That's why it is important to keep them and these other considerations in mind when selecting your travel insurance.
For example, to travel to South Korea via VTLs, you need to have travel insurance with a minimum of 30 million won (roughly S$34,000-S$35,000) worth of medical coverage.
So be sure to do your homework before getting your travel insurance! 😉
COVID-19 Medical Expenses Coverage
With the COVID-19 pandemic still running rampant everywhere, one of the biggest considerations you might have on your mind would be whether or not you are covered for COVID-19 medical expenses while overseas.
However, not all travel insurance providers include coverage for COVID-19 in their policies.
But fret not! Because the policies we have listed above all include COVID-19 medical coverages, so you don't have to worry about sudden medical expenses while you travel overseas during the pandemic.
Trip Cancellation Coverage
Plans change, maybe new changes at work or issues have happened in the family and you find yourself unable to go on the trip you planned.
"What about the air tickets which I already paid for?"
This is where trip cancellation coverage comes in, you will be given a sum of money in case something happens and you have to cancel your trip!
Personal Accident Coverage
You're out to have fun while you're overseas, so party away!
But we never know what might happen while you're out enjoying yourself, you won't know if you will be caught in an accident or get injured.
This doesn't mean you stop enjoying overseas trips. Of course, you still have to watch out for yourself out there, but when things happen (touch wood), at least travel insurance will keep you covered for a bit.
Loss/Damage of Baggage Coverage
It's just so inconvenient when important things get lost but it's not like we can constantly keep an eye out on all our belongings.
You wouldn't want to drag your heavy suitcase with you on the flight, now would you?
But what happens when your baggage gets lost in transit? You'll definitely need to get replacements quickly, can you imagine going around in your dirty set of clothes?
Travel insurance will help minimise some of the inconveniences by giving you a sum of money to help replace the things which you have lost!
---
Frequently Asked Questions (FAQs) Regarding Travel Insurance With COVID-19 Benefits
---
Need Some Extra Help With Choosing Travel Insurance Policies?
"OMG, there are so many options to choose from! How do I know which one is good?"
We're here to help, simply head on over to Seedly Reviews! We have a list of travel insurance policies from various companies over there, with real users from our community posting their unbiased reviews.
Furthermore, the list is updated as we move along, with new insurance policies added along the way and details which are updated regularly.
With real, unbiased reviews from our community, you no longer have to worry about picking the wrong policy as we address issues travel companies don't normally do such as ease of making claims or customer service.
Why wait? Head on over and find out the best travel insurance policy for you now!
Other Related Articles
About Jin Hua Yeo
Fantasy writer writing about essential tips in real life. Feels content about starting a career in content marketing.
You can contribute your thoughts like Jin Hua Yeo
here.