Credit Suisse: What Happened to One of the World's Top Banks?
If you've been keeping up with the news, you would have come across plenty of headlines such as "Central banks try to calm markets after UBS deal to buy Credit Suisse" or "Swiss regulators rush to assuage fears over Credit Suisse".
There seems to be a lot of fear associated with Credit Suisse…
What exactly happened to one of the world's biggest financial institutions? And why does it even matter to you?
Let's find out!
---
TL;DR: Credit Suisse – What Happened to One of the World's Top Banks?
Credit Suisse has been "rescued" by UBS through a US$3.23 Billion acquisition deal backed by the Swiss Government.
The bank has been struggling with a series of scandals that led to the gradual erosion of trust.
The final blow that sealed the deal came when its main shareholder couldn't provide more capital to help with the bank's liquidity problem.
Jump to:
---
What is Credit Suisse?
For the uninitiated, Credit Suisse is a 167-year-old global investment bank and financial services firm founded and based in Switzerland. It has a private banking & wealth management division, alongside an investment banking arm.
But what is private banking? To put it simply, it is where the ultra-rich put their money since the requirement to open a private bank account is to deposit millions.
In 2021, the bank had assets under management (AuM) of over S$2.31 trillion, making it one of the biggest financial institutions in the world!
You can already see how big this bank is on a global scale. For context, our local bank, DBS had only S$291 billion under its wealth management arm in 2021.
In fact, it's such a behemoth that it is recognised as a "global systemically important bank" by the international Financial Stability Board, alongside 30 other big names such as JPMorgan Chase, Bank of America, and the Bank of China. In other words, the bank is too big to fail.
During the 2008 Global Financial Crisis, the firm was also one of the least affected banks.
What Happened to Credit Suisse?
Now that we've established just how important this bank is to the world, why is there fear around Credit Suisse?
The bank has been struggling for years now, largely due to a series of scandals that led to an erosion of trust, the single most important thing when you're a bank.
As a result, its share price has been plummeting, a sign of a loss in confidence in the bank.
With quite an extensive list of scandals, I'll be listing out the more prominent ones.
Timeline
2014
Credit Suisse illegally allowed some U.S. clients to evade taxes, resulting in a $2.6 billion paid to the U.S. government as a settlement.
2019
Credit Suisse was involved in an accounting scandal at Luckin Coffee. It served as an underwriter for the Chinese company which was pulled off the U.S. exchange after it fraudulently inflated sales.
2020
Credit Suisse CEO Tidjane Thiam resigned after two high-profile spying scandals involving top bank officials.
2021
British financial firm, Greensill, became insolvent. This was a tough blow for Credit Suisse, which was heavily invested in the firm. It soon closed four connected funds with a combined investment value of around $10 billion. As a result, Swiss financial regulator FINMA concluded that the bank had "seriously breached its supervisory obligations" and ordered "remedial measures".
In just four weeks after the Greensill bankruptcy, the bank was dealt another blow when U.S. hedge fund Archegos collapsed, costing them more than US$5 billion.
2022
Credit Suisse had been found guilty and fined for involvement in money laundering related to a Bulgarian drugs ring. It was subsequently fined US$2 million for "breaching its corporate responsibility in a case dating back to 2007 and 2008".
In the same year, a media investigation, dubbed "Suisse Secrets", alleged that the bank had held billions of dollars of dirty money for decades. The probe said leaked information on more than 18,000 bank accounts dating back to the 1940s showed Credit Suisse held more than US$8 billion in the accounts of criminals, dictators, and rights abusers.
There was also social media speculation that the bank was on the brink of collapse, resulting in billions being pulled from the bank by customers.
2023
This year, Credit Suisse had to delay its annual report after receiving a call from the U.S. Securities and Exchange Commission over revisions made to cash-flow statements for 2019 and 2020.
When the report was released last Tuesday, it admitted that there were "material weaknesses" in its internal controls. On top of that, it reported its biggest annual loss since 2008.
The latest blow was dealt when Credit Suisse's main shareholder, Saudi National Bank, said that it couldn't provide any more capital due to regulatory constraints. It also didn't help that three other U.S. banks, Silicon Valley Bank (SVB), Signature Bank, and Silvergate Bank all suffered from bank runs which led to their collapse.
At the time of writing, UBS has acquired Credit Suisse for US$3.23 billion to "prevent irreparable economic turmoil spreading throughout the country and beyond". UBS is the top bank in Switzerland with Credit Suisse being the second. So imagine if OCBC was acquired by DBS!
Credit Suisse shareholders would be receiving one UBS share for 22.48 Credit Suisse shares, a deal in which they had no say.
However, at the close of business on Friday, Credit Suisse was valued at US$8.55 billion.
Basically, UBS successfully lowballed for Credit Suisse with the help of regulators, leading to the creation of some pretty funny Carousell listings such as this: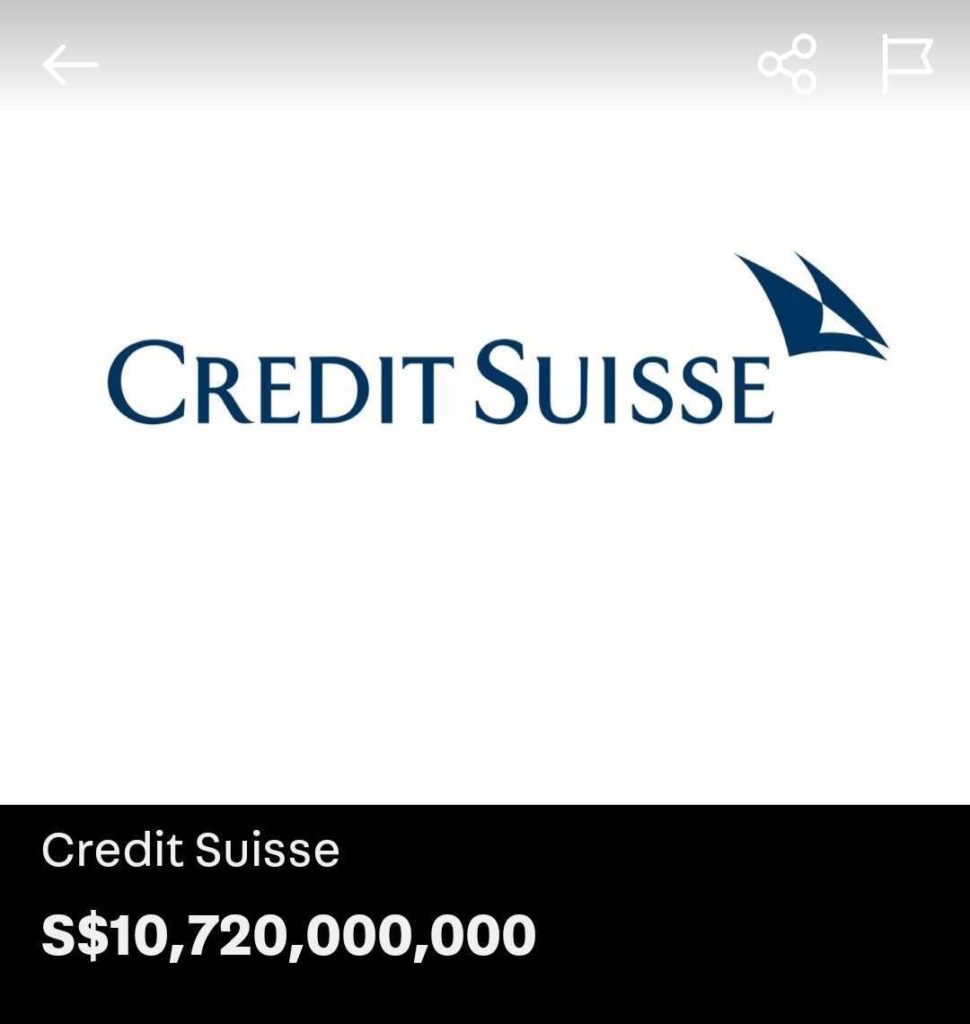 Guess it won't be long before someone creates a "UBS" account to make an offer of US$3.23 billion!
Why Does It Matter to Singaporeans?
Jokes aside, the acquisition of the struggling Credit Suisse by UBS is significant.
With such an important Swiss bank being brought to its knees, we are starting to see the cracks of a possibly widespread global banking crisis; that of liquidity.
According to BlackRock chief executive Laurence Fink, he described the financial situation as "the price of easy money" and that while "regulatory response has so far been swift, and decisive actions have helped stave off contagion risks", the "markets remain on edge".
On the other hand, some believe that the struggles faced by Credit Suisse were unique to the company, not a systemic one.
The Monetary Authority of Singapore (MAS) has stated that "Credit Suisse Group AG (CS) will continue operating in Singapore with no interruptions or restrictions, following the announced takeover by UBS Group AG (UBS)". This also means that Credit Suisse employees will keep their jobs and get their sweet bonuses. Hooray!
It has also reaffirmed that it will "continue to closely monitor the domestic financial system and international developments, and stands ready to provide liquidity through its suite of facilities to ensure that Singapore's financial system remains stable and financial markets continue to function in an orderly manner".
---
Afterthoughts
Just like the Titanic, another "too big to fail" scenario has happened right before our eyes.
"Switzerland's standing as a financial centre is shattered – the country will now be viewed as a financial banana republic. The Credit Suisse debacle will have serious ramifications for other Swiss financial institutions. A countrywide reputation for prudent financial management, sound regulatory oversight, and, frankly, for being somewhat dour and boring regarding investments, has been wiped away." – Octavio Marenzi, chief executive of Opimas, Vienna
This news simply serves as an important reminder that nothing is ever too big to fail and we should not be complacent when it comes to our personal finances. Thankfully for Singaporeans, our banks are sound and our deposits are protected by the SDIC for up to $75,000 per bank.
But if you do have more than $75,000, it might be a good idea to diversify your assets across different banks.
Related Articles
About Justin Oh
Your average Zillennial who is obsessed with anime, games, movies and of course, personal finance. Join me as I break down personal finance into easily digestible and fun bits!
You can contribute your thoughts like Justin Oh
here.