What Happens After Your Insurance Agent Leaves (Pang Seh!) The Industry Or Agency?
"My agent is leaving for greener pastures, what will happen to my policy?"
Most consumers are promised the utmost commitment (sometimes, the Sun and the Moon) while taking up a policy with an agent.
But when the agent leaves, you're only sent a letter informing you of their departure…
Before You Sign Up For A Policy
When Your Agent Leaves After You Sign Up For A Policy
Yep. It sucks.
As the consumer, you will ALWAYS LOSE.
What Happens To My Policy When My Agent Leaves The Company?
There are mainly two reasons why agents leave:
Agents leave their current agency for one that gives them more benefits.
There are instances where agents are offered a sweet deal by rival companies for their customer base. (Remember the Great Eastern and AIA saga?)
Agents leave the industry as a whole to look for better opportunities, away from insurance.
In both cases, this is what happens:
For agents who wish to maintain a healthy relationship with the clients who supported them, they will do a meetup or inform their clients personally beforehand, explaining their decision to leave.
For the agents who care less, clients will receive a letter from the insurance company they purchase their policy from, with regards to the departure of their agent.
All these are then followed by another letter to inform you that your policy is taken up by another representative from the insurance company.
So Is My Policy Taken Care Of?
While this system makes it look as though your policy is well taken care of, there are some weaknesses to it.
Insurance agents draw commission from the premiums we paid for our policies
Agents will continue to earn a commission from the premiums for a period of time
Depending on the types of policy, it can be for as long as 6 years
In this case, this is what happens to the commission after the which:
Should the agent leave before he fully receives all the commission, the representative assigned by the director to take over his policy will receive the remaining commission.
Should a consumer decide to get an agent he trusts to take over his policy, and the agent appears to be from another agency, the agent earns nothing from taking over this policy.
If the commission is already fully given out, the agent that took over the policy has zero immediate monetary benefits from this transition.
A System That Needs Improvement Because Ultimately The Consumers Suffer
Consumers ultimately are on the losing end when it comes to agents leaving.
Here's why:
Departing agents find the need to meet sales target at the new firm, and his old clients will be on the top of his list.
Should the departing agent leaves the industry, the agent taking over the existing policy will attempt to sell this "new client" a policy to make his effort worthwhile.
All these can contribute to a higher rate of misselling, should the consumer not be financially savvy enough to understand the kind of policy he is lacking in.
Why Do Insurance Agents Leave Or Change Agencies So Frequently?
Insurance agent leaving the industry or changing agency is a common practice these days, and there are a few good reasons for this:
The insurance industry is highly competitive.
There is a chance that there are too many financial advisers in Singapore.

Source: MoneyMatters

Despite a population of five million, we have close to 20,000 advisers in the financial advisory industry. This makes the ratio of consumers to insurance agents to be 259:1.
Comparing this with countries such as the United Kingdom at 3,100 consumers to 1 financial advisor, Singapore indeed has too many agents

Most insurance agents are on commission-based, which means that sales performance is directly correlated to the amount and types of policies sold. While the fittest survive, insurance companies may poach results-producing agents to increase their profit
While the fittest survive, the weaker ones might be forced to leave the industry as a whole to look for stable income. This is why consumers do experience insurance agents leaving the industry as a whole after a few years
Oh well, that's it for today.
If you have any questions, feel free to ask our friendly Seedly Community!
Do also check out our blog for more information while embarking on your personal finance journey!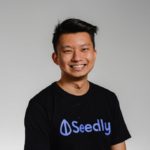 About Ming Feng
A stint in
Bloomberg
gifted me with a beer belly, which only grew larger when I moved on to become a Professional Trader. Now I turn caffeine into digestible finance-related content.
You can contribute your thoughts like Ming Feng
here.