Planning Who Will Inherit Your Assets? Here's Where You Can Write A Will!
Are you frantically looking for a will writing service now?
For those of you who missed it, did you know that your assets can potentially go to the government?
Hang on, don't panic!
That only happens according to the Intestate Succession Act if you pass on without having previously made a valid will and have no surviving relatives.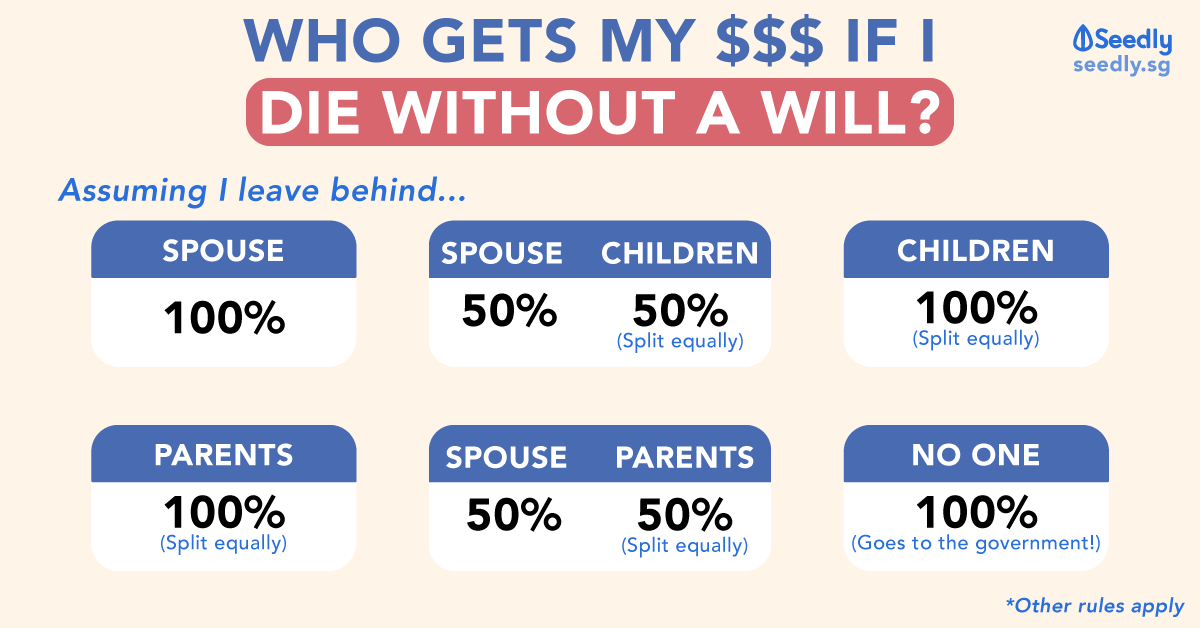 Okay, now you can panic because the next problem is to find a will writing service!
But of course, we're going to digest the information for you.
---
TL;DR – Where Can I Write My Will?
Before you engage any will writing services, you should take the following steps to make the process easier:
List down your assets and beneficiaries before deciding who gets what
List down your liabilities and how to clear your debts
Gather personal information of your beneficiaries, such as full name and identification numbers
Appoint guardians for beneficiaries below age 18
Appoint an executor of your will
Now, we're not recommending any particular will writing service here. We're merely collating some of the services available, remember to find out more about each service to see which is suitable for your case.
Will Writing Services
Amount
Remarks
Write It Yourself
Free
- Can be challenging
OCBC
Free
- Limited services & no editing
MoneyOwl
Free
- For simple wills only
NTUC Income
$374.50 - $460.10
(Non Policyholder)
- For basic wills only
- Caters to range of needs
$267.50 - $353.10
(Policyholder)
SingaporeLegalAdvice.com
$89
- Unlimited edits for 1 month
- $99 for Lawyer Review Add-On
WillsSmith
Free Trial
- Limited edits within 1 month

$168 - $188
- Unlimited edits within set timeframes
Will Writing Company
or Wills Lawyer
$200 - $400
- For basic wills
$500 and above
- For complex cases

---
Now, before you run off to the first will writing service that we are going to discuss below, there are a few things that you'll need before making a will.
What Makes My Will Valid?
There are a few things that have to be fulfilled before your will is considered a valid will.
You'll have to be at least 21 years old before you can make a will.
For your will to be valid, it has to be in writing.
Apparently, a handwritten will is considered valid if it meets all requirements too, so if you intend to do that, please make sure your handwriting is legible!
But if you thought you could be lazy and just take a voice or video recording, then sorry to disappoint, you'll have to put in some effort yea?
After it's been drafted, you'll need to sign at the foot of the will.
That makes sense, it's an acknowledgement to the wishes that you've expressed in the will.
In special cases, if the person making a will is unable to sign, either because they are illiterate or physically and mentally unable to do so), they can appoint someone to sign it for them.
Now, this doesn't mean you can make one on your own right now in your own room and declare that you have a valid will.
You'll need at least two witnesses to be present when you are signing your will, and they need to counter-sign your signature to acknowledge it.
Just take note that when choosing your witnesses, the two main witnesses cannot be a beneficiary or a spouse of the beneficiary.
Yes, that means that you can ask your friends to be your witnesses!
Well, there may be a slight issue with that since a witness will need to testify that they saw you signing the will when the inevitable happens. You might want to find the youngest friends to be your witnesses so that they will outlive you and fulfil their role.
What Do I Need Before Making A Will?

Before you engage any of the will writing services, you'll first need to gather some information.
A List of Your Assets & Beneficiaries
Of course, you'll need a list of your assets, because that's what you're giving away right?
It's not just a generic description of your assets though, you'll need to list down all your bank account numbers and insurance policies. It's to ensure that the people administering your will know exactly which assets goes to which beneficiary.
I think it goes without saying that you'll need to decide what and how much each of your beneficiaries is going to get!
A List of Your Liabilities
Apart from your assets, you will also need to list down your liabilities, particularly, how you wish for your debts to be paid off before your assets are distributed accordingly.
Personal Information Of Beneficiaries
You'll also need to gather the names and NRIC numbers of all your beneficiaries.
That's probably not an issue if your beneficiaries are just your immediate families.
But if you're allocating assets to your extended family, you might not remember their full names. And well, you wouldn't really have a record of their NRIC numbers, would you?
A will is a legal document, so nicknames don't count. Make sure you get their details right, else they won't be getting anything.
Appoint Guardians, If Necessary
If some of your beneficiaries are below 18 years old, you'll also have to appoint guardians to ensure that the assets will be managed properly.
Appoint An Executor
Someone has to be responsible for carrying out your wishes right? You will also need to appoint an executor to execute your will.
You can choose to appoint one of your beneficiaries as your executor, or a friend or close relative.
Some people may choose to appoint a professional executor since the process of gathering your assets and making sure they are properly distributed can be stressful while your loved ones are still grieving.
Where Can I Write My Will?
Well, you don't actually need a lawyer to make a valid will, you can actually do it yourself if you've fulfilled the requirements listed above.
Write It Yourself
If you're doing it by yourself, typing it from scratch, you might find it a bit challenging.
Again, a will is a legal document.
I'm sure you've come across documents like that and there are many legal terminologies and jargons involved.
So, take some time to familiarise yourself with the terms to ensure that your will is executable.
Worst case scenario is that your self-written will cannot be recognised when you pass on and your assets are not distributed according to your wishes.
One major benefit here, of course, is that it's free for you.
Online Will Writing Services
Since some of us will likely face difficulties with the legal terms since we don't use them daily, an online will writing service may be the solution for you.
These online services have been designed to capture the necessary details we mentioned above, add in the necessary legal wording, and voila, your will is ready.
If you have all your information available, it's probably going to take you less than 30 minutes.
Will Writing
Service Provider
Fees
Remarks
OCBC
Free
- For simple wills only
- No editing features, will need to generate a new one if there's any changes
MoneyOwl
Free
(With promo code through registration on mailing list)
- For simple wills only
NTUC Income
$374.50 - $460.10 (Non Policyholder)
$267.50 - $353.10
(Policyholder)
- For basic wills
- Caters to a range of needs
SingaporeLegalAdvice.com
$89
- Unlimited edits and downloads for 1 month
- $99 for Lawyer Review Add-On

WillsSmith
Free Trial
- Limited edits within 1 month
$168 - $188
- Unlimited edits within set timeframe
Disclaimer: The table above does not represent our recommendations for online will writing services, it is simply a quick reference and comparison of the price range for such services. If you are looking to make a will, do find out more about the individual services and whether they are suitable for you.
Will Writing Company or Wills Lawyer
If your situation is a little more complicated, getting some legal advice from a qualified lawyer may be helpful for you.
A basic will generally range about $200 – $400, while a more complex case typically costs upwards of $500.
---
We spend so much time and effort building up our assets and taking care of ourselves and our loved ones, it's important that we spend some time planning where our assets will go.
About Jacqueline Yan
Full-time coffee nerd playing the personal finance game to feed her insatiable wanderlust.
You can contribute your thoughts like Jacqueline Yan
here.