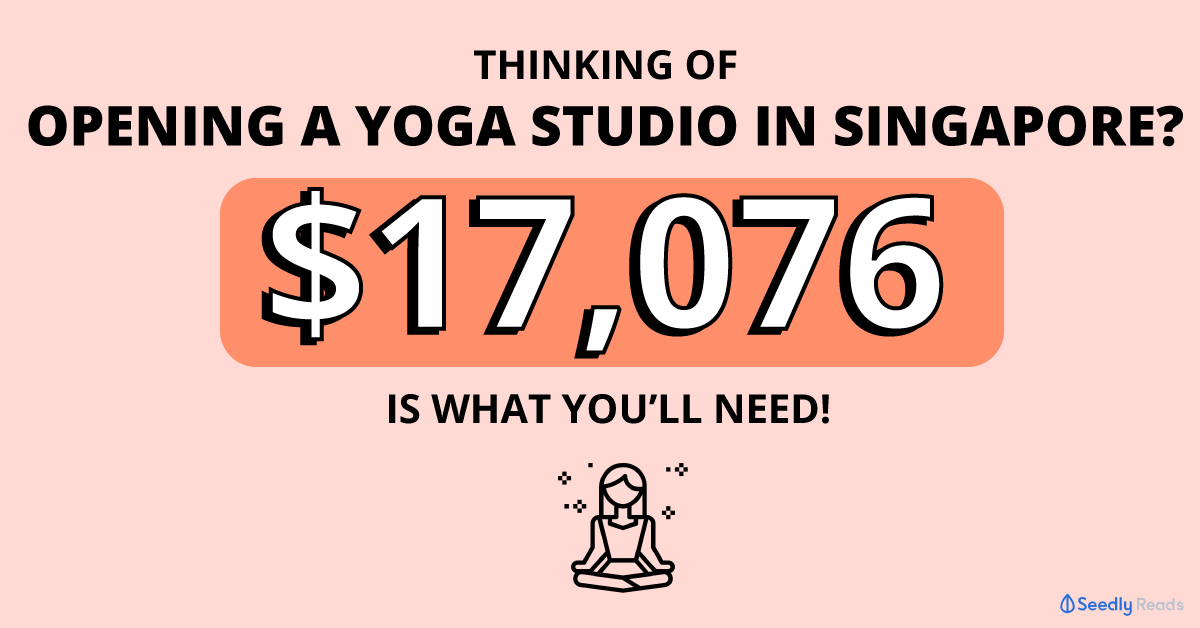 Looking to Open a Yoga Studio in Singapore? It'll Cost You $17,076!
Owning a yoga studio's never been my dream — heck, give me the capital to fund my stationery shop any day.
But with more boutique yoga studios cropping up in recent years, my curiosity propelled me to delve into the costs behind setting one up.
There are variables to be considered, though, which I've highlighted a little way below.
TL;DR: Cost of Opening a Yoga Studio in Singapore
$17,076 to set up a yoga studio?
Completely doable! I wanted to shout from the mountaintops, upon doing the math.
Here's the breakdown in all its tabled, fabled glory:
| Total Cost | $17,076 (rounded up) |
| --- | --- |
| Yoga Studio Rental Costs and Overheads | $12,279 (monthly) |
| Yoga Equipment | $2,304.20 |
| Furnishings, Fittings and Shower Essentials | $2,492.55 |
Arriving at this figure involved certain assumptions, including that:
You'll lead classes and pay yourself a full-timer's salary
You'll hire a part-time yoga instructor to fill in the gaps, such as weekend classes
The open plan yoga studio's set in a shophouse in Chinatown, a prime location
The space — all 1,249 sq ft of it — has the capacity to hold up to 20 students at any point in time (for a regular yoga class), or ten students (for an aerial yoga/silks class)
The shophouse includes a fitted bathroom (with a shower and mirror) and wash basin area
And here's what I didn't account for in tallying the final figure:
Yoga instructor certification costs, which come in at around $2,650 per person for a 200-hour course (inclusive of registration fees)
Corporate tax, chargeable on 17% of your studio's annual income
The security deposit, which I've listed but not included in the tallied amount. That's because the sum will technically remain yours — so long as the space is returned in the same condition upon your lease expiration date.
Your rent beyond the first month — to mean I've only factored in a month's rent in the $17,076.
Starting a business is easier than sustaining one, though — so if you're serious about opening a new age-y/yoga/pilates-type school, you'll need more than this guide to sort your big plans.
---
Yoga Studio Rental Costs and Overheads
Monthly damage: $12,279 (excluding one-time security deposit)
The realisation that a hefty chunk of your earnings will go into monthly rent hurts, but such would be the reality of setting up your studio in a prime location.
In fact, you'll find many boutique yoga studios in Singapore in population-dense, accessible areas — including Outram Park, Tanjong Pagar, Bugis, Orchard and, yep, Chinatown.
Here's the venue listing I built my hypothetical yoga studio off of:
And a closer look at how much you can expect to spend a month, excluding your one-time security deposit:
Recurring Overheads
Cost Per Month
Rent
$6,800
(Assuming 1,249 sq ft shophouse along Pagoda St, Chinatown))
Security deposit
$13,600 (One-off; assuming two months' rent)
Salaries
$3,000 (Full-time yoga instructor)
$1,800 (Part-time yoga instructor)
Wi-Fi
$89 (Corporate plan)
Spotify subscription
$9.99
Social media/search engine marketing
$80
Utilities
$300
Mandatory air-conditioning maintenance
$200/year
$12,279
(Excluding security deposit)

Yoga Equipment
Damage: $2,304.20
It's not just mats, towels and yoga blocks you'll have to invest in; tennis balls are used in certain forms of yoga to alleviate muscle tension, complemented by aids such as knee pads and yoga straps.
I've also only accounted for the cost of ten aerial yoga hammocks, given an aerial class would naturally require more space than a typical yoga session.
What
Unit Cost
From
Quantity
Total Cost
Yoga mats
$10
Decathlon
25
$250
Mat spray
$6.50 per 45ml bottle
10
$65
Tennis balls
$3.90 for tri-pack
50 (18 tri-packs)
$70.20
Zafu cushions
$25
25
$625
Knee pads
$5
25
$125
Yoga blocks
$4.40
ezbuy
50
$220
Yoga straps
$4.20
Lazada
25
$105
Yoga wheels
$17
15
$255
Aerial yoga hammock
$58.90
10
$589
$2,304.20
Furnishings, Fittings and Shower Essentials
Damage: $2,492.55
Apart from shower essentials that'll likely require frequent replenishing, these are some estimated one-off costs you can expect to pay.
What
Unit Cost
Quantity/Frequency
Total Cost
Furnishings and Fittings
iPad (for self check-in at reception)
$499 (for 10.2", 32GB)
1
$499 (for 10.2", 32GB)
Reception Desk
$338
1
$338
Bench
$30.60
3
$91.80
Storage cupboards
$129
2
$258
Mugs
$2
6
$12
Water dispenser
$120.20 (10 gallons bottled water, free delivery)
1
$120.20
Standing mirror
$29.90
1
$29.90
Storage cube shelves (for bags)
$220
1
$220
Easy sweeper broom
$28.40
1
$28.40
Paper wipers
$16.90 (10-pack; 5 sheets per pack)
1
$16.90
Flat mop
$29.90
1
$29.90
Reusable mop wipe
$2.03
2
~$4.05
Cleaning cloths (for yoga mats, mirror, etc.)
$5.48 (twin pack)
3
~$16.50
Heavy duty scrub sponge
$2.90
5
$14.50
Toilet bowl scrubber
$9.95
1
$9.95
Bathroom cleaner
$5.55 (500ml)
2
$11.10
Bathroom stain and mould remover
$4.55 (400ml)
2
$10.10
Floor cleaner
$5.00 (2 litres)
2
$10
Shoe rack
$49.90
1
$49.90
Wireless Bluetooth speakers (for yoga class)
$148 (Assuming Bose Soundlink Micro Bluetooth Speaker)
1
$148
Bathroom Essentials
Face towels
$6.65 (10-piece pack)
3 packs
~$20
Bath towels
$6.90
25
$172.50
Laundry-cleaning (for towels)
$20/load (min. 5kg)
$40/week (twice weekly)
$160
Cotton pads
$2.75 (twin pack; 60g)
3
$8.25
Makeup remover
$4.40 (125ml)
3
$13.20
Handwash
$6 (5 litres)
1
$6
Hairdryer
$14.99
2
~$30
Shampoo
$10 (1 litre)
5
$50
Hair conditioner
$3.40 (200ml)
5
$17
Body wash
$6 (900ml)
5
$30
Body moisturiser
$13.70 (500ml)
2
$27.40
$2,492.55
Covering the Cost of Your Yoga Studio
Planting your savings in a business requires more than a leap of faith — it also involves understanding how long it might take you to break even.
With monthly overheads coming in at $12,279, working backwards to figure out monthly membership fees — and whether you'd be able to work with third party platforms like Classpass — is essential to ensure you're raking in a sufficient amount to cover costs.
You might also have to factor in whether you'd be willing to offer complimentary yoga trial classes to encourage new sign-ups.
And if these figures seem dizzying, it's never too late to start growing your savings  — we've scores of investment articles to help you along.
About Rebecca Liew
Lactose-intolerant, but also BS-intolerant. Having written for the likes of Marina Bay Sands and Time Out, I now spend my days saving up for my stationery shop retirement dream.
You can contribute your thoughts like Rebecca Liew
here.