15 Alternative Wedding Venues You Should Consider
Weddings are a fickle thing to plan.
Our checklists are countless, ranging from:
Maximum capacity
Indoor/Outdoor events
Uniqueness
Price
Food
The list goes on and on and on…
TL;DR: Alternate Wedding Venues In Case Plan A Fails
To that end, we've compiled a list of alternative venues for you to consider!
Name
Address
Type
Minimum Spending
Max Capacity
Nearest Carpark
Botanico At The Garage
50 Cluny Park Road
Singapore Botanic Gardens
Botanics
Dependent on specifications
160
Garage Outdoor Carpark
The SummerHouse
3 Park Lane
Dependent on specifications
710
Seletar Outdoor Carpark
Corner House
1 Cluny Road
Singapore Botanic Gardens
Lunch: ~$16,000
Dinner: ~$19,800
60
Nassim Gate Carpark C
Rider's Cafe
51 Fairways Drive
Bukit Timah Saddle Club
~$1,500
80
In front of Cafe
The White Rabbit
36C Harding Road
Dempsey Hill
Grandeur
~$20,000
180
The White Rabbit Carpark
Stellar @ 1 Altittude
1 Raffles Place
Level 62
Dependent on specifications
250
1 Raffles Place Carpark
The Royal Albatross
8 Sentosa Gateway
Sailing Packages: ~$195/pax
Dockside Packages: ~$165/pax
130
Sentosa East Carpark
Chijmes Hall
30 Victoria Street
Chijmes
Heritage
Weekdays Lunch: ~$17,970
Weekdays Dinner: ~$15,576
Weekends: ~$25,164

300
Chijmes Parking
Alcove At CaldWell House
~$4,638
100
The Blue Ginger
97 Tanjong Pagar Road
~$7,200
128
Peck Seah Street Carpark
Tanjong Beach Club
120 Tanjong Beach Walk
Sentosa Island
Beachside
Dependent on specifications
200
Tanjong Beach Carpark
One 15 Marina
11 Cove Drive
Sentosa Cove
~$3,288
360
One15 Marina Club Carpark
Naumi Hotel
41 Seah Street
Boutique
~$6,688
80
Beach Centre Carpark
Wheeler's Yard
28 Lor Ampas
~$7,000
100
Public Parking
Chun Tsubaki
3 Kim Chuan Lane, #03-01
Dependent on specifications
140
Public Parking
Disclaimer: Minimum prices and venue capacity are subject to changes. Optimally, you should discuss your specifications with the venue organisers and your wedding planners.
1. Botanics
Botanico At The Garage
Located at Singapore's first UNESCO World Heritage Site, the perfect garden wedding is within reach. Coupled with wedding festivities, the lush greenery is bound to offer you and your guests botanical garden bliss among the estate.
Key Details:
Max 160 pax. 100 (Indoors), 60 (Outdoors)
Nearest Carpark: Garage Outdoor Carpark
Minimum Spending: Depends no specifications
The SummerHouse
Clear skies, impeccable gardens and a colonial backdrop. Sounds like the perfect setting for a picturesque wedding? You're absolutely right.
As an added bonus, there will be a wedding showcase on 6th January 2019 from 5pm to 9pm! Tickets are priced at $38 nett per couple.
Key Details:
2nd Level Indoor: 180 pax (Seated), 260 pax (Standing)
Hard Court Outdoor: 300 pax (Seated), 450 pax (Standing)
Whole Venue: 480 pax (Seated), 710 pax (Standing)
Minimum Spending: Dependent on Specifications
Nearest Carpark: Seletar Outdoor Carpark
Corner House
Home to one of Singapore's Michelin starred restaurants, you and your guests are guaranteed a sumptuous feast with impeccable service at the Corner House.
Key Details:
Max 60 pax. 20 pax (Verandah), 40 pax (Main Dining)
No Buffets. Set Menu will be customised
Lunch Minimum Spending: ~$16,000
Dinner Minimum Spending: ~$19,800
Nearest Carpark: Nassim Gate Carpark C
Rider's Cafe
How about a small, relatively relaxed setting within the Bukit Timah Saddle Club?
Key Details:
Buffet Sit Down, Max 60 pax
Set Menu Sit Sown, Max 65 pax
Cocktail, Max 80 pax
Nearest Carpark: In front of Rider's Cafe
Minimum Spending: ~$1500
2. Grandeur
The White Rabbit
For a whimsical touch, The White Rabbit is the wedding locale for you. Housing both a restaurant and a bar within a restored old chapel, their European touch could be just the one you're looking for.
Key Details:
Indoor Capacity: 150 (Seated), 180 (Standing)
Outdoor Capacity: 30 (Seated), 150 (Standing)
Nearest Carpark: The White Rabbit Carpark
Minimum Spending: ~$20,000
Stellar @ 1-Altitude
How about an outdoor wedding on the 62nd floor, characteristically defined by a panoramic view of Singapore?
Boasting unobstructed scenic views, gourmet cuisines and modern decor, it's apparently Singapore's most sought after solemnisation venue.
Key Details:
Max 180 pax (Seating), 250 pax (Standing)
Nearest Carpark: One Raffles Place Carpark
Minimum Spending: Dependent on Specifications
The Royal Albatross
Set sail aboard the Royal Albatross as you present your significant other and your guests a wedding experience of a life time.
Romance, luxury, relaxation – you've got in all aboard the Royal Albatross.
Key Details:
Max 130 pax (Sailing), 200 pax (Dockside)
Sailing Packages from $195 Nett/pax
Dockside Packages from $165 Nett/pax
Nearest Carpark: Sentosa East Carpark
3. Heritage
Chijmes Hall
What about something that ties back to your religion? Perhaps a wedding within a chapel?
Walk down the aisle of Chijmes Hall and bask in its 19th-century architecture. Gloriously complemented by varied crystal chandeliers and stained glass windows, it'll leave you speechless.
Key Details:
Max 300 pax
Roundtable Minimum Spending Weekdays: ~$17,970 (Lunch), ~$15,576 (Dinner)
Roundtable Minimum Spending Weekends: ~$25,164
Nearest Carpark: Chijmes Parking
Alcove At CaldWell House
Located within the same vicinity of Chijmes, its design varies slightly differently from Chijmes Hall. Here, a neo-classical design was adopted instead. That said, this venue is still unique in its own right, where its semi-circular exterior makes for an interesting backdrop.
Key Details:
Max 100 pax
Minimum Spending: ~$4,638
Nearest Carpark: Chijmes Carpark
The Blue Ginger
How about trying a traditional Peranakan theme for your wedding?
Nothing screams "A Little Nonya" like having your wedding at the Blue Ginger.
Key Details:
Max 128 pax
Minimum Spending: ~$7200++
Nearest Carpark: Peck Seah Street Carpark
4. Beachside
Tanjong Beach Club
Combining scenic ocean views, gourmet dining and poolside service, this is the place to be for all you beach enthusiasts.
Key Details:
Max 200 pax
Nearest Carpark: Tanjong Beach Car Park
Minimum Spending: Dependent on Specifications
One 15 Marina
Overlooking the bay area, you can even rent a yacht for your special day. Celebrate this momentous occasion with a cruise by the sea and ending it on a high with a wedding dinner in one of their many lavish ballrooms.
Key Detail:
Max 360 pax
Minimum Spending: ~$3,288 (Solemnisation), ~$928 (per table)
Nearest Carpark: One15 Marina Club Carpark
5. Boutique
Does exchanging your vows at sunset, on a rooftop overlooking Singapore's skyline, sound like the the dream wedding? Then you're in for a intimate treat at Naumi Hotel.
Naumi Hotel
Key Details:
Max 60 pax (Rooftop & Pool), Max 80 pax (Restaurant)
Minimum Spending: ~$6,688
Nearest Carpark: Beach Centre Carpark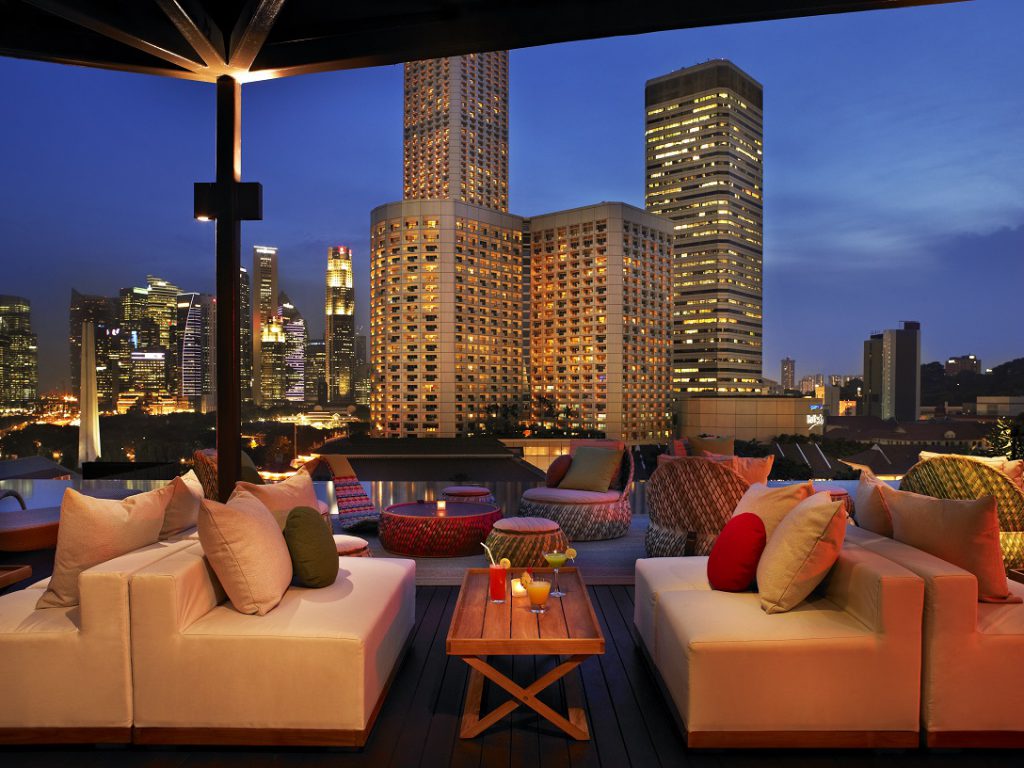 Wheeler's Yard
Located one of Balestier's industrial estate, you wouldn't think of this as a viable wedding venue. And you would be mistaken.
Despite its unusual location, Wheeler's Yard is the dream venue for hipsters. Get creative & work with your planners to transform their spacious workshop into modern industrial chic wedding locale.
Key Details:
Max 100 pax
Minimum Spending: ~$7000
Nearest Carpark: Public parking
Chun Tsubaki
Taking inspiration from modern, minimalistic Japanese architecture…
This is, arguably, the perfect wedding location for couples who are looking for small, intimate locations.
While maximising the comfortability of guests and of course, it's damn wedding IG-worthy.
Key Details:
Max 140 pax
Minimum Spending: Dependent on Specifications
Nearest Carpark: Public Parking within the vicinity
---
Which of these alternative wedding venues would you have your wedding at? Let us know in the comments below!
About Casey Choo
Transforming finance into simple, digestible formats 1 step at a time!
You can contribute your thoughts like Casey Choo
here.