Fresh Graduates & First Jobbers: Your Ultimate Personal Finance Guide (24-30 Years Old)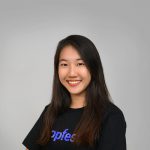 Ruth Lum
●
Most fresh graduates think their biggest worry upon graduating is finding a job.
Surprise surprise, it's actually your PERSONAL FINANCE that you should pay most attention to.
Personal finance is everything to do with managing your money, saving and investing. It covers budgeting, banking, insurance, mortgages, investments, retirement planning, tax planning and estate planning.
The hard truth is: your finances are not going to manage themselves.
Snap out of the comforts of papa and mama's allowance and kids' savings account – it's time to start making your own (smart) financial decisions.
We've curated these relevant articles onto one learning platform, guiding you through some of the more commonly asked questions relating to personal finance.
*Click me! Click me!*
*Click me! Click me!*
---
Beginning Your Career
Yeah, you'd probably know of kia-su friends who have since long secured a full-time job even before graduation. FRET NOT, it's important to know what you want, what to expect, and where to look for the most appropriate job openings. Remember, best is subjective.
Looking for Jobs
You can hunt for jobs through job search websites or recruitment agencies.
Before that, you have to prepare necessary documents like:
Resume or CV
Certificates of your highest education qualifications
Transcripts
Here are some tips on writing a good resume. In case you're worried about the lack of relevant experience, we have a guide on how to potentially get a job with no prior experience
If your profile fits the company, the HR department might give you a call to schedule you for an interview.
Interviews can be nerve-wracking; it is alright to fumble every now and then, just get yourself used to the process and you'd be accustomed in no time!
Getting That Dough aka your salary
After securing your offers (congratulations btw), you might be wondering: am I getting paid right? What's the average starting salary in Singapore? And what's considered a good salary in Singapore?
Fret not, we did some checking, and here are our findings on Graduate Starting Salary in Singapore and an general Salary Guide for Singaporeans
It is also important to understand all your employee benefits, like overtime pay or off-in-lieu, before signing the contract.
---
Getting your first salary, what should you do?
Arguably, no other firsts holds a candle to attaining your first paycheck.
While each individual begins their first job at different stages, the theory behind allocating your monthly salary generally remains the same.
You might have other concerns like to treat yo self, or whether or not to portion out some allowance for your parents.
For those who just landed a job, it is important to start your personal finance foundation right. Hence, learning how to allocate your monthly salary is incredibly important. This will help you in your personal finance journey later on.
It is also helpful to leverage whatever tools available, like an *ahem* personal finance tracker, or comparison tools to help you choose.
---
Choosing The Best Savings Account
The most immediate thing to do upon getting your first pay cheque should be to open a savings account that gives you the best possible interest rate.
Unfortunately or fortunately (depending on your point of view), banks are constantly competing against one another. As a result, plans can end up with too many terms and conditions, ultimately confusing everyday Singaporeans.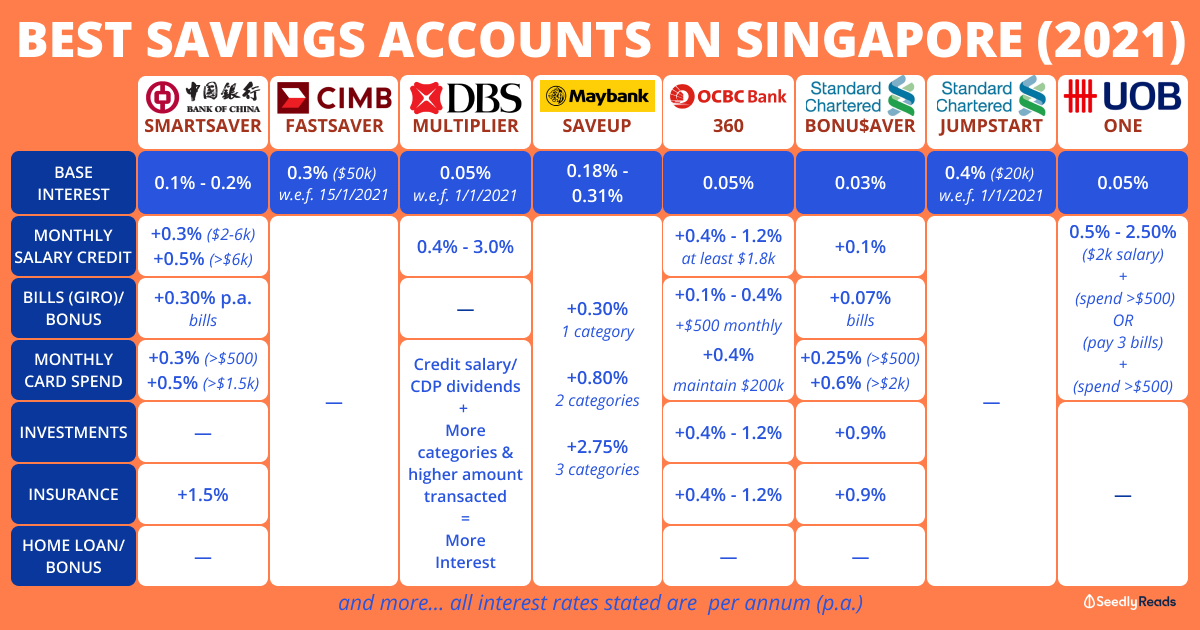 Banks are also getting increasingly creative with their interest rates allocations which require you to fulfill certain criteria before you can accrue bonus interest rates.
Generally, there are 2 types of savings accounts – one allows you to earn higher interest rates with conditions, and another which allows you to earn by simply leaving a lump sum in the account.
How to find your ideal savings account:
Choosing The Best Credit Cards
Whilst getting on the right savings account can help you earn extra interest on your savings, leveraging on credit cards can aid in generating considerably more savings!
I'm sure you've heard of the debate Cashback or Miles?
Depending on your lifestyle, there are multiple types of cards to choose from – Cashback, Miles, Rewards and Rebates.
Additionally, many savings accounts allow you to get bonuses interest rates when you spend on one of their credit cards.
Like the UOB ONE Account with the UOB One Card, or the DBS Multiplier Account with selected DBS Credit Cards.
These resources can help you choose the best credit cards:
---
Getting Your First Insurance
As convenient as it may seem, there isn't a one-size-fits all solution to getting sufficient coverage for one's self.
Therefore, understanding your needs and how much you would be willing to spend on coverage remains of utmost importance before signing for an insurance policy.
What type of insurance coverage should you be getting?
For adults, here are some important insurance policies to get covered for
This general Key Policies Insurance Guide could come in handy when looking to get your first insurance policy.
For health insurance
Health Insurance aims to cover hospitalisation and surgical bills, as well as certain outpatient treatments.
For life insurance
Life insurance pays out a lump sum of money in the event of death.
For critical illness insurance
Critical illness coverage gives additional financial support for critical emergencies like heart attack, stroke or cancer.
---
Making Even Smarter Personal Financial Decisions On Lifestyle Choices
While it is important to invest, get insured and be on the best savings account and credit card plans, there is notably more to personal finance. Often times, adjusting our daily and monthly expenses could potentially contribute even more to our savings.
Here are some content to make better lifestyle choices:
---
Making Your First Investment
Ready to embark on your investment journey? Here's a "Should-I-Invest" checklist for you.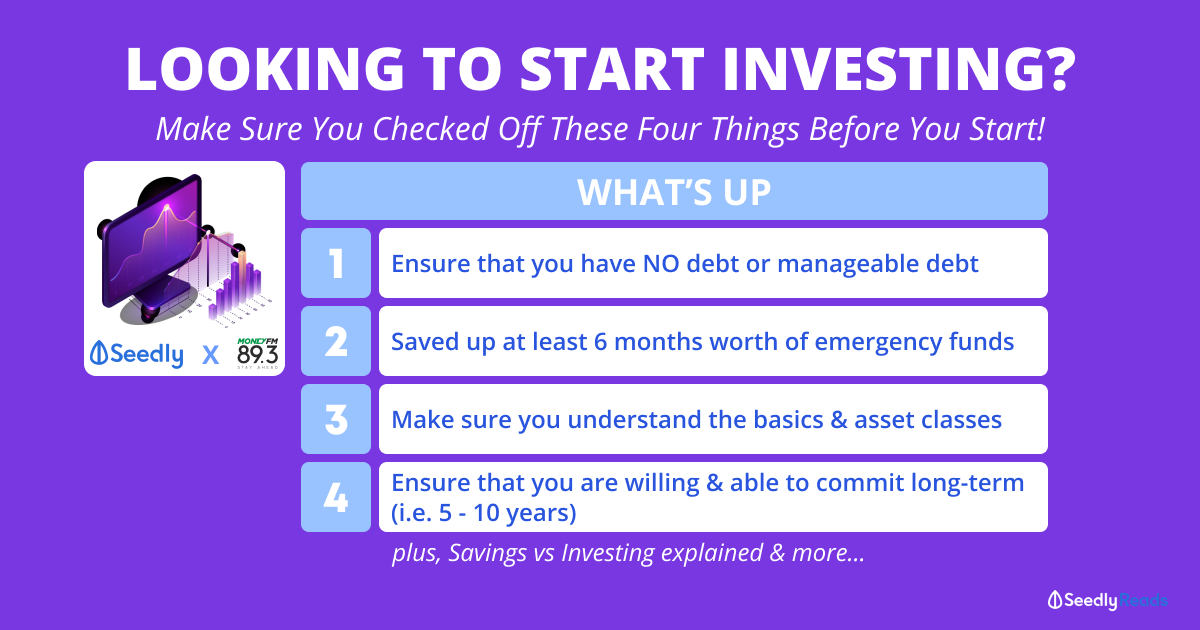 This section aims to help Singaporeans get started on their investment journey by providing sufficient knowledge on investing.
Investing should never be a rash decision. One should get to know his financial health and his investing mindset such as risk preferences better. Here are some articles that you can start with!
Now that you're ready, it's time to open a CDP account or get on a brokerage:
Singapore Savings Bond:
Fund Investing:
Stocks Investing:
Regular Savings Plan:
Kicking off with a Regular Savings Plan aids in cultivating a habit of investing. Plus, it sets aside a portion of your salary automatically, no doubt, helping some of you spendthrifts out there!
If you're looking to add REITs to your investment portfolio, here are some complimentary articles.
Alternative Investments: P2P Lending Platforms, Cryptocurrencies and Robo-Advisors
Tools To Help You Get Started On Your Investment Journey
About Ruth Lum
Breaking down 'chim' finance knowledge into manageable pieces so you don't have to.
You can contribute your thoughts like Ruth Lum
here.