READ ME FIRST: Your Personal Finance Journey Starts With This Article
Start Making Smarter Personal Finance Decisions Today!
The first step towards financial literacy is ALWAYS the hardest.
But rest assured that you are not alone.
Seedly is here to help.
Think of this as a Personal Finance 101: Everything School Didn't Teach Or Prepare You For.
Topics To Learn More About
There is always a first for everything.
Here is a list of firsts when it comes to personal finance:
Tip: Bookmark this page so that you can refer to it whenever you need it!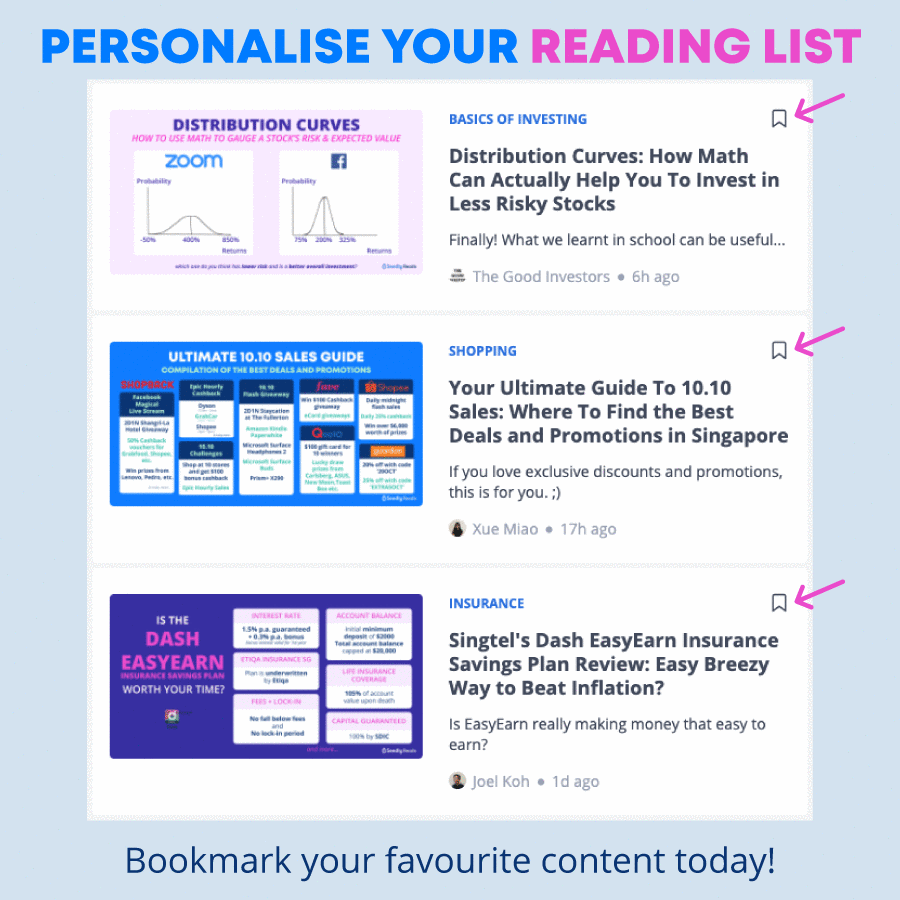 ---
If Reading About Personal Finance Bores You…
Why not watch an episode of SeedlyTV, where Kenneth and Xinyi from Seedly cover the basics of finance that is applicable to everyone?
SeedlyTV EP01: A Beginner's Guide to Personal Finance
---
What Should I Do With My First Pay Cheque?
Getting your first paycheque is probably the best feeling ever.
You no longer have to rely on your parents to give you an allowance and you can finally buy whatever you want.
OR SHOULD YOU?
Before you start spending your hard-earned money, you need to learn about allocating your monthly salary.
Here're some ways to manage your monthly salary, budget better, and get out of debt fast!
Tools to help you make smarter personal finance decisions:
---
 Choosing The Best Savings Account And Credit Cards
The most immediate thing to do upon getting your first paycheck should be opening a savings account that gives you the best possible interest rates.
Holding on to your first savings account is definitely not the best decision.
In fact, the difference in interest rates for holding on to your first savings account can pay for your trip to Iceland.
The tedious part of this process is that as banks are competing against one another, they end up with too many terms and conditions which ultimately end up confusing every normal Singaporeans.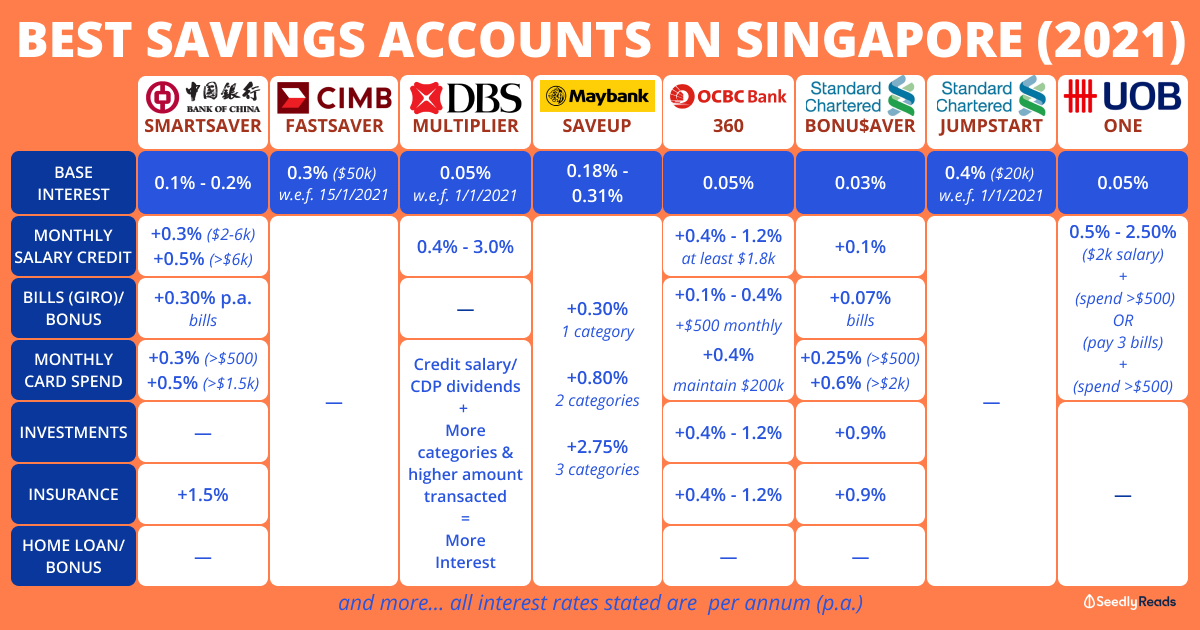 What You Need To Help You Choose the Best Savings Account in Singapore:
Tools To Help You Choose the Best Savings Account:
While getting on the right savings account can help one earn extra interest on his savings, proper use of credit cards can help one save even more!
Here's How You Can Choose the Best Credit Cards:
Cashback vs Miles Cards:
Best Credit Cards You Can Use Based on Categories:
Here's a hack where you can get more than $800 per year in terms of interest, as a couple:
Tools To Help You Choose the Best Credit Cards:
You might also be interested to find out how credit cards make money!
Fun fact: VISA and Mastercard are both generating a net revenue in billions of dollars.
---
Getting Your First Insurance: What Insurance Coverage Should You Be Getting?
There is no one-size-fits-all solution to getting sufficient coverage for yourself.
Hence, it is important to understand your own needs and how much are you willing to spend on coverage before getting your insurance policy:
In this section, we list out insurance guides and content that will come in handy when looking to get your first insurance.
Content on Health Insurance
Content On Life Insurance
Content On Claiming Insurance
---
Making Your First Investment
Though we strongly recommend one to start investing as early as possible, it is important to make sure that you are financially ready!
To determine if you are ready to embark on your investment journey, here's a checklist for you.

This section aims to help Singaporeans get started on their investment journey by providing sufficient knowledge on investing.
To familiarise yourself with some of the terms used when it comes to investing, you can check out our Investing Dictionary, where we answer all your "what is" questions.
Investing should never be a rash decision.
One should get to know his financial health and his investing mindset such as risk preference better.
If you're looking to start investing, you can begin your journey with our ultimate guide to investing!
Below are some articles to read up while understanding your personal investing mindset.
Now that you are ready, it is time to open that CDP account or get on a brokerage:
Content on Singapore Savings Bond:
Content on Fund Investing:
Content on Investing With Your CPF:
Content on Stocks Investing:
Content on Regular Savings Plan:
Kicking off with a Regular Savings Plan helps cultivate a habit of investing and set aside a portion of your salary automatically.
It is a good way to force yourself to save should you be a spendthrift by nature.
Content on Exchange Traded Funds Investing:
Content on Real Estate Investment Trusts (REITs) Investing:
If you are looking to add REITs to your investment portfolio, here are some articles that can help you out.
Alternative Investments: P2P Lending Platforms, Cryptocurrencies and Robo-Advisors
Tools To Help You Get Started On Your Investment Journey
---
Getting Your First Property
For couples looking to get their first HDB BTO, stay up to date with the latest BTO launches.
For most Singaporeans, getting a property is going to be their first big-ticket purchase. Knowing the type of HDB flat you can really afford will be the first step to the whole buying process.
While the process can be quite an experience and stressful, nothing beats a go-to place to get all the information.
Content on getting your first BTO:
Content on Housing Loan:
Content on Renovation:
---
Making Even Smarter Personal Financial Decisions On Lifestyle Choices
While it is important to save, invest, get protected with insurance coverage and etc… There is more to that when it comes to personal finance.
You could also relook your daily and monthly expenses to find hacks and ways to save even more.
I mean, who would want to pay more for something right?
Save On Your Monthly Bills
We do have tools to help you choose the best SIM Only and Open Electricity Plan in less than 10 seconds!
Save On Entertainment
Save On Food
Tools to help you:
About Ming Feng
A stint in
Bloomberg
gifted me with a beer belly, which only grew larger when I moved on to become a Professional Trader. Now I turn caffeine into digestible finance-related content.
You can contribute your thoughts like Ming Feng
here.