18 Best Specialty Coffee Spots in Singapore
"I  only drink atas coffee, not kopi," I'm explaining to an incredulous friend.
That's often the reaction I'm met with – but before you pass judgement, I'm no snob. Weak argument: I simply prefer one over the other.
My expensive, once-daily coffee habit has been reduced to a thrice-weekly indulgence – but my love for a good flat white remains intact, thanks to my university years in Melbourne.
Specialty coffee roasters in Singapore are hardly new.
With more recent (and actually good) entrants to the scene, though, there's no better time than now to herald the best coffee roasters around; the ones that maintain control over the process by roasting their beans in-house.
Dedicated Coffee Roasters in Singapore
Tiong Hoe Specialty Coffee
Incepted in 1960, this coffee roaster is one of those grand dames located in the nether regions of Queenstown. But there's more to it than history.
Tan Tiong Hoe – whose pioneering business as a coffee wholesaler eventually made way for Tiong Hoe Specialty Coffee in 2014 – was responsible for training PPP Coffee owner Leon Foo in coffee-roasting.
Today, Tiong Hoe Specialty Coffee is run by Tan's son, Jacob, and business partner Juliana. Expect no less than 20 single origin coffee beans roasted in-house, plus a menu strung with the likes of long black brews, filter coffee, and the usual espresso-based options.
170 Stirling Rd, #01-1133. Mon to Fri 8.30am to 5.30pm; Sat & Sun 9am to 4pm. 
Nylon Coffee Roasters
No longer the obscure coffee outpost that I remember it to be (I'm slightly apologetic for sounding so pretentious), Nylon Coffee Roasters has been quietly making waves since its opening in 2012.
Owners Dennis Tang and Lee Jia Min began with a humble menu of black and white coffees in three measures – 3oz, 5oz and 7oz – and little has changed since, except visiting on a weekend now means fighting for standing room.
Tang and Lee also make regular trips to Central and South America – where the famed coffee regions of El Salvador, Nicaragua and Colombia are located – to source for beans.
Everton Park Blk 4, #01-40. Mon, Wed & Fri 8.30am to 5.30pm; Sat & Sun 9am to 6pm. 
%Arabica
What's a coffee roaster list without %Arabica? While I haven't yet paid a visit to the Kyoto-hailing coffee joint, it's gotten largely mixed reviews – "not worth the wait!" being the most frequent grumble from disgruntled friends.
Still, its signature blend – which comprises beans from Brazil and Europe – is roasted in-house, and can be enjoyed in the usual permutations. That's reason enough to at least give it a chance.
56 Arab St. Daily 8am to 8pm. 
PPP Coffee (formerly Papa Palheta)
Even if you don't know PPP Coffee, you may know Chye Seng Huat Hardware – both of which are owned by Leon Foo. (Yep, the same dude who trained under Tan Tiong Hoe, if you've scrutinised this story in its entirety.)
Part of the magic behind PPP Coffee is its ability to innovate.
At its Funan outlet, you'll find a brew bar to flex your coffee-making skills at, 'vintage' nitro-frozen beans for purchase, and a toast bar to go with your caffeinated drink. In its online store, PPP Coffee even offers a subscription service that includes Nespresso-compatible capsules.
107 North Bridge Rd, #02-19, Funan. Daily 10am to 10pm. 
Highlander Coffee
This coffee wholesaler and micro-roastery is one for aspiring baristas and coffee enthusiasts. Its space along Kampong Bahru Road is home to more than an espresso bar; it's also where barista workshops take place, some of which are SkillsFuture claimable.
If you're looking to start brewing your own coffee – never a bad idea, given how much you could save in the long run! – Highlander Coffee offers everything from espresso machines and coffee grinders to technical repair services.
49 Kampong Bahru Rd. Mon to Sat 9am to 5pm. 
The Community Coffee
Its store is so nondescript, you might miss it if not for the mounted neon sign on one of its facing walls.
Much like the space, The Community Coffee isn't here for photos or gimmicks – just good ol' coffee, and giving back to the community. Once a month, all proceeds are donated to a nominated charity partner. Unlike many boutique coffee roasters, the beans at Community are roasted to a single profile, meaning they can be used for everything from an espresso or pourover to a flat white.
You'll also find a selection of bagged coffee beans like Laurina, with notes of blood orange and the zestiness of grapefruit.
14 Scotts Rd, #02-94, Far East Plaza. Mon to Fri 9am to 6pm; Sat & Sun 10am to 7pm. 
Apartment Coffee
Minimalist, light-filled, and set with by Scandi furniture: if it sounds a bit much, you might want to swallow your aversion to Instagrammable spots and head on into Apartment Coffee, anyway.
Here, blends are refreshed frequently – and with specific beans used for each style of coffee, you'd best make multiple return trips to try them all. Its flat white, for instance, is built from Colombia El Mirador – a light, nutty roast with notes of blackcurrant and graham cracker.
161 Lavender St, #01-12. Daily 9am to 6pm. 
Glyph Supply Co.
If you've bemoaned the sheer lack of decent specialty coffee joints in the Orchard area, Glyph Supply Co. is here to ease some of that unhappiness.
Again, it's the same light-filled space with high ceilings that we've come to expect of most coffeehouses – with a selection of beans sourced from roasters around the world. Recent inclusions include Ethiopian Areka espressos  from Project Origin, an Australia-hailing company, and a bar takeover by the folks at micro-roastery Cata Coffee.
111 Somerset Rd, #01-06. Mon to Fri, 8.30am to 7pm; Sat & Sun 10am to 7pm. 
Schibello Coffee Roastery
While Little Creatures fans imbibe craft beers over brunch mains, shimmy over to Schibello Coffee Roastery next door.
The coffee joint quietly opened earlier this year, and comes complete with an in-house roastery. At present, you'll find four house blends on the menu – perfect for a quick 8am pick-me-up if you work in the Telok Ayer/Chinatown vicinity.
23 Mohamed Ali Ln (beside Little Creatures Brewery). Mon to Sat, 8.30am to 5pm. 
Alchemist
I'm unabashedly biased in my love for certain boutique coffee roasters, and Alchemist sits pretty high up there. Its third outlet – and flagship store – is located in the erstwhile Khong Guan Biscuit Factory.
On a day-to-day, Alchemist typically offers a choice of two blends: one with bolder notes, and the other with fruitier undertones. Whether you choose a black, white or pourover, its freshly-roasted beans hit the right spot, every time. (Like I said: I'm biased.)
2 MacTaggart Rd, #01-01, Khong Guan Building. Mon to Fri 8am to 5pm; Sat 9am to 5pm. 
---
Best Specialty Coffee Joints
They might not roast their beans in-house, but these coffee joints are credible in their own right.
Omotesando Koffee
Its beginnings as a pop-up in Omotesando Hills, Tokyo, fuelled greater things for this coffee joint.
At its Singapore outpost, Omotesando Koffee offers the usual suspects – although its Iced Cappuccino remains a crowd-puller. The bubble foam-finished beverage is aesthetically pleasing (ugh) in itself, and reason enough for some of us to pay the coffee joint a visit.
6A Shenton Way #04-01, The Work Project, Downtown Gallery. Daily 8am to 6pm. 
Kurasu Coffee
While not a coffee roaster per se, Kurasu Coffee makes the list thanks to its consistently full-bodied flat whites. It's all in the beans, clearly, which are sourced from roasters around Japan – including All Seasons Coffeehouse and Taoca Coffee.
If you're not a coffee purist, ask for the Matcha Latte with extra espresso; it's at once earthy and adequately acidic, but not overly so.
331 North Bridge Rd, #02-01, Odeon Towers. Mon to Fri 9am to 6pm; Sat & Sun 12pm to 6pm. 
The Glasshouse
I once loved The Glasshouse – adored it, even. That had a lot to do with its former space: a literal glasshouse flanked by potted plants, with little on the menu apart from coffee and toast.
While its current, permanent space lacks the same charm, the coffee remains a draw – thanks to the fact that beans are sourced from the likes of Nylon Coffee Roasters, among other local roasteries.
30 Victoria St, #01-03, Chijmes. Mon to Thu 8am to 5pm; Fri 8am to 9.30pm; Sat 9am to 9.30pm; Sun 9am to 6pm
---
Cafes With (Actually Good) Coffee
Common Man Coffee Roasters
Its coffee is matched by an (overpriced but) equally popular brunch menu.
Yet Common Man Coffee Roasters (CMCR) holds its own thanks to its full host of programmes, from wholesaling to its brand-new CMCR Barista Academy on Chin Swee Road.
The standalone academy – developed in conjunction with the Australian Barista Academy – runs everything from coffee knowledge classes to cupping tastings. The technical needn't be technical, particularly once you fully immerse yourself in it.
Meantime, immerse yourself in the world of CMCR coffee at Tiong Bahru Cafe, which uses its blends, or Common Man Stan in the Telok Ayer/Tanjong Pagar area.
22 Martin Rd, #03-71. Mon to Fri, 7.30am to 5pm; Sat & Sun, 7.30am to 6pm. 
Prodigal Roasters
'Good coffee' really is subjective – so I'll have you know Prodigal Roasters isn't a personal favourite. But that may just be me; its freshly roasted beans are light-bodied, whereas I tend to favour coffee with a slightly more acidic profile.
Either way, its location is perfect if you're looking for an escape from crowded coffeehouses. Also on the menu are small bites, including cake and tarts.
81 MacPherson Ln, #01-55. Mon to Sat, 8am to 5pm. 
Dutch Colony Coffee Co.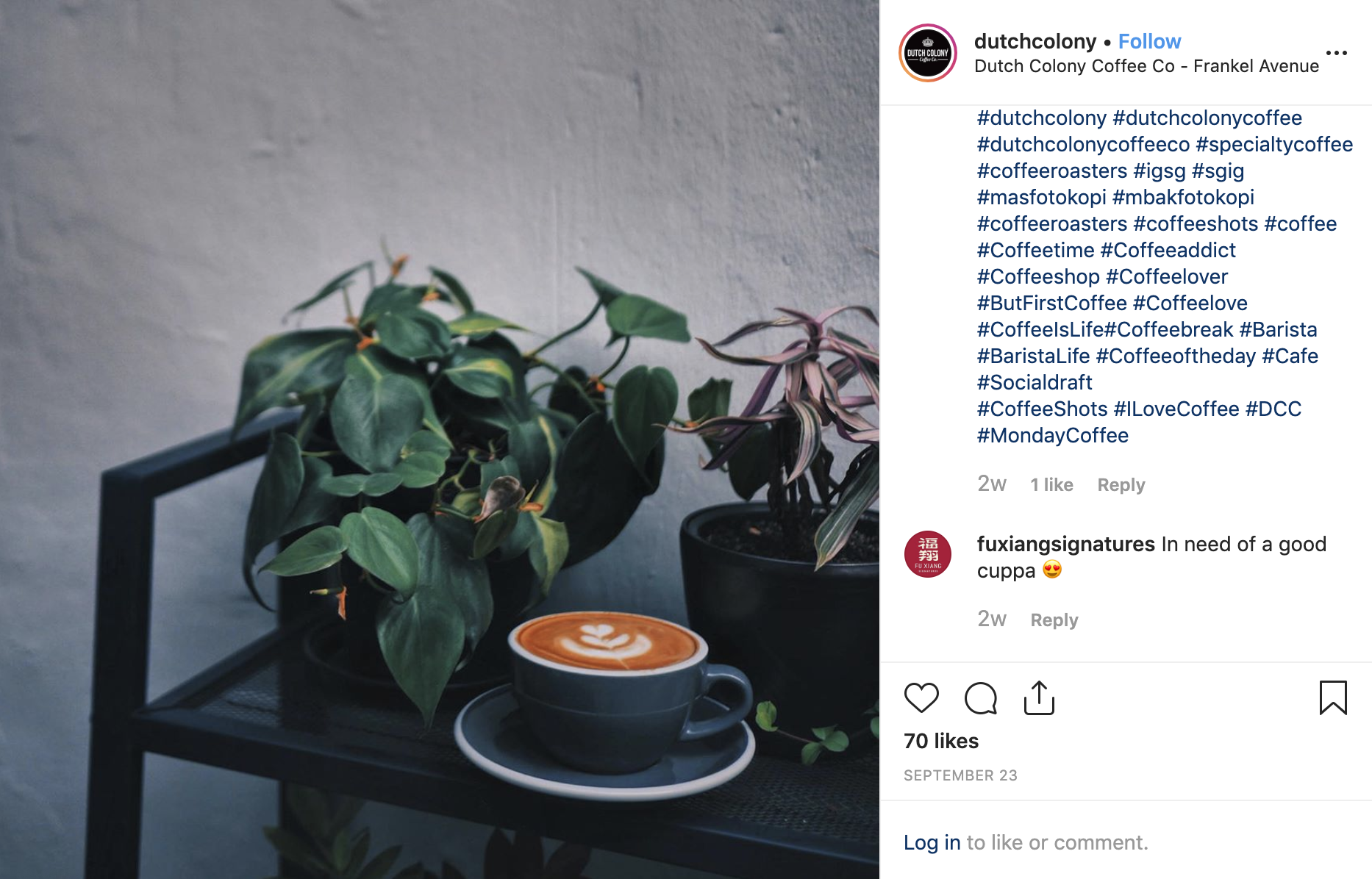 Of the many reasons we love Dutch Colony Coffee Co., here's one of them: they take their blends seriously.
You'll find single origin exclusives in its online store – like the Heroes Series that features single origin beans from the Colombian regions of La Palma and El Tucan.
The specialty coffee chain is admittedly rather commercialised,  but if the coffee's good, then I'm short on complaints. Dutch Colony Coffee Co. also has a roasting facility that doubles up as an academy/training lab.
Various outlets, including 81 Clemenceau Ave, #01-21. Daily, 8am to 6pm. 
Yahava KoffeeWorks
I'll be honest: at first glance, Yahava KoffeeWorks looks painfully garish. Far from its minimalist coffee roaster counterparts, the Australian coffee chain marches to its own rhythm – but really, there's little to fault.
Yahava roasts its Arabica beans on-site – and, apart from free tastings, its blends are available for purchase in quantities of 250g per bag.
4 Jln Gelenggang. Daily 9am to 6pm.  
Pacamara Boutique Coffee Roasters
Its extensive menu – spanning brunch dinner and greens – might distract you from the coffee, but don't let it. At Pacamara Boutique Coffee Roaster, its pour over coffees are the highlight. Choose from a selection of daily blends, or buy a bag of in-house roasted beans to-go.
185 Upper Thomson Rd. Daily 9am to 11pm. 
Did we miss any of your favourite specialty coffee roasters out? Tell us on our Seedly Personal Finance Community page!
About Rebecca Liew
Lactose-intolerant, but also BS-intolerant. Having written for the likes of Marina Bay Sands and Time Out, I now spend my days saving up for my stationery shop retirement dream.
You can contribute your thoughts like Rebecca Liew
here.