Need More Clothes For Work? Here's Where You Can Buy Office Wear For Cheap!
Is one of our favourite past time in Singapore still shopping?
Sometimes I feel like I'm a super lazy person because I don't really like to shop for clothes?
I mean, I want clothes that make me look good too, but I don't enjoy the process of shopping.
Weird, eh?
Plus I just can't make myself spend $30 or $40 on a top, like c'mon, how is it so expensive?
And that's how I find myself lurking on the sales section of blogshops and other online shopping sites, and even then, I'll only buy 1 or 2 pieces at max.
Where else can you find cheap clothes for work then? Apart from the usual, such as Zalora, ASOS, Taobao, Lazada and Qoo10…
---
The Duh, I Know About These Places Already
Bugis Street
Oh wow, this brings back memories…
I haven't shopped at Bugis Street for the longest time, probably since my polytechnic years?
But hey, if you can squeeze past the crowd on the first floor, there are actually decent shops hidden upstairs!
Need shoes and accessories too? Well, I'm sure you can find a whole new outfit in Bugis Street.
Just a word of caution, shopping at Bugis takes a lot of willpower though.
There are so many fashionable and cheap options to choose from, you might end up on a shopping spree and buy more than you planned to.
Far East Plaza
Ah, another nostalgic location during our school days…
Far East Plaza is not just for students though! Similar to Bugis Street, it's full of shops selling fashionable clothing, accessories and shoes.
In fact, gentlemen, you can get custom suits from several tailors situated there as well.
P.S: I'm terrible at it, but apparently, bargaining is considered okay at Far East Plaza!
Pro-tip: There's good and cheap food upstairs if you're famished after shopping the whole day!
Uniqlo
Welcome to Uniqlo!
You heard that in the tune, didn't ya?
While Uniqlo may not have the cheapest prices, it's probably one of the most popular places to shop nowadays.
I mean, there are days that I'm decked out entirely in Uniqlo… I'm sure you've also heard people saying "is that from Uniqlo?"
It's not surprising since they offer an affordable range of clothing, suited for everyday wear and office wear.
The Oh, I Forgot They Still Exist
G2000
Right? Pretty sure you won't think about G2000 right away if someone asks for a recommendation unless you pass by their physical shops.
That's what happened to me recently!
I didn't buy anything, but I took a quick glance and I was rather impressed by their collection.
Correct me if I'm wrong, but when we were younger, G2000 was pretty much the standard office lady look. Not that there's anything wrong with the classic look though!
In recent years, they have adapted quickly and released pieces that are stylish while maintaining your formal needs.
Mustafa Centre
I'm not sure why you'll be surprised that Mustafa is listed here?
If you felt that shopping at Bugis Street or Far East Plaza was overwhelming, then you better prepared yourself mentally if you're making a trip down to Mustafa!
Also, don't get lost inside, your friends will probably take a while to find you…
Mustafa sells almost everything, if not everything, so you'll definitely be able to find clothes there too!
Though you just need to make sure you have enough time on hand, so that you can be distracted by all the other things they sell, while shopping for the office wear you want.
See you on the other side, in one piece, please!
Outlet Malls – Changi City Point & IMM
I know, they can be rather far and inaccessible.
But the savings you get from shopping at outlet malls will be well worth the long bus or train ride!
There are many other outlet malls in Singapore, but if you're looking for office wear, Changi City Point and IMM will be your top choices.
Think massive discounts on your favourite common brands like Cotton On, Esprit to atas brands like Club 21, Benjamin Barker.
Just manage your expectations a little bit though, don't expect to find the latest collections from outlet malls as the selection available are usually from the previous seasons.
Department Stores – BHG, Isetan, Metro, OG
I don't know about you, but I remember spending part of my childhood following my parents while they shop at department stores.
Though nowadays, the reason why I'd step foot into a department store is that it's on the way to another shop I'm visiting.
Don't forget about them though, departmental stores like BHG, Isetan, Metro and OG actually offer a good selection of affordable office wear as well!
These department stores carry lots of different brands so you won't have to worry about not finding something that suits you!
The Huh, Where Is This Even?
City Plaza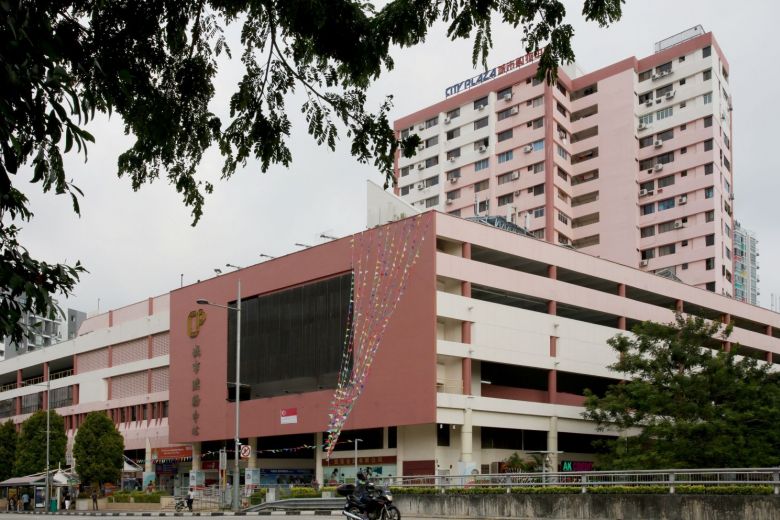 Most of you will just walk right by City Plaza without giving a second look since it's a rather old building on Geylang Road.
Well, you probably should give it some thought if you're looking for cheap office wear though!
You know the blogshops that you frequent for affordable options? Well, chances are, some of their stocks are from City Plaza!
If you can take some time out to check out City Plaza, you'll be able to get the same stuff for cheap!
Buying in bulk will lower your cost even more so head down with some friends, plus, bargaining is once again considered okay here as well.
C K Department Store
I know, this should have been included above since it's a department store as well.
But be honest, how many of you have heard of C K Departmental Store or My CK?
The first time I found out about this hidden gem was when I had time to spare while waiting for my friends and randomly wandered into their outlet in Chinatown.
Even though that was a long time ago and the first few sections I noticed were not the most stylish clothing. But if you take a look at their website, it does seem like they've caught up with fashion a little!
---
Prices aside, do you restrict yourself to buying one or two pieces a month, or do you buy a lot at one go for a few months?
About Jacqueline Yan
Full-time coffee nerd playing the personal finance game to feed her insatiable wanderlust.
You can contribute your thoughts like Jacqueline Yan
here.