Courier Services Comparison Singapore (2019) - Lalamove, GrabExpress, Speedpost etc.
It's true – we've entered a decade of online shopping frenzy. The transport of goods (and services?) happen in such massive volume and scale now and accessibility to things halfway across the world has never been closer.
Scaling back to our tiny red dot, one might think – Singapore is so tiny, surely you can get something quick and easy if you want it, right?
As it turns out, you CAN still take 1.5 hours to get from Bukit Batok to Changi. And when you think about having to deliver something to someone in say… Serangoon while you're all comfortable in your home in Jurong East, it just doesn't make sense to make the journey or even pay for a taxi ride to go to-and-fro.
Also, calling for a Grab and telling the guy to 'pass your friend something' isn't exactly the wisest idea either, nor is it allowed…
Thanks to the growing need for on-demand door to door delivery, there are several courier options to choose from.
TL;DR: Which Is The Best Courier Service In Singapore?
Let's assume you bought these two items from Carousell and you need to have them delivered to you.
With the JBL Speaker weighing in at the <2KG (small parcel category), and the Sofa Bed weighing in at <30KG, here are the price comparisons for each courier so you can make the most economical choice when it comes to delivering your items:
| Courier Service | Small Parcel (<5KG | Large Parcel (<30KG) | Quickest Delivery Time |
| --- | --- | --- | --- |
| Park N Parcel | $3 | N.A | 1-3 days |
| GrabExpress | $12 | N.A | Same day |
| Speedpost | $15 | N.A | Next day |
| Lalamove | $13 | $34 | Same day |
| GOGOVAN | $13 | $23 | Same day |
| UrbanFox | $24 | $20 | Next day |
Park N Parcel
| Up to 8KG, dimensions L+B+H <100cm | Insurance Coverage |
| --- | --- |
| $3 | $50 |
Park N Parcel isn't a door-to-door delivery service, but they make use of existing shops in shopping malls (47 locations and counting!) around Singapore for sellers to drop-off their parcels. The couriers will then pick them up to deliver to the respective buyers' locations, within 3 business days.
Downsides
One major downside of this would be that as both a seller and buyer, you would have to keep to the opening hours of the collection points in order to drop-off or collect your items.
However, shop owners can see this as a good way to drive walk-in crowds to their stores.
GrabExpress
| Bike(Beta) (<5KG) | Large Parcel | Insurance Coverage |
| --- | --- | --- |
| $12 | coming soon | Up to $200 |
GrabExpress is big in Indonesia.
This delivery service has built a reputation for somehow being able to whiz through traffic and fulfil on-demand delivery at record times.
While it's still in beta version here in Singapore, one major plus point of using them was being able to directly choose a recipient from my contact list.
Downsides
Large parcel delivery is still not available. Yet.
Apart from the fact that Grab has the largest market share in ride-hailing and delivery services combined here in Singapore, they've recently gotten a bit of bad rep online with several videos surfacing of irresponsible Grab drivers and partners.
Speedpost
Standard
Priority
Express
Insurance Coverage?
Up to 5KG
Est. Transit Time
1-2days
0-1 day
0-1 day
≤$150
Price
$10
$15
$22
Their on-demand delivery service goes by the name ezy2ship.
As they are Singapore's main postage service, they naturally have the largest presence on our island and might be the most reliable option if you'd like to feel more assured about your delivery. Although… That is not always true…
Downsides
I had trouble navigating the website and was pretty confused by the many options and links presented on the SingPost website. That, coupled with the fact that they don't have an app when I can quickly check on my deliveries (or even as a recipient) already warrants a "Thank you, next."
Lalamove
Bike (<8KG)
Car (<20KG)
Van/Lorry
Base fare $10 + $0.30/km
Base fare $15 + $0.40/km
1.7m van
2.4m van
10ft Lorry
14ft Lorry
Base fare $30 + $0.50/km
Base fare $38 + $0.50/km
Base fare $42 + $0.75/km
Base fare $79 + $0.75km
$13
$18
$34
$42
$47
$84
Insurance Coverage:
Up to $200
Lalamove has me convinced with their upfront pricing for all vehicle (and parcel weight) types. Also, their app is a breeze to use!
I know of two friends who have signed up as couriers with them and they seem to have had decent experiences so far.
GOGOVAN
| Parcel (max 10KG) | Parcel (max 20KG) | Parcel (max 30KG) | Parcel (max 40KG) | Parcel (max 50KG) | Insurance Coverage |
| --- | --- | --- | --- | --- | --- |
| $13 | $18 | $23 | $28 | $33 | No |
Similar to Lalamove, Gogovan operates on a fleet-less model. Basically, their platform matches private riders and drivers to delivery requests.
Downsides
Their delivery system also means that there is no insurance coverage for your item, which is something you might want to take note of if you are sending fragile, high-value, or sensitive items.
UrbanFox
| Parcel size / weight | Base Rate | Distance Charge |
| --- | --- | --- |
| 0-5kg | $7 | $0.50/km |
| 5-10kg | $10 | $0.50/km |
| 10-30kg | $18 | $0.50/km |
Probably the least known of all the courier delivery services, I found out about UrbanFox from a friend.
She operates an online jewellery business and has since switched from Singpost's SmartPac option to shipping her items via UrbanFox.
On first look, their interface did not particularly draw me in. But what I must give to them, is the range of parcel deliveries they offer. "One hand (0-5KG), Two Hands (5-10KG), and Trolley (10-30KG). Their cheeky names have my attention!
I checked the price for delivering a 1.5kg parcel from the Seedly office in Ayer Rajah to Vivo City, and this is the breakdown of the fees.
Ninja Van (not on-demand)
Perhaps a familiar term amongst my fellow comrades (Chey! Kidding…  But really, thanks for serving the nation, boys!), Ninja Van is apparently a term used during outfield/JCC when a random van stocked full of supplies and snacks appears out of nowhere in the jungle – to provide much-needed creature comforts for our boys in green.
Downsides
Unfortunately, after much digging, I learnt that:
They do not offer on-demand, last mile delivery service
Their UI/UX needs serious work
I'd imagine if I was in a slight hurry to send my parcel somewhere, a non-intuitive app will most likely make me hop over to an app that I'm more familiar with (a.k.a Grab).
What's worth noting is that Grab and Ninja Van announced a regional partnership earlier in Apr 2019, where the company is onboarding Ninja Van's On-Demand Courier services. Considering that GrabExpress is currently available in 150 cities including Singapore, Malaysia, Thailand, Philippines, Vietnam, and Indonesia – countries that Ninja Van is most active in – let's see if this partnership will make Ninja Van a viable courier service in the future.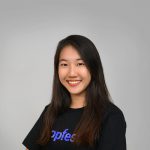 About Ruth Lum
Breaking down 'chim' finance knowledge into manageable pieces so you don't have to.
You can contribute your thoughts like Ruth Lum
here.