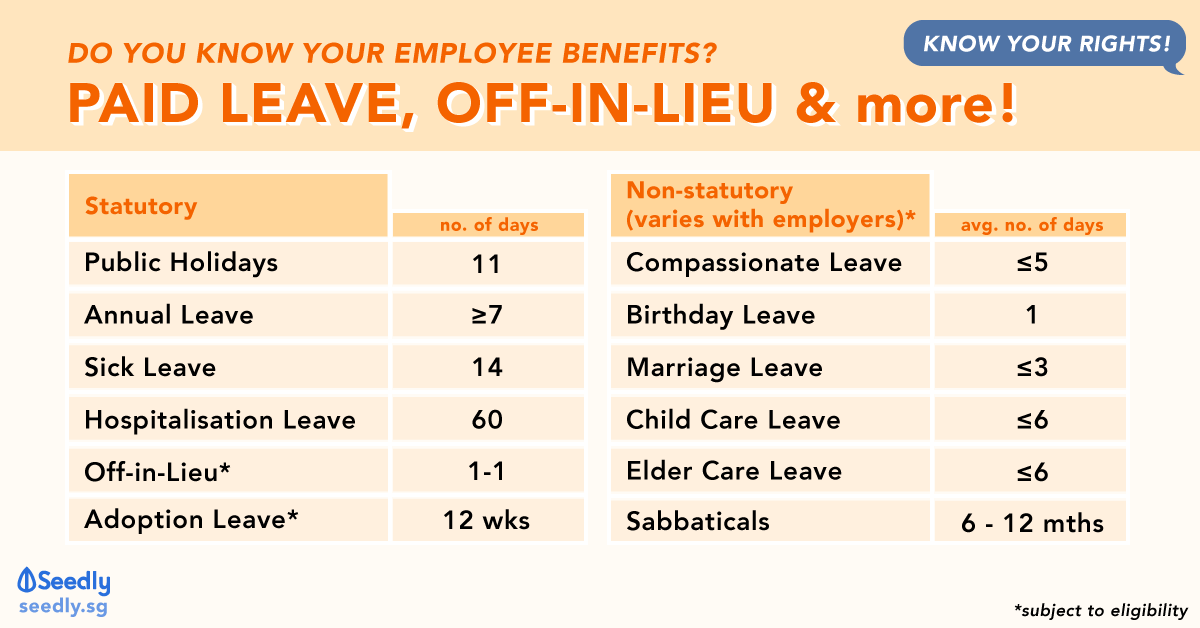 < BACK TO MAIN BLOG
Know Your Rights! Employee Benefits: Off-in-lieu, Paid Leaves, Overtime Pay
4

min read
When you encounter a "Terms and Conditions" page, do you scroll straight to the bottom and click on the "I Agree" button? Yep, me too. (And that's how I lost my $50 Obike deposit *#^@&#**[email protected]%^!)
Perhaps you've also done that while signing a contract for a job offer, and have never really taken a good, detailed look at what's in it for you, what are the employee benefits and what are your entitlements.
TL;DR: What are your off-day benefits as an employee?
This article seeks to educate you on just that.
No of Days
(M.O.M guidelines)
No. of Days
(Set by some companies)
Carried forward
to next year?
Statutory
Public Holidays
11
11
No
Annual Leave
7 (min.)
14 - 21
Yes
Sick Leave
14
14
No
Adoption Leave
12 weeks
12 weeks
No
Hospitalisation Leave
60
60
No
Off-in-lieu
1-to-1
2 days off for working on Pub. Hol.
No
Non-statutory
Compassionate Leave
nil
≤5
No
Birthday Leave
nil
1
No
Marriage Leave
nil
≤5
No
Child Care Leave
nil
≤6
No
Elder Care Leave
nil
≤6
No
Sabbaticals
nil
Half/one year
No
Editor's note: This guide serves as an introduction for first-time full-time employees and new hires who are just starting to familiarise with the statutory requirements applied to employment contracts. It may not address specialized industries involving manual labour and blue collar workforce. Most contract/part-time employees would have their benefits pro-rated accordingly, but varies with companies.

The Employment Act (Updated release on 21 Nov 18)
The Employment Act is Singapore's main labour law. It provides for the basic terms and conditions at work for employees covered by the Act. Read more here.
In the latest amendment, it saw a change in the salary cap(currently at ≤$2,000) in the Employment Act so that it now covers all workers – including professionals, managers and executives.
PMETS who draw a salary of ≤$4500 per month are now INCLUDED under the Employment Act.
A workman (doing manual labour) earning a basic monthly salary of not more than $4,500.
An employee who is not a workman, but who is covered by the Employment Act and earns a monthly basic salary of not more than $2,600.
Other notable changes in the Employment Act are:
Giving extra protection to more rank-and-file workers
Improving the employment dispute resolution framework
Giving employers greater flexibility to (e.g. compensate staff for working on public holidays)
Image credit: Ministry of Manpower Singapore
We took a look at what people are searching for regarding employment matters and addressed them below:
Official Public Holidays
Salary Calculators (comprehensive SALARY GUIDE here)
Working on a public holiday
Sick Leave
Overtime Calculator
Employee Benefits in Singapore Companies
Part-Time Employees Regulations
Off in Lieu
Working Overtime
Employees that are covered under the Employment Act as above are entitled to work no more than 44 hours per week.
Come April 2019, more people will be covered under the Employment Act, which grants them protection on hours of work, overtime pay and rest days.
Public Holidays
New Year's Day
Chinese New Year – first day
Chinese New Year – second day
Hari Raya Puasa
Hari Raya Haji
Good Friday
Labour Day
Vesak Day
National Day
Deepavali
Christmas Day
*If the holiday falls on a rest day, the next working day will be a paid holiday.
Find out your eligibility for a variety of official leaves on M.O.M's webpage here.
Annual Leave
It is common practice in Singapore to grant employees 14 days of annual leave, adding 1 extra day for every additional year the employee is with the company. From what we understand, certain companies grant leaves of up to 18 days even!
In special situations such as unconsumed leave, unpaid leave and leave on a half-day of work, employers have certain guidelines put in place. Check with your employer for clarity or read more here.
If you don't know where to use your annual leave, this should come in handy for 2019:
Sick Leave
14 days of paid sick leave
To be eligible for sick leave, the employee must produce a medical certificate from any registered doctor or dentist.

Hospitalisation Leave
60 days of paid hospitalisation leave
Read more: Integrated Shield Plan Comparison
Paternity leave
From 1 January 2017, eligible working fathers (including those who are self-employed) are entitled to 2 weeks of paid paternity leave funded by the Government.
Maternity leave
Working mothers are entitled to either
16 weeks of Government-Paid Maternity Leave or
12 weeks of maternity leave, depending on whether your child is a Singapore citizen and other criteria here.
Adoption leave
Eligible adoptive mothers (including those who are self-employed) are entitled to 12 weeks of paid adoption leave to bond with and care for their adopted infants. Leave should be taken all in one stretch, or as otherwise agreeable by your employer.
Eligibility
Your adopted child is <12 months at the point of your formal intent to adopt.
The "formal intent to adopt" happens:
For a local child: when you file the court application to adopt.
For a foreign child: when in-principle approval is granted for a Dependant's Pass.
The adopted child is a Singapore citizen.
If the child is a foreigner, one of the adoptive parents must be a Singapore citizen.
The child must become a Singapore citizen within 6 months of the adoption.
You must be lawfully married at the point of formal intent to adopt. Not applicable for unwed adoptive mothers whose formal intent to adopt is on or after 1 January 2017.
You must have served your employer or been self-employed for a continuous period of at least 3 months immediately before your formal intent to adopt.
The adoption order must be passed within 1 year from the formal intent to adopt.
Off in lieu
If you are required to work on a public holiday, your employer should pay you an extra day's salary or grant you off in lieu on a mutually agreed day.
No fixed structure but several companies follow:
1-1 compensation for no. of days worked in excess
e.g. Attending to a work-related event on a Saturday(non-working day, you get one day off in lieu of your non-working time.
2-1 compensation for no. of days worked in excess on a Public Holiday
e.g. Attending to a work-related event on a Sunday(non-working day, you may get 2 days off in lieu)
In addition, some companies have special days off such as:
Compassionate Leave
Birthday Leave
Marriage Leave
Sabbaticals
Child Care Leave
Elder Care Leave
---
Most companies in Singapore provide certain non-statutory benefits to their employees, ensuring that their workforce is well looked after.
These benefits could be a game-changer for hiring potential employees, as it speaks for how much a company values talent. Things like compassionate leave and marriage leave also indicate how progressive a company is.
Non-Statutory Benefits and Perks
Beyond off-days and leaves, some common employee benefits include:
Healthcare, well being and personal benefits – Many of Singapore companies offer medical insurance plans that extend to dependants and typically cover personal accident and hospitalization.
Per Diem – For travel related jobs, many companies provide a per-day allowance, transportation allowance or reimbursement of actual expenses while traveling. The per diem amount depends on the place the employee is travelling to.
Relocation package – Most companies provide a relocation allowance to employees who have to move with their family from their home country to Singapore. Some employees come on "full expat" terms, some on "semi expat" terms and some others on "full local" terms.
Employee stock purchase plans – Some companies provide employee stock purchase plans, especially to senior employees.
Other additional perks – Other perks may include: paid corporate memberships, sponsoring employee training programs and educational courses, marriage leave, providing restaurant discount vouchers, mobile phone plans, paid gym/club memberships, organize sporting activities, team outings, staff referral schemes, sabbaticals etc.
From M.O.M's website:
If you come across any non-compliant employers, you can:
Call our hotline: 1800 221 9922

Monday to Friday: 8.30am to 5.30pm
Saturday: 8.30am to 1pm
Closed on Sunday and public holidays

Email 

[email protected]
Your identity will be kept strictly confidential.
---
Help a fellow community member out on our QnA platform:
SHOW US SOME LOVE! If you like what you've read, join us on our personal finance journey on Facebook and Telegram!