A Singaporean's Guide To Part Time Maids: Are They Worth It?
Whenever we have friends over, people never fail to go, "Waaaa… Your house is so clean! Which part-time cleaning service are you guys using? Ours damn cui sia... Intro leh!"
To which my wife would sheepishly reply, "Eh… We don't hire any help. We… I mean, my husband does most of the cleaning."
Meanwhile, me:
Well, to be fair, she does help out.
With laundry, vacuuming, and taking care of the five thousand plants we have. I simply do the heavy-duty stuff like mopping the floors, washing the toilets, changing the bedlinen, and the other five billion stuff that keeps our home looking like this: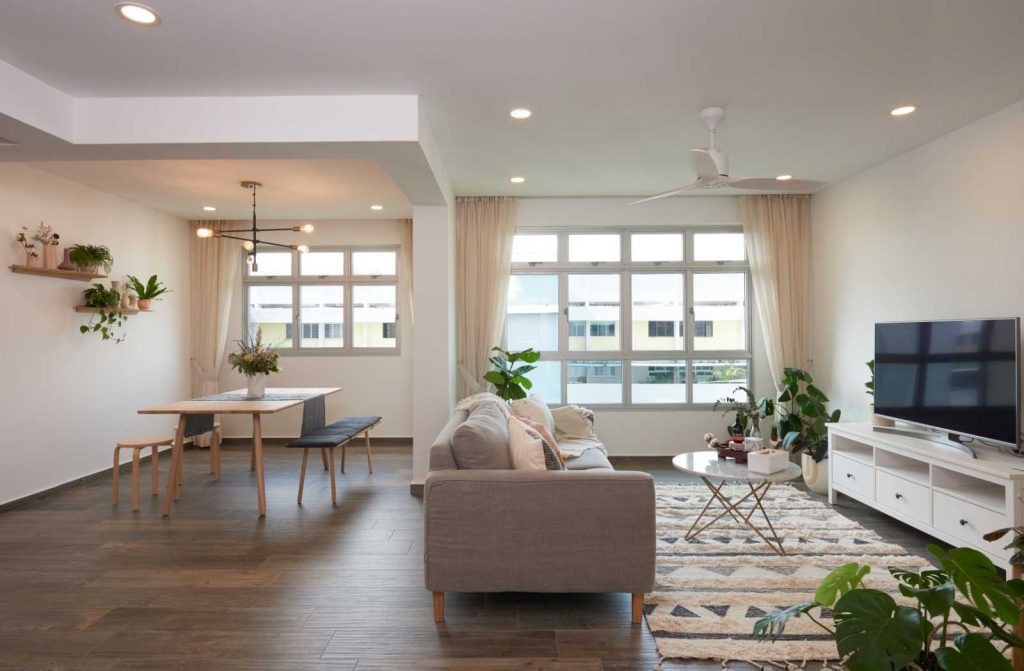 But it did get me thinking. How much would it cost to hire a part time cleaner? And is a part-time maid as expensive as most people think?
Let's find out.
TL;DR: Is A Part Time Maid Really Worth It?
Worried about cost? Hiring a part-time cleaner or maid for a 4-hours will cost you approximately $272 a month, as compared to $500 to $800 a month for a full-time maid.
Wondering if there's a cheaper option? Freelance cleaners usually charge lesser but there are risks.
Concerned about privacy? A part-time maid will leave once the job is done.
Unsatisfied with the part-timer? Simply hire another one, or ask for a replacement if you engaged an agency.
Conclusion? A part time maid or cleaner is usually better for young couples. For larger families, you might want to consider hiring full-time help.
Why Hire A Part-Time Cleaner?
A quick check with my friends revealed that hiring part-time cleaning services is quickly becoming a norm among Singaporean families. Especially young, married couples. Here's why:
The cost of hiring a part-time helper is lower as compared to hiring a full-time maid (no need to pay the $300 monthly levy for foreign maids)
The part-time maid can be hired to clean as often or as seldom as you wish
The part-time cleaner will leave once the job is done so you may enjoy your privacy
The part time maid can be replaced anytime, with little to no hassle, if you're not satisfied with your current help
To be honest, it does sound great so far. I mean, who wouldn't love having the couple of hours it takes to clean the house to do something else?
Part-Time Maid Agency Or Independent Home Cleaning Service?
When I probed further, I learnt that you can choose to hire help from an agency or choose an independent cleaning service.
So what's the difference?
A friend of mine who has a part-time helper summed it quite nicely: Cost and Accountability.
If you choose to hire a part-time cleaner from an agency, you'll definitely have to pay a little bit more. However, the cleaners they send are professionally trained and they tend to be more reliable. And if your designated cleaner is unable to clean your house for some reason, the agency will send a replacement to do the job.
Unsatisfied with the standard of work? No problem. Just request for a change of cleaner.
With freelance cleaners… It's a little bit of a gamble.
Having been through multiple 'Standby Universes' during my time in Basic Military Training, I'd hire him. But I digress.
Another friend shared that her current cleaning auntie is a PR who was recommended to her by word-of-mouth. She did caution that these part time cleaners are not professionally trained and are not insured. This means that you'll have to assume all risks – damage, injury, theft and etc.
However, these cleaning aunties are usually cheaper and if you're really lucky, you might find one who is an experienced domestic goddess. My friend paid a little extra for her cleaning auntie to help out with her crying baby and to do a little cooking too. As a gauge, she usually pays freelance cleaners about $60 to $80 for 4 hours of cleaning or about $15 to $20 per hour.
She also recommends being around when they're cleaning so they're less likely to skive, won't compromise on cleaning standards, and you can keep an eye on your valuables as well. Until they've proven that they can be trusted.
What's Covered By A Part-Time Cleaner?
The job scope varies from agency to agency, as well as for independent cleaner as well. But here's an idea of what you can usually expect:
Bedroom and Living Room
Cleaning of mirrors
Changing of bed linen (frequencies vary)
Dusting of furniture
Vacuuming and mopping of floors
Bathroom
Cleaning of bathtub or shower
Cleaning of wash basin and toilet bowl
Washing of toilet floor and walls
Kitchen
Cleaning of exterior surfaces of kitchen cabinets and surfaces
Mopping of floor
Washing of basin (used dishes in the basin are usually not included)
Wiping of stove and exterior of electrical appliances
Misc
Emptying the trash
Ironing (charges usually subjected to a period and
And here's a non-exhaustive list of chores that most agencies and cleaners might offer, but usually at an additional charge:
Cleaning of oven or fridge interior
Cleaning of windows (interior only)
Laundry
Moving of furniture
Packing of personal effects
So How Much Would It Cost To Hire A Part-Time Helper From An Agency?
It goes without saying you definitely have to pay more if your house is a mansion, or if you hire more cleaners to clean your home each time.
Here's a quick look at the rates of some of the cleaning agencies we found online where you can easily hire a part-time cleaner or maid through a couple of taps on your phone.
Agency
Unique Terms
Minimum
One Time Registration Or Agency Fee
Rates
3C Home Cleaning Services
3 helpers per 1,000 sq ft (subject to floor area and unit condition)
3.5 hours per visit
-
$25/hour onwards (weekday)
$30/hour onwards (weekend)
A-Team Amahs & Cleaners
Add $2/hour for fortnightly cleaning

4 hours per visit
$288
inclusive of six-month guarantee for maid replacement
$17/hour onwards (weekdays)
$19/hour onwards (weekend, public holidays & weekday nights)
Auntie Cleaner
4 cleaning sessions
3 hours per visit
-
$359/package or $29/hour
DomesticONE
Once or more times per week OR fortnightly

3 hours per visit
$188
inclusive of unlimited free maid replacement
$16/hour onwards (weekday)
$17/hour onwards (weekend)
$20/hour onwards (public holidays & weekday nights)
NTUC Income Domestic Cleaning
4 times per month
Min of 6 months commitment

3 hours per visit
-
$230/month or $19/hour (weekday)
$260/month or $21/hour (weekend)
Oh, and just in case you're wondering. It's pretty much industry standard for customers to provide cleaning equipment such as:
Brushes
Cleaning cloth
Detergent
Dusters
Mops
Pails
Vacuum cleaner
Is It Worth Hiring A Part-Time Maid?
Assuming I hire a part-time maid to do a 4-hour clean-up of my 4-room flat every Sunday, I'll be looking at paying approximately $272 a month – excluding any one-time registration or agent fee.
This is as compared to hiring a full-time maid, which would cost me about $500 to $800 a month. However, this is not inclusive of maid insurance, applicable levies, medical examinations and the works.
Naturally, having a full-time maid has its benefits because you'll have someone on-call 24/7. This would be most ideal for large families who have babies, young children, elderly folks who need special care, a whole zoo of animals to take care of and etc.
You get the picture.
Basically, having a full-time maid should help keep you sane if life at home resembles this:
So for young couples like me and my wife, who would really only need help with cleaning, a part-time cleaner seems like the most prudent option. And if we ever go on holiday, or decide to clean up after ourselves, we can always reschedule the part-time maid to drop by at a later time.
Now, if only I've got $272 a month to spare…
About Kenneth Fong
I threw all of my money into the longkang once... because I wanted to see my
cash flow
.
You can contribute your thoughts like Kenneth Fong
here.