A Singaporean's Ultimate Guide to Sentosa Entry Fees, Parking Rates & Fun Pass Hacks
"Eh, let's all go overseas this weekend leh!" the editor said.
"ON! Where?!"
"Sentosa," he quipped without missing a beat.
Him being lame aside.
I guess it's nice to visit Singapore's holiday island once in a while for its beaches and attractions lah…
BUT we're definitely making him pay for all of our Sentosa entry fees and car park charges!
(Editor's note: howboutno?)
---
TL;DR: Free Entry Into Sentosa & USS Season Pass for the Price of a One-Day Ticket
As an extension to Sentosa's plan to waive admission fees during the March school holidays.
Visitors get to enter Sentosa for free from 14 March to 30 June 2020.
Free Entrance via
Details
Car (Drive-in)
Vehicles with locally registered IU can enter for free
Malaysian registered cars can enter for free with:
- EZ-Link card
- Cashcard
- AutoPass

Note: TouchNGo card cannot be used
Commercial vehicles with G, W, X, Y plates are not allowed free entry (unless with valid document)
Grab
Use code SentosaFun for $5 off your ride.

For pick up outside Sentosa (10am – 6pm) and drop off at Sentosa.

Valid 1 – 31 Mar 2020, only one redemption per user
Sentosa Express Trains
Tap and enter for free with your EZ-Link card

Note: guests without an EZ-Link card can approach the guests ambassadors for free entry
Shuttle Bus from Our Tampines Hub
Transport fee waived from 14 Mar to 30 Jun 2020 
If you insist on getting into Sentosa via other means like the cable car, then be prepared to pay the usual price…
Since you're going to Sentosa, why not swing by Universal Studios Singapore as well?
If you purchase a one-day ticket ($81), you'll receive a Season Pass (worth $108) and be able to enjoy 6 months unlimited access to the park, F&B, and retail discounts!
Note: only valid for new Season Pass sign-ups purchased with a Mastercard.
---
How to Get to Sentosa and the Latest Sentosa Entry Fees 2020
Before you hit the beaches or go on the luge, you'll have to get to Sentosa island first, right?
Depending on how you intend to get into Sentosa, it could cost you a bit or A LOT.
Sentosa Entry Fees
There are so many ways you can get into Sentosa.
Some of them are cheaper while still being pretty convenient too!
Transport Options
Cost
Remarks
Sentosa Boardwalk
Free
Until 31 December 2020
Bus RWS8
$1 per ride
Board bus at VivoCity
& alight at Resorts World Sentosa
Bus 123
$1.03 - $1.84
(Adult Card Fares)
Board from Opposite Mt Faber Lodge
or any point with Bus 123 & alight at
Merlion Plaza,
Resorts World Sentosa,
or Beach Station Terminal
$0.69 - $0.88
(Senior Citizen/PWD Card Fares)

$0.48 - $0.59
(Student Card Fares)
$0.80 - $1.46
(Workfare Transport Concession
Scheme Card Fares)
Sentosa Cove Shuttle Bus
$2 per ride
Board shuttle bus from HarbourFront Bus Interchange
& alight at Sentosa Cover Village's drop off point
Sentosa Express
$4 per person
Includes Island Admission Fees
Singapore Cable Car
Mount Faber Line
(Round Trip)
$29.50 (Adult)
Includes Island Admission Fees
- Child: 4 to 12 years old
- Senior: 60 years & above
$21.00 (Child)
$19.20 (Senior)
Car & Taxi
$2 gantry admission charge per car
Weekday:
- 12pm to 2pm
- 5pm - 7am
Weekend:
- 5pm - 7am
$6 gantry admission charge per car
Weekday:
- 7am to 12pm
- 2pm to 5pm
Weekend:
- 7am to 5pm
By Sentosa Express Monorail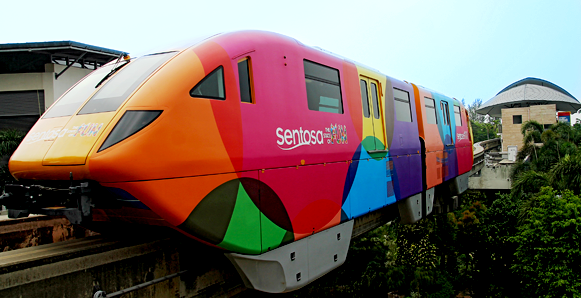 I know, most of us will just take the Sentosa Express monorail since it's so accessible from Vivocity.
But guys, it's $4 per admission!
(Side note: entrance to Sentosa via the Sentosa Express is free from 14 March to 30 June 2020!)
Okay lah, it's still the most convenient and fastest option to get to Sentosa from Vivo.
By Bicycle or Foot via Sentosa Boardwalk
The cheapest way to get into Sentosa is definitely taking the Sentosa Boardwalk since it's free.
You could ride a bike or skateboard across too.
But… it may not always be feasible if you have young children or senior citizens with you.
Or if the weather is unbearably hot.
By Bus
If you're not in a hurry, the next best option is to spend $1 per person and take Bus RWS8 from VivoCity, before hopping on the Sentosa Express Monorail to whichever stop you'd like to go to.
In case you're wondering, you don't have to pay any additional entrance fees if you're taking the bus.
All you have to pay is the bus fare!
By Cable Car
If you'd like to take the scenic route (read: high-SES option), a round trip (local price) cable car ride costs $29.50 sia…
I'll pass.
By Car, Taxi, or Grab
Lastly, if you're driving, I'd recommend entering:
during lunch hour or after 5pm on weekdays, and

after 5pm on weekends
if you want to pay the least ($2) for your car's drive-in gantry admission charge.
Don't forget that you'll have to pay for parking too, so it's definitely not a cheap option.
Sentosa Car Park Prices: Where's The Cheapest Parking in Sentosa?
Since we're talking about driving, you're probably wondering where to find the cheapest parking in Sentosa.
It goes without saying that parking at Resorts World Sentosa (RWS) is going to be damn ex:
Car Park Rates at Resorts World Sentosa
7am – 7pm
After 7pm
Maximum Charge
Mon – Thu
(excluding Public Holiday)
$7 for 1st hour
$1 for subsequent half hour or part thereof
$6 per entry
$28 for 24 hours
Fri, Sat & Sun
(including Public Holiday)
$8 for 1st hour
$2 for subsequent half hour or part thereof
$8 per entry
Note: RWS will occasionally run free parking promos if you dine at their restaurants or clock a minimum spend, so check their website before heading down!
Now… let's consider options on Sentosa island:
Sentosa Island Car Park Rates
Weekdays
Weekends
Maximum
W Singapore Sentosa Cove
$3.50 per entry from 7am – 12:59am

$1.50 per hour from 1am – 6:59am
(Mon – Thu)
$4 for 1st 4 hours
$1 for subsequent hour from 7am – 5pm

$4 per entry from 5pm – 1am

$1.50 per hour from 1am – 7am (Fri – Sun)
-
Capella Singapore
$8 for 1st 2 hours
$1 for subsequent 1/2 hour
Capped at $25
Quayside Isle, Sentosa Cove
$3.50 per entry from 7am – 12am
(Mon – Thu only)
$4 for 1st 4 hours from 7am – 5pm

$4 per entry from 5pm – 1am
(Fri – Sun)
-
Sentosa Costa Sands Resort
(Imbiah Walk)
Free
-
Sentosa Golf Club
(Bukit Manis Road)
Free
(7am – 7pm)
-
Sentosa Car Parks
- Beach Station
- Imbiah
- Palawan Beach
- Sentosa Cove Village
- Tanjong Beach
$0.02 per min from 7am – 5pm

$2.40 per entry from 5:01pm – 6:59am
-
Yep, you read that right.
You can find free parking at Sentosa Costa Sands Resort and Sentosa Gold Club!
However, these car parks are a little more ulu than the others (which explains why it's free).
So if you have kids in tow or senior citizens tagging along… just pay a bit more and park somewhere closer to the attractions lah…
Sentosa Islander Membership: Is It Worth Getting?
The Sentosa Islander Membership gives you access to unlimited island admissions and discounts at participating attractions, hotels, F&B, and retail outlets.
It also includes free entry into Sentosa via:
Sentosa Boardwalk
Sentosa Drive-in Gantry
Sentosa Express Monorail
Here's how much it costs:
Sentosa Islander Membership
Price
(Annual)
Price
(Renewal)
Individual
$25.00
$20.00
Family
$50.00
$40.00
If you're wondering whether it's worth getting the Islander Membership (Individual), I'd say that it's only worth if you plan on visiting Sentosa at least 4 times in a year ($6 per car admission x 4 = $24).
Note: the individual membership is non-transferable and only entitles one car and one person to the free admission
Considering that I don't drive and I don't visit Sentosa that often, I'll probably give this membership a miss.
Sentosa Fun Pass: Is It Worth Getting?
Since my rare trips to Sentosa nowadays either involve spending some money and going to the beach club or having a super chill picnic by the beach, I've never really given the Sentosa Fun Pass much consideration.
Until recently…
My partner and I were each given a 55-Token Fun Pass and all we spent out-of-pocket was our brunch when we arrived, and well, some beers midday because it was just so hot.
Granted, we had dinner elsewhere after we left Sentosa but it would still have been super affordable even if we paid for our own Fun Passes!
Fun Pass Tier
Cost
55 Tokens
Fun Pass Only
(Valid for 2 days)
Fun Pass & Universal Studios Singapore Ticket
(Valid for 3 days)
$43.30
$120
(Adult)
$100
(Child)
80 Tokens
Fun Pass Only
(Valid for 2 days)
Fun Pass & Universal Studios Singapore Ticket
(Valid for 3 days)
$61.20
$140
(Adult)
$120
(Child)
120 Tokens
Fun Pass Only
(Valid for 2 days)
Fun Pass & Universal Studios Singapore Ticket
(Valid for 3 days)
$89.20
$170
(Adult)
$150
(Child)
Top-up
$5 per 5 Tokens
What Can I Use The Fun Pass On And Is It Worth It?
To be honest, I can be such an auntie sometimes that I can't even deal with it.
So, bear with me, let's look at how much each token costs you based on your Fun Pass tier.
| Fun Pass Tier | Amount Paid | Cost Per Token |
| --- | --- | --- |
| 55 Tokens | $43.30 | $0.79 |
| 80 Tokens | $61.20 | $0.76 |
| 120 Tokens | $89.20 | $0.74 |
There are quite a lot of activities covered under the Fun Pass, catering to different interests.
I was a little disappointed to find out that the Skyline Luge is not included in the Fun Pass.
So make sure to check if the activities you are interested in are covered under the Fun Pass before buying it!
We picked out a few popular activities that Singaporeans usually go for and calculated if the Fun Pass is worth it.
Activities
Standard Adult
Ticket Prices
Number of Tokens
needed to Redeem
Amount Spent
on Tokens
(based on $0.79
per token)
Percentage Savings
iFly Singapore
(The Teaser - 1 Skydive)
The Challenge
- 2 Skydives
(Off Peak)
$89
110
$86.90
2.3%
The Teaser
- 1 Skydive
$89
90
$71.10
20.1%
AJ Hackett Giant Swing
$69
(includes access to
Skybridge worth $10)
50 (Giant Swing)
$47.40
31.3%
10 (Skybridge)
Mega Adventure Park
- Mega Zip
$55
55*
$43.45
21.0%
Headrock VR
Big 5
$50
45
$35.55
28.9%
Big 3
$35
30
$23.70
32.3%
2 Orange Zone Rides
$26
20
$15.80
39.2%
1 Orange Zone Ride
$13
10
$7.90
39.2%
S.E.A. Aquarium
$36
35
$27.65
23.2%
Adventure Cove Waterpark
$32
35
$27.65
13.5%
Madame Tussauds Singapore
(Includes entry to:
Spirit of Singapore boat ride
Images of Singapore LIVE
Marvel 4D Cinema
Ultimate Film Star Experience)
$28
35
$27.65
1.2%
Trick Eye Museum

$25
20
$15.80
36.8%
Ola Beach Club
30 minutes Stand Up Paddle Board
$17.50
($35 per hour)
10
$7.90
54.8%
The Standard Adult Ticket Prices above were compiled from each activity's official website and factors in the discounts available for locals and online purchases.
Also, the equivalent amount spent on each activity if you have the Fun Pass is based on the Cost Per Token ($0.79) for the 55 Tokens Fun Pass.
So if you purchased the 80 or 120 Tokens Fun Pass, you'll definitely be saving a little bit more!
It sure looks like the Fun Pass is worth getting if you're planning to do some of these activities above.
However, if you decided to do more on the day itself and needed to top up $5 per 5 tokens, it may not be as worth it anymore.
Just remember to plan a little in advance — like for the scenario above — and you'll probably will be able to find better deals online.
Sentosa Fun Pass Promo
Lucky for you, there's a promo going on right now that gives you 15% off Sentosa Fun Pass.
All you have to do is use these promo codes:
Mastercard Holders: "SENTOSAMC"

NTUC Members: "SENTOSANTUC" 

SAFRA Members: "SENTOSASAFRA"
when buying your Fun Pass online!
Is the Fun Pass & Universal Studios Singapore Combo Worth It?
I'm not entirely sure about the Fun Pass & Universal Studios Singapore (USS) combo though.
Purchasing a Singapore Resident One-Day Ticket (Anytime) on Resorts World Sentosa's official website will cost you $75 for an adult ticket and $56 for a child ticket.
Doing a quick calculation would show you that you're technically paying more for your USS tickets with the Fun Pass combo.
"Base Cost" of Fun Pass
Difference Paid for USS Adult Ticket
Singapore Resident
One-Day Adult Ticket (Anytime)
Difference Paid for USS Child Ticket
Singapore Resident
One-Day Child Ticket (Anytime)
$43.30
(55 Tokens)
$76.70
$75
$56.90
$56
$61.20
(80 Tokens)
$78.80
$58.80
$89.20
(120 Tokens)
$80.80
$60.80
Besides, if you're a little more hardworking, you'll probably be able to find better deals on their website and other platforms!
But of course, you'd already have saved quite a fair bit of money by getting the basic Fun Pass, so all's good!
Furthermore, you're likely to spend most of your time at USS covering all the rides.
Which means you may not have time to make use of your Fun Pass unless you're going back the next day.
About Jacqueline Yan
Full-time coffee nerd playing the personal finance game to feed her insatiable wanderlust.
You can contribute your thoughts like Jacqueline Yan
here.