Singapore Digital Bank Licenses: What Singaporeans Need to Know
Monetary Authority of Singapore (MAS) to Issue 5 Digital Bank License This Year
Due to COVID-19 pandemic, the assessment for digital bank license was delayed. MAS has now resumed the licensing process.
MAS will be looking to make a decision on which parties will they award the five digital bank licenses to.
The five digital bank licenses can be broken down into
Up to two digital full bank licences
Up to three will be digital wholesale bank licences
The difference between the two types of licenses is simple:
Digital Full Banks
Digital full banks are allowed to take deposits from retail customers like any of us. This function is something familiar to all Singaporeans with a savings account, very much like the DBS banks and OCBC banks which we are familiar with, but fully digitalised.
Simply put, all your banking services will be done online without the need to head down to a physical branch.
Digital Wholesale Banks
Digital wholesale banks are more catered towards the non-retail part of banking. Think along the lines of providing banking services that cater to the monetary needs of Small and medium-sized enterprises (SMEs)
---
Singapore Digital Bank License: 14 Applicants Shortlisted
Out of the total 21 applicants that submitted their applications for the banking license, 14 of them were shortlisted.
Shortlisted applicants will be presenting their proposals via virtual meetings.
They will be evaluated based on:
sustainability
business model
value proposition
use of technology
MAS did not reveal much information about the applicants who were shortlisted, but here's what we know so far.
Applicants who got shortlisted:
| Applicants/ Consortiums | Type of Digital Bank License | Shortlisted Applicants |
| --- | --- | --- |
| Singtel and Grab | Digital Full Bank License | Yes |
| Sea Limited | Digital Full Bank License | Yes |
| Razer, Sheng Siong Holdings, FWD, LinkSure Global, Insignia Venture Partners and Carro | Digital Full Bank License | Yes |
| V3 Group, EZ-Link, Far East Organisation, Singapore Business Federation, Sumitomo Insurance Co Ltd and Heliconia Capital Management | Digital Full Bank License | Yes |
| MatchMove's consortium with Singapura Finance | Digital Full Bank License | Yes |
| Standard Chartered and NTUC Enterprise | Digital Full Bank License | TBC |
| Ant Financial | Digital Wholesale Bank License | TBC |
| iFast Corporation, Hande and Yillion | Digital Wholesale Bank License | Yes |
| ShengYe Capital, Phillip Capital and Advance AI | Digital Wholesale Bank License | Yes |
| AMTD, Xiaomi, SP Group and Funding Societies | Digital Wholesale Bank License | Yes |
---
Why Does Digital Bank Even Mean?
What on Earth does digital bank even mean? How does it affect Singaporeans?
A simple way to looking at this is your usual retail bank going fully online. All our usual banking activities are now done with the lack of a physical bank branch.
Singaporeans can now perform these activities with the help of their mobile devices and by going online.
Should the digital banks do a really good job in digitalising the way traditional banks perform certain activities such a
Depositing money
Withdrawing money to make payments
Transferring money
Savings account management
Applying for loans and financial products
Paying our bills
---
How Singaporeans Can Benefit from Digital Banks?
Singaporeans will be able to benefit a more efficient banking system at the convenience of their fingertip.
On top of that, digital banks can take a step further with more personalisation when it comes to product recommendations from all the data they have gathered.
Having recognised that digital banks have less overhead to upkeep, the cost of maintaining bank branches and ATMs can translate into higher interest rates for customers. Other benefits include:
Lower fees since there will probably be no middleman for every financial product sold to me
Way better customer service since the lack of bank branch will mean that digital banks investing more into their customer service to gain trust and loyalty of their customers.
Save the Earth! With digitalisation, there will be fewer application forms to fill.
Some of these benefits have their downside too.
With convenience, there is also a chance that your privacy will be breached. Security breach on the bank's network will also be another concern to consumers.
---
Examples of Digital Banks Around the World
The concept of a digital bank is not something new. This concept has been adopted around the world.
Here are some examples of digital banks around the world:
Neat – Hong Kong
Doconomy – Sweden
Up Banking – Australia
Starling Bank – United Kingdom
Chime – America
Ant Financial – China
WeBank – China
Kakao Bank – Korea
Tencent Financial Technologies – China
Some of these names should be of no stranger to any of us.
---
What Can Singaporeans Expect in the Upcoming Months
Building up to end 2020, we will be seeing a lot more announcements on some of the applicants for the digital bank license. We will constantly update this article to bring you the latest news on Singapore's digital bank licenses.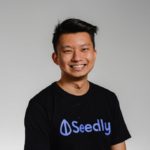 About Ming Feng
A stint in
Bloomberg
gifted me with a beer belly, which only grew larger when I moved on to become a Professional Trader. Now I turn caffeine into digestible finance-related content.
You can contribute your thoughts like Ming Feng
here.