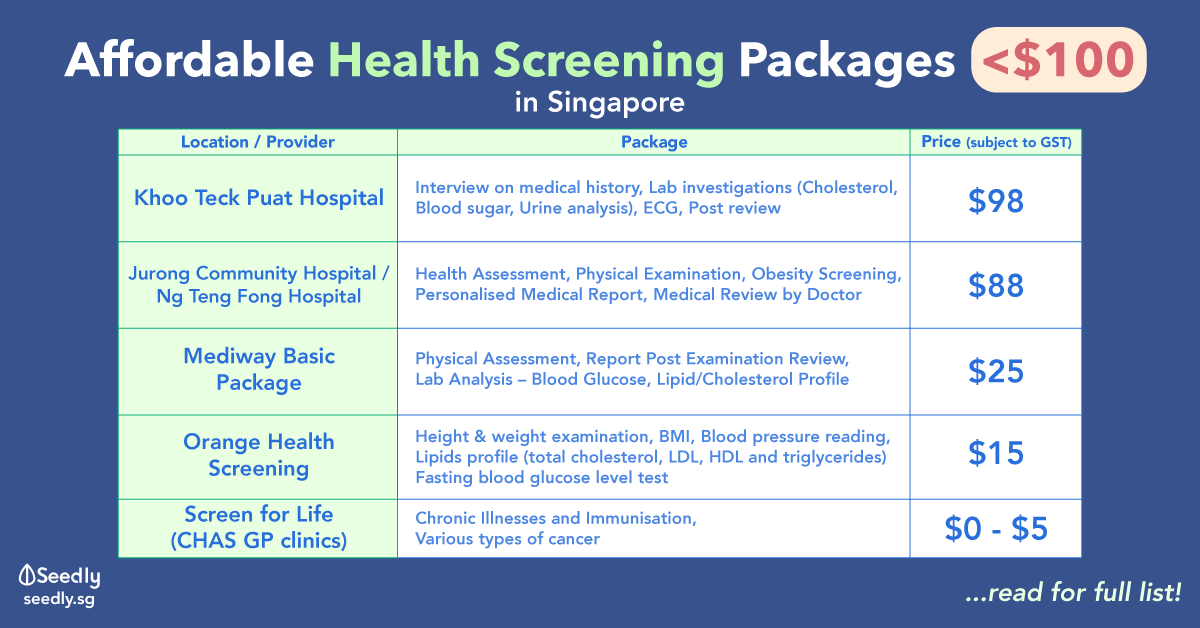 Affordable Health Screening Under $100 in Singapore
Health truly is wealth. That's why health screening is of such importance, and even companies are helping to arrange for employees to receive complimentary basic annual health screening.
The truth is – sickness may strike anytime, but if a disease or condition is discovered early through routine screening, receiving treatment early would help immensely in avoiding complications, much suffering or even death.
Health screenings consist of tests like blood or urine tests and other procedures like X-rays and ultrasounds.
Take note that while some packages are offered at very affordable prices, always be sure to check what each package entails and choose one that best suits your age, lifestyle and health concerns, especially in lieu of hereditary health conditions.
Hospital Health Screening Packages
Hospital
Type
Includes
Cost (subject to GST)
Jurong Community Hospital /
Ng Teng Fong Hospital
Essential Package
- Medical Health Assessment
- Comprehensive Physical Examination
- Obesity Screening
- Personalised Medical Report
- Medical Review by Doctor
$88
Khoo Teck Puat Hospital
Essential
Health
- Interview on medical
history by doctor
- Laboratory investigations (Cholesterol test, Blood sugar, Urine analysis)
- Electrocardiogram (ECG)
- Post examination review
$98
Tan Tock Seng
Hospital
Core Screening
Package
- Biometric Parameters
- Laboratory Investigations (Glucose & Cholesterol Screen, Stool for Occult blood)
- Doctor's Examination
- Medical Report & Review
$200
National University
Hospital
Basic Screening
Package
- Medical History & Physical Examination
- Biometric Parameters
- Laboratory Investigations
- Medical Review & Counselling
$260
Changi General Hospital
Core Screening
Package
- Medical Review
- Kidney Function Test
- Liver Function Test
- Diabetes Screen
- Cholesterol Screen
- 12 Leads ECG
- Urine Analysis
- Full Blood Count
- Hepatitis B Screen
- Post Screening Review
$360
Singapore General
Hospital
-
General Assessment Tests
Call to Enquire
Changi General Hospital (CGH) does not provide their health screening rates online, so remember to call them up to inquire and make an appointment!
---
Other Health Screening Packages
Screen for Life (SFL) is a national screening programme that encourages Singapore Citizens and Permanent Residents to go for regular health screenings and follow up.
Pioneer Generation – $0
Health Assist (CHAS) Card
Blue or Orange – $2
Eligible Singaporeans – $5
To get started, simply fill in a questionnaire to find out if you are eligible for the subsidies.
This package by Mediway is priced very competitively at just $25, and includes:
Physical Examination & Assessment – Height/ Weight/ BMI, Blood Pressure Measurement, Medical Report Post Examination Review by Doctor
Laboratory Analysis – Blood Glucose, Lipid/Cholesterol Profile
The Healthy Life package is recommended for people below the age of 30. This package includes a physical examination, lab report, diabetic panel, and gout screen.
Health assesment in the heart of Orchard Road? Which organ do you have to sell to afford that?! But fret not. Lifescan Medical Centre offers an affordable $88 basic health screening package that includes:
MEDICAL ASSESSMENT – Pre-Health Screening Questionnaire, Medical History & Risk Profile Screening, Doctor's Consultation, Physical Examination, Height & Weight & BMI, Blood Pressure Reading
EVALUATION & REPORT -Post Examination Review & Recommendations, Medical Report, Health & Lifestyle Counselling
Each Orange Health Screening is at $15 (inclusive of GST).
Height and weight examination to determine your BMI
Blood pressure reading
Lipids profile (total cholesterol, LDL, HDL and triglycerides)
Fasting blood glucose level test
The health screenings can be conducted via two partners: Unity Family and Raffles Medical.
6. Polyclinics
Surprisingly, most polyclinics do not offer health screening services, but they do conduct screenings for diabetes, hypertension and cholesterol only. The screenings must be first recommended by doctors.
---
Alas, health screenings are not currently Medisave claimable. However, Medisave can be used to partially pay for cost of treating chronic diseases and mammograms, amongst others.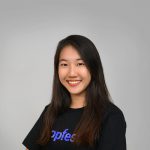 About Ruth Lum
Breaking down 'chim' finance knowledge into manageable pieces so you don't have to.
You can contribute your thoughts like Ruth Lum
here.