Heartland stores, or more commonly known as Ah Beng Handphone Shop are located almost everywhere in Singapore.
Disclaimer: For a start, by the term "Ah Beng Handphone Shop" is just a Singaporean way of identifying these retailers. We do not necessarily mean that everyone working there is definitely an "Ah Beng". Nor do we mean that these shops are unethical and dishonest.
Forget about Jover Chew, not everyone in the industry is like that!
Editor's Note: "Ah Beng" is usually defined as a young man who operates within secret societies and street gangs. But as we all know, this was very much a thing of the past.
If you have no idea what an Ah Beng Handphone shop looks like, we have a photo of it here:
source: breakfixnow
*Breakfixnow is one of the more trustworthy shops in Singapore. We are just using the image to let readers understand the types of shop we are talking about here.
How Do Ah Beng Handphone Shops Survive And Make Money?
Very much like the 7-11s in Singapore, it is common to find a competitor Ah Beng Handphone shop less than a hundred metres away from each other.
Yet, under such intense competition, the owners of these shops seem to be least affected despite having little to no customer. This probably got some of us wondering, "What is the business model of these shops?"
Below are some of the possible ways these shops remain profitable.
Having Shops Operating In Many Locations, All Under One Boss
The owners of many of these handphone shops tend to diversify the location risk of their business by having a few branches operating in different parts of Singapore.
Based on my conversation with one of the "Ah Beng", here's an example of how they diversify their market risk:
An outlet located near Orchard will be selling to a different demographic of mobile phone consumers compared to that an outlet in Ang Mo Kio.
An outlet at City Plaza might experience a higher foreign workers customer base as compared to outlets at Ang Mo Kio and Yishun where it is more Singaporeans focused.
His consolidated phone stocks are then allocated to each outlet accordingly based on the preference of each customer base.
This is why they are more than happy to purchase any phones from you, as they can purchase, say an Android phone from you at the Ang Mo Kio outlet and spin it off for cash over the weekend at their City Plaza outlet.
This diversification allows them to buy back second-hand mobile phones from various location, which they eventually sell at a profit.
The unique part about an Ah Beng Handphone shop is that each outlet is a channel to buy and sell mobile phones. With outlets spread across different locations in Singapore, it allows more them to tap on to various demographics of each location.
Exporting Of Mobile Phones To Other Countries
Having been through so many exciting mobile phone launches, we have come to a fact that not all countries are equal.
source: Apple
As seen from the Press Release by Apple on iPhone X as shown above, the highlighted portion depicts the countries which iPhone X will be available on 23 November 2017.
With every phone launches, there will be countries that receive an iPhone way earlier than some other parts of the world. With this discrepancy, comes business.
Exporting of computers and computer parts to countries like Indonesia or Vietnam is nothing new to Singaporeans. This is the same for mobile phones. One will be surprised by how popular some of these phone models are, in some other countries compared to Singapore.
High-Profit Margins On Mobile Phone Parts
Should you be an avid shopper on Tao Bao, you would have noticed that handphone parts can be rather affordable.
A mobile phone earpiece which has a cost price of S$4 can easily be sold at 5 times the cost price at any of the retail stores.
The same kind of profit margin can also be applied to screen repairs and home button replacement. Of course, the employees of these repair shops are trading their expertise and time to repair one's phone in exchange for monetary rewards.
Where Does Ah Beng Handphone Shops Fit Into The Economy?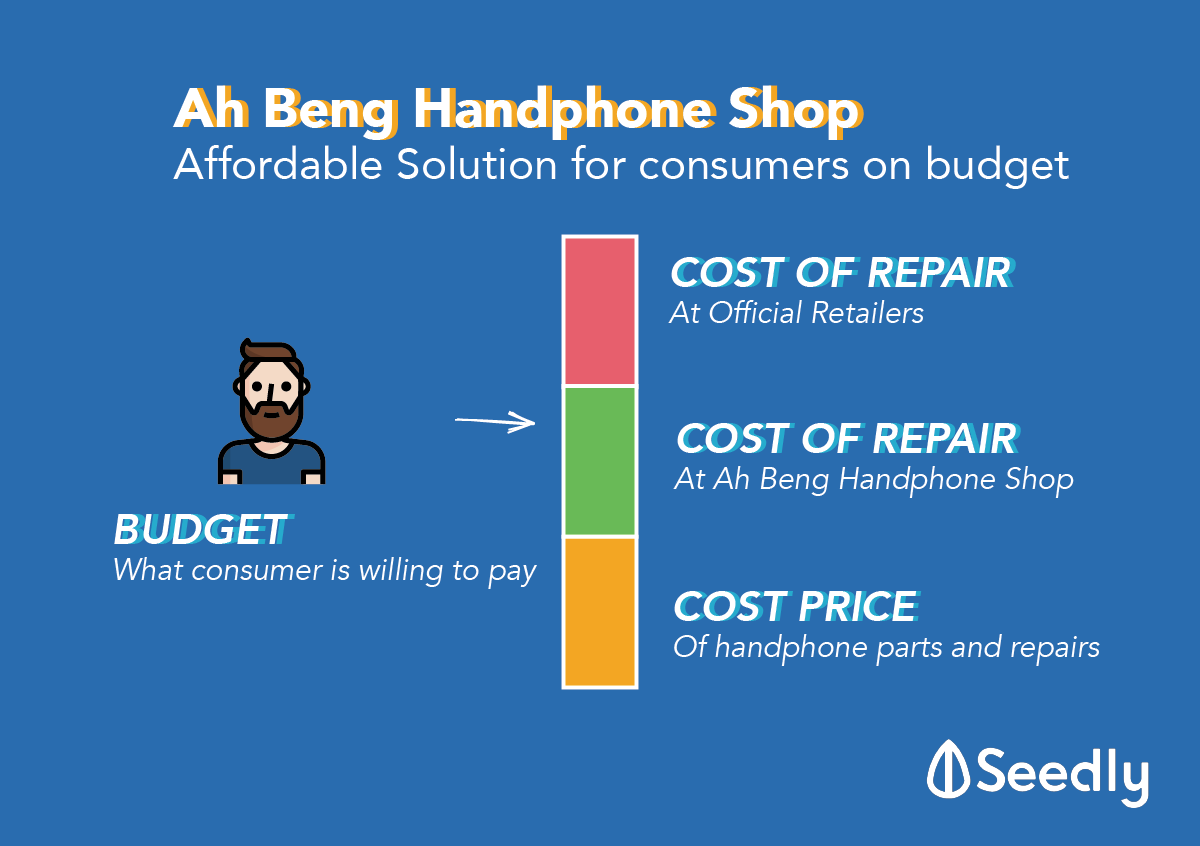 Giving Consumers An Affordable Solution
When it comes to getting your phone repair, the usual dilemma will be to head over to the handphone's official store or an Ah Beng Handphone Shop to get it repaired.
There are a few factors which lean a consumer towards either of the choices:
How long more till the next time I change my phone?
When getting your new phone is expected to be just months, Ah Beng Shop makes more economic sense.
Which makes more sense, repair at the Ah Beng Shop vs Official store?
Is the broken part worth paying extra for? Eg. if it is just a button, Ah Beng Shop for the win!
What is my budget?
Given that mobile phone is a necessity to us now, if I am on a budget and I need to get my phone working, go for the cheaper option!
Giving Consumers The Convenience
Based on a personal experience, Ah Beng Shop provides a quick fix when it comes to selling your second-hand mobile phone.
On the contrary, his process to sell his mobile phone on Carousell is:
Firstly, seller checks out the average price that people are selling their phones for, on Carousell.
The seller then takes a photo of the phone he wants to sell and upload it onto Carousell platform with a description of it.
Seller now waits for replies from keen buyers (many times, low ballers)
He then negotiates with buyers to settle down on an agreement.
Meets up with buyers to sell his phone
Receives cash
This process is shortened drastically when it comes to Ah Beng Handphone shop.
Heads over to Ah Beng Handphone Shop.
Sells phone
Receives cash
Of course, one may receive less cash for his phone in exchange for the convenience and time spent.
The Ah Beng Handphone Shops appeal to consumers who are
Looking to buy or sell his phone urgently
Is ok with spending more or earns less in exchange for getting an immediate deal
---
Further reading: Things to look out for when purchasing from an Ah Beng Handphone Shop
It is important for consumers to do their own due diligence when shopping at unofficial mobile phone shops. Given that there are quite a good number of possible scams, here are some of the guidelines to make sure you do not fall into victims of such scams.
For new phone models
For new phone models sold at an unrealistically cheap price, it can be due to the phone being an export set with no warranty or a stolen one.
Hence, it is important for consumers to check that these criteria are met when purchasing their phone:
Warranty card
Make sure to test the phone on the spot to ensure working condition
Do a quick search on the IMEI Number of the newly bought mobile phone
The IMEI number allows consumers to check a few important information:
Check the warranty, manufacture date and details about your phone
There are IMEI checkers online to see if your mobile is reported stolen or lost too.
Reputable phone resellers and mobile repair
Some of the netizens online also recommend that consumers head over to more reputable phone resellers who have been in the market for quite a while, and have a rather good record.
Here are some of the names (the more "legit ah bengs") we came across in the course of researching for this article:
About Ming Feng
A stint in
Bloomberg
gifted me with a beer belly, which only grew larger when I moved on to become a Professional Trader. Now I turn caffeine into digestible finance-related content.
You can contribute your thoughts like Ming Feng
here.