How to get it:
4) The Warren Buffett Way: Investment Strategies of the World's Greatest Investor by Robert G. Hagstrom
As the title suggests, The Warren Buffett Way looks at investing through the lens of Warren Buffett, considered one of the best investors of the 21st century who made billions from value investing. 
The book is an in-depth look at Warren Buffett's hugely successful career and how he turned US$100 into the multi-billion dollar business empire it is today.
You will find insight into Buffett's investment theories and strategies, and which type of companies he favours and which he avoids.
The book also examines nine of Buffett's stock purchases, including case studies of companies like The Coca-Cola Company, American Express Company, IBM and H.J. Heinz Company (now merged with Kraft Foods to form Kraft Heinz Company).
How to get it:
5) Common Stocks and Uncommon Profits and Other Writings by Philip A. Fisher
Warren Buffett considers Philip Fisher as one of his mentors.
Buffett was once quoted as saying that his investing style was 85% influenced by Benjamin Graham (more on him later) and 15% influenced by Fisher.
The "scuttlebutt" investment technique was made famous through this book. This technique involves gathering information from our day-to-day experiences. An example of scuttlebutt is visiting a shopping mall owned by a retail real estate investment trust (REIT) to see the traffic flow and how vibrant the shopping centre is. 
Fisher's book also has a 15-point checklist that investors can use. 
How to get it:
6) One Up On Wall Street: How To Use What You Already Know To Make Money In The Market by Peter Lynch
Author cum investor, Peter Lynch, ran the Fidelity Magellan Fund between 1977 and 1990.
During those 13 years, the fund posted an annual average return of 29%. It beat the S&P 500, an index tracking 500 large corporations in the US, in 11 out of 13 years.
One Up On Wall Street helped craft my investment thesis of picking simple and great businesses.
Lynch famously categorises stocks into six buckets: slow growers, stalwarts, fast growers, cyclicals, turnarounds and asset plays. Each category has its own distinct set of characteristics.
The book also provides an investing checklist that investors can use before buying stocks. 
How to get it:
7) The Intelligent Investor: The Definitive Book on Value Investing by Benjamin Graham
This investing classic was written by another of Warren Buffett's mentors, Benjamin Graham, who is often said to be the father of value investing.
The Intelligent Investor espouses many important investing concepts. Two such theories are the introduction of Mr Market and the margin of safety.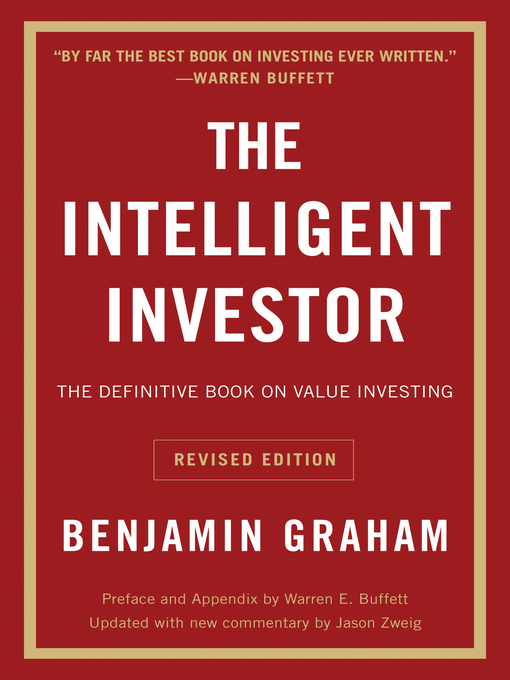 This book is a bit on the cheem side, so I would recommend beginners to start reading this book only once they have the basic knowledge of stock market investing.
How to get it:
8) The Little Book of Common Sense Investing, Updated and Revised by John Bogle
Common sense is not that common.
The Little Book of Common Sense Investing is written by John Bogle, the founder and CEO of Vanguard when he was alive.
For context, the Vanguard Group currently has US$5.3 trillion in assets under management.
Suffice to say, he knows quite a bit about investing as he is credited with creating index investing, which allowed investors to buy funds that track the broader market.
The book is a deep dive on the Bogle investment philosophy, which revolves around trading broad low-fee index fund such as a U.S. exchange-traded fund like the S&P500.
The book is split up into 18 bite-sized chapters of 10 to 20 pages each, explaining the rationale behind the philosophy that people should be investing in low-cost index funds.
The book does an excellent job of explaining the rationale behind a seemingly simple strategy that just works.
If you are interested to learn about a successful real-world investment philosophy that is written in an easy to read in a way that the average person can understand, get this book.
How to get it:
9) Fooled by Randomness: The Hidden Role of Chance in Life and in the Markets
Fooled by Randomness is an interesting read about the role of luck, uncertainty, probability, human error, risk and decision making in life and the world of trading.
In other words, the book is about luck and the examination of the major ideas related to this topic with regards to investment, education and the role of chance in people's lives.
For example, part of the argument the author presents is that when we look back at things in hindsight, we tend to view it as less random then they really were.
Understanding that the world is not consistent and is prone to sudden unexpected change is a hard concept to swallow — but once mastered it gives the reader great clarity about the world.
The author Nassim Nicholas Taleb is a scholar and mathematical statistician whose work is centred on the problems surrounding randomness, probability and uncertainty.
Before that, he also worked as an options trader and risk analyst.
How to get it:
10) Thinking, Fast and Slow by Daniel Kahneman
When it comes to investing, one thing we often overlook is the psychological aspect of investing. More specifically, how humans make decisions which is something that any investor should care deeply about.
The book Thinking, Fast and Slow is written by Daniel Kahneman who won a Nobel Prize in Economic Sciences. He is renowned for his work about the psychology of judgment, decision making and more importantly, behavioural economics.
The book summarises most of his research and is a New York Times Bestseller, with over 1.5 million copies sold.
One of the ideas he puts across is this.
All of us – whether you're Ray Dalio or an average retail investor – tend to overestimate our own investing abilities. At the same time, we are very capable of pointing out the weaknesses of others.
Acknowledges and accepting this simple insight alone could drastically improve your investment performance.
What the book demonstrates is that when it comes to investing, your brain might not always take your side.
How to get it:
Have Burning Questions About Stocks and Investing?
Why not check out the SeedlyComunity and participate in the lively discussion about investing in the stock market
Disclaimer: The information provided by Seedly serves as an educational piece and is not intended to be personalised investment advice. ​Readers should always do their own due diligence and consider their financial goals before investing in any stock.