A Closer Look at Used Car e-Commerce Platform CARSOME Malaysia's First Tech Unicorn
Joel Koh
●
In the world of venture capital and technology startup companies, many such companies strive to become a unicorn.
No, these companies not looking to transform into mythical animals.
Rather, these companies strive to receive a valuation of over US$1 billion (S$1.34 billion) and achieve unicorn status. Some popular unicorns founded in Singapore include Carousell, One and Ninja Van.
In fact, DealStreetAsia has reported that as of end 2022, Singapore has the most number of unicorns in the Association of Southeast Asian Nations (ASEAN), with 25 as of 2022. Taking second place is Indonesia with 16, Vietnam with four, Thailand with three, the Philippines with two and Malaysia with one.
So when SGX Group invited me on a media trip to Kuala Lumpur hosted by CARSOME, i.e. Malaysia's first tech unicorn, I was more than intrigued, as I wanted to find out how the company got there.
Here's what I found on my trip.
---
What is CARSOME?
For context, CARSOME is Southeast Asia's largest integrated car e-commerce platform. With operations across Malaysia, Indonesia, Thailand and Singapore, CARSOME aims to digitize the region's used car industry by reshaping and elevating the car transaction and ownership experience. 
Together with subsidiary brands iCar Asia, WapCar and CarTimes, CARSOME provides end-to-end solutions to consumers and used car dealers across the decision funnel, from car content consumption, car inspection, and ownership transfer to financing and other ancillary services, promising to bring trust, transparency and choice to our customers. CARSOME currently has more than 4,000 employees across all its offices in Asia. 
Fun fact contrary to popular belief, the name Carsome is not a portmanteau of the words car and awesome. I was informed by the Carsome team that it was translated from 车神 Chē shén, which means car god in Chinese.
CARSOME History
Carsome was started way back in 2015 by Eric Cheng and his co-founder, Jiun Ee Teoh, with US$350,000 (S$469,315) in seed capital from investors. The founders started the company with the lofty goal of disrupting the existing used car buying and selling process by giving buyers and sellers a convenient and transparent experience.
Carsome began as a car comparison website offering vehicle inspection ownership transfer and car financing services, but in response to customer demand, it pivoted to become a car-selling business using the consumer-to-business (C2B) model in the latter half of 2015. Unlike the slow and cumbersome traditional process, Carsome's approach offered a speedy and seamless solution for consumers to sell their cars, often completing transactions within 24 hours and requiring minimal on-site visits and paperwork. This efficient system laid the groundwork for the company's expansion in both its local market and key Southeast Asian markets, including Singapore, Indonesia, and Thailand.
In 2020, Carsome introduced "The New Way of Buying Cars," an innovative car-buying service adopting the business-to-consumer (B2C) model. Each used car sold on its platform earned the label "Carsome Certified," signifying the company's commitment to quality. This assurance came through a thorough 175-point inspection and additional guarantees, ensuring customers' trust and confidence in their purchases.
CARSOME Investors and Unicorn Status
In July 2021, the startup achieved unicorn status through a US$200 million (S$268.55 million) share-swap agreement with Australia-listed company iCar Asia.
FYI: According to Investopedia: A stock swap is the exchange of one equity-based asset for another and is often associated with the payment for a merger or acquisition. A stock swap occurs when shareholders' ownership of the target company's shares is exchanged for shares of the acquiring company.
In September 2021, Carsome secured US$170 million (S$228.27 million) in funding through a round that saw participation from Catcha Group, MediaTek, and the Malaysian government fund Penjana Kapital.
Around January 2022, Carsome successfully completed its Series E funding round, raising US$290 million (S$389.39 million) and boosting the company's valuation to approximately US$1.7 billion (S$2.28 billion). This particular funding round was led by Qatar Investment Authority, a sovereign wealth fund, along with two funds supported by Singapore sovereign wealth fund Temasek, namely 65 Equity Partners and Seatown Private Capital Master Fund.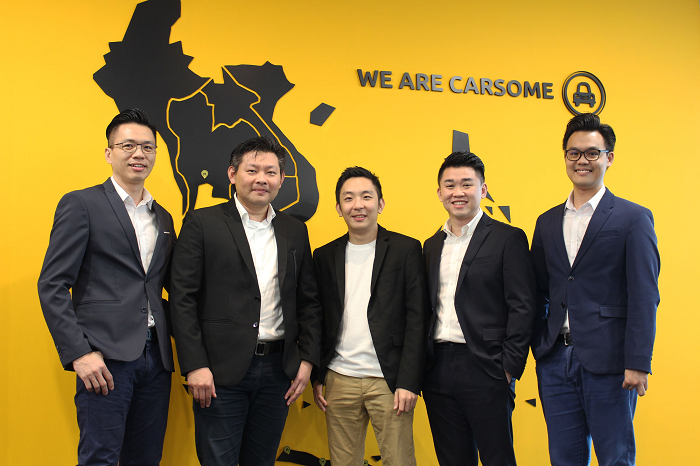 Notable investors in this round included four billionaire-backed companies: Sunway, the Malaysian conglomerate owned by Jeffrey Cheah; Gokongwei Group, the Philippines conglomerate under Lance Gokongwei; MediaTek, the Taiwan chip designer led by Tsai Ming-kai, and YTL Group, the Malaysian infrastructure conglomerate owned by Francis Yeoh. Additionally, telecom company Taiwan Mobile also participated in the funding round.
Carsome's Business and Financials
Throughout its 7 years of operation, the company has experienced great growth, selling more than 18,000 Carsome Certified vehicles every month and reaching an impressive revenue milestone of US$1.5 billion (US$2.01 billion) in 2022. The platform also attracts an average of 15 million unique visitors per month.
As of October 2022, Carsome generated approximately 60% of its revenue from its home country, Malaysia, while around 25% came from Indonesia and 15% from Thailand. The company also operates in Singapore.
As a unicorn, an unlisted startup with a valuation of US$1.7 billion (S$2.28 billion), Carsome addressed any worries about its financial stability by affirming a strong current liquidity position of ~US$200 million (S$268.52 million).
In Q1 2023, the company hit another milestone as it announced that it had attained operational profitability for the first time, with the newly established CARSOME Certified refurbishing lab contributing 35 per cent of total revenue:
This milestone was also in large part due to significant trade margin growth, which grew by 100% compared to the previous year. 
CARSOME'S Challenges and Delayed Initial Public Offering
However, there are some challenges that CARSOME has to overcome.
According to a May 2023 Tech in Asia report, Cars24, an Indian company operating in the used-car marketplace, withdrew from its operations in Indonesia and Saudi Arabia the previous year. Although the brand had expanded to Indonesia and Thailand in March 2022, it later had to downsize significantly, resulting in the retrenchment of 600 employees just two months after the expansion.
Similarly, Carsome also underwent a 'workforce optimisation' in September 2022, during which its executive team voluntarily forwent their salaries for the remainder of the year, and approximately 10% of the staff were laid off.
In addition, the Malaysian unicorn had to postpone its IPO plans in Singapore and the US a few months prior. The decision was driven by concerns that the declining macroeconomic conditions might adversely affect the company's valuation.
Despite the current delay in its listing plans, Carsome's CEO, Eric Cheng, stated that the company is still interested in going public when the economic conditions become more favourable. The initial plan was to raise between US$300 million (S$402.84 million) and US$400 million (S$537.13 million) at its IPO, targeting a valuation of about US$2 billion (S$2.69 billion).
While waiting for the right timing for the IPO, the company remains focused on exploring new growth opportunities. These include expanding its service centre business to Indonesia and Thailand and venturing into the sales of new electric vehicles (EVs).
Do keep an eye out on Seedly as we will update this article when any groundbreaking developments about Carsome unfold.
About Joel Koh
History student turned
writer
at Seedly. Before you ask, not a teacher. I hope to help people make better financial decisions and not let money control them.
You can contribute your thoughts like Joel Koh
here.