The Best, Worst, and Quirkiest Things You Can Buy At Don Don Donki Singapore
A few months ago, I professed to be a huge Daiso fan.
Naturally, my editor thought that I would be a huge fan of Don Don Donki as well.
Sadly, this is far from the truth.
With its annoyingly cheerful jingle and slightly overpriced products, I'm not a huge fan of Don Don Donki. Yet, I've heard my friends rave about their products, and have occasionally indulged in their famous sweet potatoes and bento sets.
With its wide range of products, Don Don Donki sells items ranging from delicious bento sets to dubious, adult sex toys. If you're thinking of shopping at Don Don Donki this weekend, here are some interesting things that you can check out!
TL;DR: The Best, Worst, and Quirkiest Things You Can Buy At Don Don Donki Singapore
Category
Item
Price
Best
Bento Boxes
From $10
Honey Milk Soft Serve Ice Cream
$7
Snow Boba Pancakes
$10
Quirky/Interesting
Pale Pink Strawberries
$24.80-$30
Retro Game Machines
$59 each
Adult Section
N/A
Pringles Sour Cream & Onion Instant Noodles 
$3.90
Peach Scented Toilet Paper
$7.50
Worst
Plain, Cooked Japanese Rice
$6.90
Coconut Flavoured Red Bull
~$2.90/can
Clam Instant Soup
$2.50
Fruits and Vegetables
$7.90 (Cabbage)/ $19.80 (Oranges)/ $12.80 (Pineapple)
Wakame Soup
$3.90
Umami Seasoning Salt
$1.90
Best Things To Buy At Don Don Donki
Aburi Mentai Mayo Sushi, Salmon Aburi Sushi Sets
A hot favourite among many Singaporeans, the Aburi Mentaiko Mayo Sushi is torched to perfection and is topped with a generous serving of fish roe.
There are many variations of Salmon sushi sets found at Don Don Donki. If you're not a fan of sushi, you can indulge in their Omurice sets, which boasts flavours such as kimchi fried rice and teriyaki chicken don.
Price: From $10
Honey Milk Soft Serve Ice Cream
Located within City Square Mall's Don Don Donki, Icenoie Hokkaido serves a luxurious Honey Milk soft serve ice cream. The soft serve is made up of raw milk, and the honey used is extracted from acacia flowers. Other flavours include Matcha and Double Cheese Gelato, as well as a Creme Brulée Soft Serve.
Price: $7 
Snow Boba Pancakes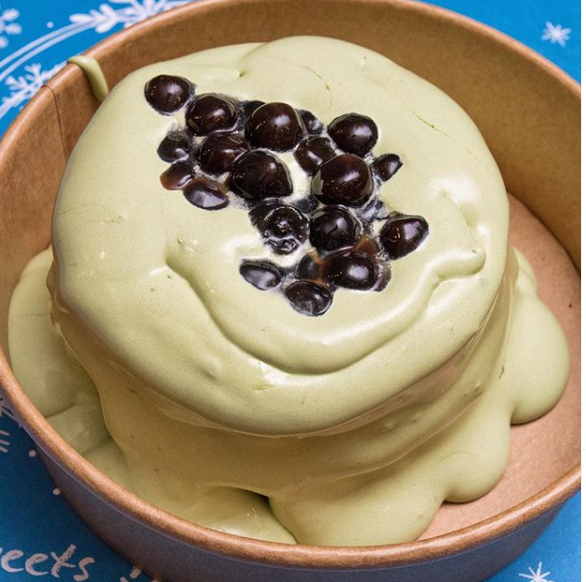 These Snow Boba Pancakes are found at Clarke Quay's Don Don Donki's outlet.
The fluffy, petite pancakes are coated with a generous snow cream spread that comes in three flavours: Milk, Matcha Milk and Strawberry Milk. Top it off with some sweet, chewy tapioca pearls and you will get a set of luxurious bubble tea pancakes.
Do note that there are only about a hundred sets of pancakes prepared daily, so if you'd want to try these, go slightly earlier so that they're not sold out!
Price: $10
Quirky/Weird Things To Get At Don Don Donki
Pale Pink Strawberries
I don't know about you, but I've never seen pale pink strawberries in my life. Don Don Donki carries these unique, pale pink strawberries at ~$25 for a pack of 15 strawberries. While I was intrigued by the unique colour, I was rather intimidated by the steep price to make a purchase.
Price: $24.80-$30
Retro Game Machines
Despite its relatively steep price, Don Don Donki's Retro Game Machine is quite a charmer. At $59.90 each, these vintage retro game machines are equipped with full coloured screens, and a simplistic layout consisting of a removable joystick and 2-3 buttons to play the game.
Price: $59.90 each
Don Don Donki's Adult Section
You can trust that you will find some weird things at a Japanese supermarket. For Don Don Donki, it is a controversial adult section at their Jem outlet, which sells male masturbation aids made by Tenga- a Japanese sex toy brand.
Positioned as a 'New Adult Concept Stall', this section is restricted, where those below 21 are not allowed to enter. Sadly, I wasn't able to locate this section on my trip down to Don Don Donki, but if you are around the area, it would be interesting to check out!
Price: Varies/ Depending on what you buy. 
Peach Scented Toilet Paper
For those who'd want to feel like Park Dong-Ik, a tycoon from the film Parasite, you can purchase this peach toilet paper, which promises a sweet, peach-scented aroma with every wipe.
It is totally unnecessary, but if you like to smell like peaches after taking a dump, this may be something for you to consider.
Price: $7.50 
Pringles Sour Cream & Onion Instant Noodles
Pringles fans, you will be delighted to know that Pringles has an instant noodles selection at Orchard Central's Don Don Donki outlet! I didn't manage to try this personally, but sour cream and onion instant noodles sound like a pretty cool innovation.
However, I read quite a few reviews on this that said that these noodles are overhyped and that they taste pretty much like any other instant noodles in the market. So if you've tried it, I would love to hear your review on it!
Price: $3.90. 
Worst Things To Buy at Don Don Donki
Plain, Cooked Japanese Rice for $6.90
One of the most ridiculous things that caught my eye at Don Don Donki was how these boxes of plain, cooked Japanese rice were going for $6.90.
These ready-cooked rice are perhaps targetted at the working population, where all you have to do is microwave the pack of rice, and add toppings to it to make it a meal.
But come on, plain rice for $6.90?? It takes less than half an hour to cook a decent bowl of rice, and that only cost a few cents. I'd cook my own rice any other day.
Price: $6.90
Red Bull – Coconut Flavour
I'm not sure whose idea is it to mix red bull with coconut, but the result- a bright blue, artificial fizzy concoction- looks dubious and unappealing.
Ming Feng, however, is a huge fan of the Red Bull coconut drink and has a well-stocked stash hidden in his fridge. If you're wondering about the taste, it tastes exactly like a bubbly can of red bull, with a distinct, artificial coconut aftertaste.
Price: ~$2.90/can 
Instant Clam Soup
I'm a huge advocate of eating seafood fresh, so the thought of clam instant soup sounds extremely unappealing to me.
While I find the packaging appealing, a look inside its contents showed a few packets of powdered seasoning and 3 measly pieces of pale-looking clams. Yikes.
Price: $2.50 
Certain Fruits and Vegetables
Call me uncultured, but I never understood how certain fruits and vegetables in Don Don Donki can command such high prices. The $19.80 Citrus Oranges and $12.80 palm-sized pineapple may command its price because it's been imported from Japan.
Even so,  as someone who isn't able to read Hiragana or Katakana, I wouldn't know what distinguishes these fruits from other imported ones.
Price: $7.90 (Cabbage)/ $19.80 (Oranges)/ $12.80 (Pineapple)
Wakame Soup
I don't really know what to say about this. The packaging looks sad, and to spend $3.90 on a pack on seaweed soup isn't really worth it.
Price: $3.90 
'Umami' Seasoning Salt
Truth be told, I was drawn in by the cute packaging of this product. What's there not to love about these cute rice balls?
But then, I did a google search on Ajinomoto seasoning, and realised that I could get 1kg of MSG for $3.50. While I'm not encouraging the heavy-handed use of MSG, this makes paying $1.90 for 1/10 of the same product seem rather not worth it.
Price: $1.90
Shopping at Singapore's Don Don Donki
There are so many interesting finds at Don Don Donki, and truth to be told, I barely scratched the surface in this article. What are some of your favourite things in Don Don Donki? Let me know in the comments below!
About Rachel Yeo
Breaking down complicated financial pieces into idiot-proof articles.
You can contribute your thoughts like Rachel Yeo
here.