Healthcare Sector Review 2018 in Singapore - Q&M Dental, Raffles Medical, TalkMed, OUE Lippo HC
For our Morning Stocks Analysis, the Seedly team worked closely with ShareInvestor.com, who is an expert in the field, to curate unbiased, non-sponsored content to add value back to our readers.
Disclaimer: This is not a sponsored post. Opinions expressed in the article should not be taken as investment advice. Please do your own due diligence.
If you have any questions on the mentioned stocks, feel free to discuss them with Seedly Community here. 
---
Summing up the year, we will be doing a series of 4 industry reviews to share across the performances of the local market in 2018.
To kick start, we will be looking into the Healthcare industry, one of the strongest sectors in Singapore. While this sector is typically known to be a defensive segment, the landscape of demands and lagged supply of equipment and services in South East Asia provide a significant growth outlook.
At the start of 2018, Frost and Sullivan projected an 11.1% growth for the healthcare industry in Asia-Pacific. They cited the growth to be fueled by increased adopting of technology, innovative healthcare access programs and delivery of care outside traditional hospital settings.
Under ShareInvestor's platform, there are a total of 10 healthcare stocks under the category of Medical & Biotechnology, Hospital/Nursing Management.
Q&M Dental (QC7.SI)

IHH (Q0F.SI)

Raffles Medical (BSL.SI)

TalkMed (5G3.SI)

HMI (588.SI)

OUE Lippo HC (5WA.SI)

SingMedical (5OT.SI)

Singapore O&G (1D8.SI)

Healthway Med (5NG.SI)

ISEC (40T.SI)
Intrinsic Value
Based on Discount Earnings Model, 2 counters spring up to be undervalued stocks, primarily Q&M Dental and ISEC.
Q&M Dental (QC7.SI)

ISEC (40T.SI)
Further insights into the 2 mentioned counters:
Q&M Dental (QC7.SI)
Listed in 2009, it has grown from strength to strength and now has more than 30 clinics island-wide and one mobile dental clinic, thus, making it the largest private dental healthcare group in Singapore.
Below is the financial analysis of Q&M Dental based on their latest reporting:
While the company is performing good in most of their financial, an alert was raised for its debt to cash flow ratio, which is at 61% and this is contributed primarily by its high borrowings.
Shares of Q&M Dental Group traded at S$0.495 (as of 30 Nov, 12pm), which translates to a price-to-earnings ratio of 25.13 and an annualised shareholder return of 14.74.
ISEC Healthcare Ltd (40T.SI)
Listed in 2014, the group currently provides medical eye care services at four locations that are equipped with state-of-the-art technology and facilities across Malaysia and Singapore.
Below is the financial analysis of ISEC based on their latest reporting:
Considered as one of the younger healthcare stocks in Singapore, their revenue has increased by a compounded annual rate of 13.9% and its prospect is bright with strong growth projected in both its top-line and bottom line due to a higher number of visits at existing eye centres.
Among its local peers, it is currently the highest in dividend yield at 4.44%.
Shares of ISEC Healthcare Ltd. traded at S$0.270 (as of 30 Nov, 12pm), which translates to a price-to-earnings ratio of 17.05 and an annualised shareholder return of 5.8.
Dividend Investing
Ranking of Healthcare Stocks based on Dividend Yield:
ISEC (40T.SI) at 4.44%
Singapore O&G (1D8.SI) at 4.21%
TalkMed (5G3.SI) at 3.55%
As mentioned, ISEC is the top of healthcare for dividend play.
Singapore O&G (1D8.SI) comes in 2nd place with a yield at 4.21% and its dividend represents a 61% payout ratio.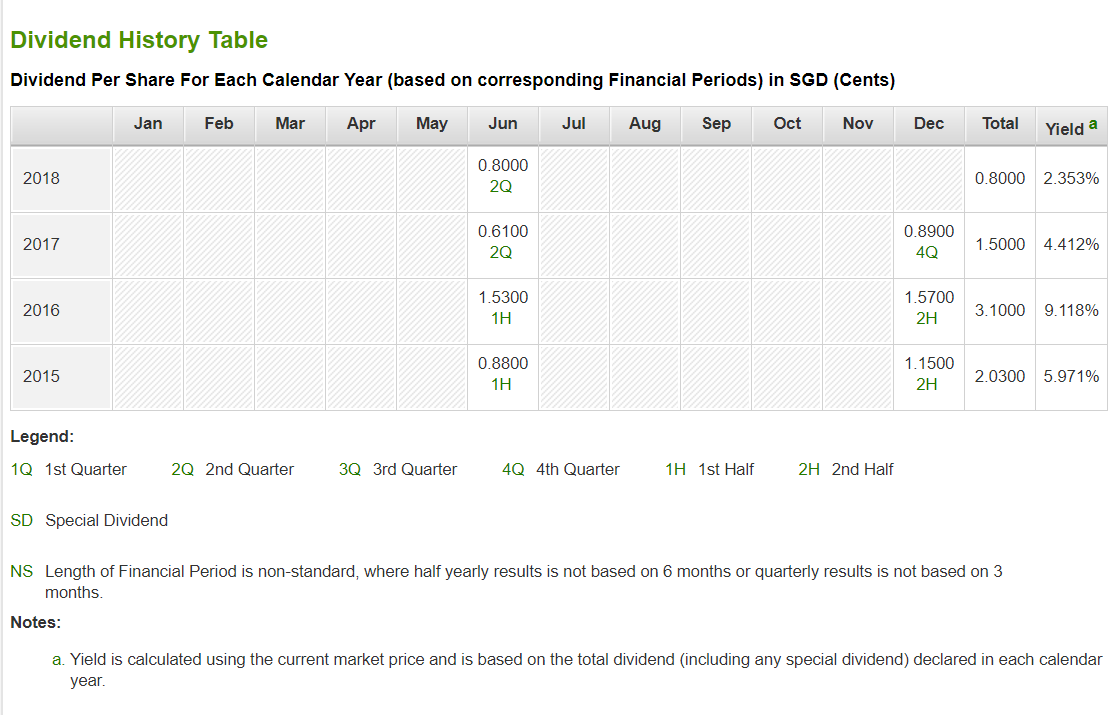 TalkMed is 3rd in place with a yield of 3.55%
Overall Performance
Based on current price, 2 stocks are spotted to be trading close to their 52 weeks low – ISEC and OUE Lippo.
In terms of returns based on 1-year timeframe, Raffles Medical is the only positive at 8.41%. If we expand the period to a 5-year horizon, HMI and Sing Medical produce a return of 297.81% and 249.56% respectively.
Lastly, leaving you with some financial ratios across the 10 counters.
Happy Investing!
---
Seedly Contributor: ShareInvestor.com
ShareInvestor is a financial platform that provides market data information for multiple markets to both institutional and retail investors across its online toolsets, ShareInvestor Station™, ShareInvestor WebPro™ and ShareInvestor Mobile. The content arm of ShareInvestor provides unbiased analysis of stocks.