iFAST (SGX: AIY) 2021 Third-Quarter Financial Results: Interim Dividend Grows 63% on the Back of Strong Earnings
iFAST Corporation Ltd (SGX: AIY) is an Internet-based investment products distribution platform that provides a comprehensive range of investment products and services to both corporate clients and retail investors.
The fintech company posted strong results for its third quarter of 2021, with its assets under administration (AUA) hitting an all-time high of S$18.4 billion, marking the sixth straight quarter of record AUA.
With that, let's find out more about iFAST's latest financial results.
---
TL;DR: iFAST Posts Yet Another Strong Quarter
Here's a summary of iFAST's latest financial results:
iFAST's 2021 third-quarter revenue increased by 23% while net revenue grew 33%, both year-on-year.

Growth came on the back of iFAST's assets under administration rising 46% to a record high of S$18.38 billion.

Net profit grew 23% year-on-year to S$7.6 million.

iFAST increased its 2021 third-quarter interim dividend to 1.30 cents per share, up 63% from 0.80 cents per share a year ago.
Discuss Your Thoughts on iFAST With Fellow Investors Right Here!
---
Strong Business Growth
Revenue for iFAST's 2021 third-quarter rose 23.4% to S$55.5 million. Both of iFAST's main business divisions — business-to-customer (B2C) and business-to-business (B2B) — showed significant growth in revenue.
The company said that the huge improvement was due to continuous increases in:
Transaction fees

due to higher investment subscription from customers in exchange-listed securities,

Service fees

from the provision of currency conversion administration services as trading volume from clients transacting in foreign exchanges grew; and

Recurring fee

income on the back of higher assets under administration (AUA).
The above was offset by the impact of offering lower transaction processing fees to clients for the exchange-listed securities and lower net interest income.
With net inflows of client assets remaining healthy for the latest quarter, iFAST's AUA increased by 46.1% year-on-year to an all-time high of $18.38 billion, as of 30 September 2021.
The company's investments in developing a strong integrated digital wealth management platform are clearly bearing fruits.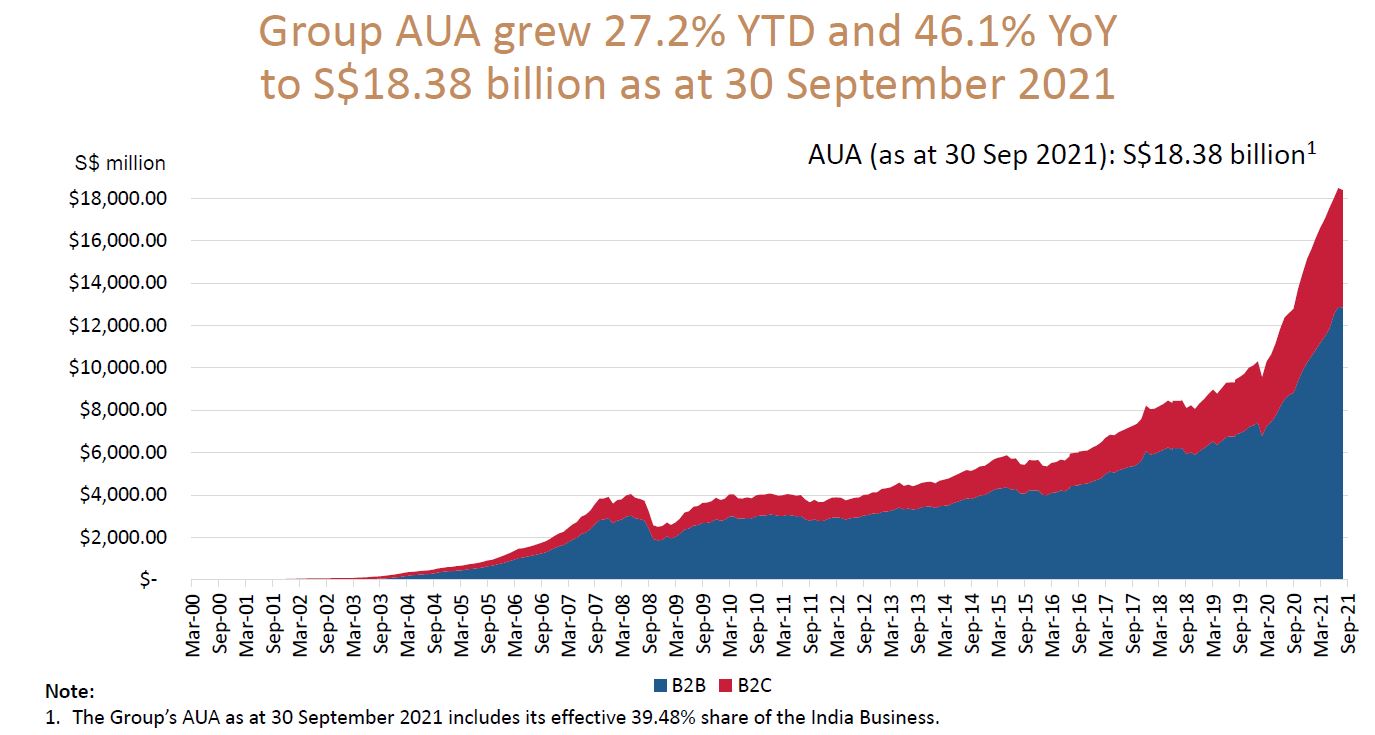 Net revenue (revenue earned after commission and fee paid or are payable to third-party financial advisers) improved from S$22.9 million last year to S$30.3 million in the latest period, up 32.6% year-on-year.
Recurring net revenue grew 29.7% to S$20.4 million while non-recurring net revenue improved 38.9% to S$9.9 million.
The recurring portion of net revenue contributed to around 67% of total net revenue. Having a significant portion of its business recurring gives stability to the company.
Singapore still remains the major contributor to net revenue, contributing around 60% of the figure.
Net revenue from Singapore climbed 21.1% to S$18.2 million.
iFAST's in-house wealth advisory arm, iGM Singapore, saw its AUA grow around 70% year-on-year to a record S$1.02 billion.
Furthermore, the business transfer agreement with DWS Investments Singapore for the transfer of its fund management business, which was completed in July 2021, also contributed to an incremental AUA of $485 million for iFAST.
As for iFAST's Hong Kong business, net revenue surged 64.5% to S$8.0 billion.
With the finalisation of the prime subcontractor contract for the Hong Kong pension project in July 2021, iFAST received a project solution fee from its counterparty in Hong Kong that facilitates the development of an e-pension platform in the city.
On 30 January 2021, iFAST announced that PCCW was awarded the contract to design, build and operate Hong Kong's eMPF platform. The MPF (Mandatory Provident Fund) is the city's pension system.
iFAST is the prime subcontractor for PCCW.
iFAST mentioned in its latest earnings release that given its expectations that the growth rates of its overall Hong Kong business will accelerate in the next five years, it has decided to share its targeted Hong Kong revenue and profit before tax (PBT) margins for 2024 and 2025.
For the two years, iFAST targets to achieve:
Gross revenue of over HKD1 billion (2024) and over HKD1.5 billion (2025),

Net revenue of over HKD800 million (2024) and over HKD1.2 billion (2025), and

PBT margin of over 15% (2024) and over 33% (2025).
For the 2021 third-quarter, iFAST's profit attributable to shareholders rose 23.3% to S$7.6 million.
For the nine months ended 30 September 2021, the fintech company's net revenue grew 38.1% while its net profit surged 63.6% to S$23.4 million.
You would have noticed that iFAST's profit growth was substantially higher than its net revenue growth.
This shows that its business has high operating leverage, meaning a small increase in sales can result in outsized changes in earnings.
iFAST's balance sheet remains extremely healthy. As of 30 September 2021, iFAST had S$30.3 million in cash balance with zero debt.
Higher Dividend for Shareholders
With strong growth in net profit, iFAST increased its interim dividend to 1.30 cents per share, up from 0.8 cent per share a year ago.
iFAST's latest dividend is well-protected.
In terms of dividend payout ratio, the latest dividend is just 47% of its earnings per share of 2.74 cents.
iFAST's Five-Year Plan
The company has also announced a five-year plan focusing on four key aspects, which is to get bigger and better, accelerate Hong Kong's growth, pursue more licences, and build a global business model.
Want To Discuss Further on iFAST Shares?
Why not check our community at Seedly and participate in the discussion surrounding stocks like iFAST Corporation Ltd (SGX: AIY) and many more!
Disclaimer: The information provided by Seedly serves as an educational piece and is not intended to be personalised investment advice. ​Readers should always do their own due diligence and consider their financial goals before investing in any stock. The writer owns shares in iFAST.
About Sudhan P
It isn't fair competition when only one company in the world makes Monopoly. But I love investing in monopolies. Before joining the Seedly hood, I had the chance to co-author a Singapore-themed investment book – "Invest Lah! The Average Joe's Guide To Investing" – and work at The Motley Fool Singapore as an
analyst
.
You can contribute your thoughts like Sudhan P
here.