Singtel (SGX: Z74) Dividend Cut: Here are 3 Key Things Investors Should Know About the Telco's Latest Financial Results
Singapore Telecommunications Limited (SGX: Z74), or Singtel for short, is the fourth largest component of Singapore's stock market benchmark, the Straits Times Index (STI), just behind the three local banks.
Before the stock market opened on 12 November, Singtel announced its financial results for its half-year ended 30 September 2020 (1HFY21).
The telco said that its performance was weighed down largely by structural challenges in its Australia consumer business and the coronavirus pandemic.
Let's find out more right here!
Singtel's Revenue and Regional Associate Performance
For the latest period, Singtel faced challenging market conditions as the movement restrictions and steep economic slowdown amid the pandemic hit both consumer and business demand.
Singtel posted revenue of S$7.4 billion during the latest period, down 10% from S$8.3 billion seen a year ago.
The lower revenue was due to lower equipment sales, roaming and prepaid mobile, but partially offset by growth in its infocomm technology business.
Revenue from Singtel's Major Product and Services
Half Year Ended 30 Sep 2020 (S$' mil)
Half Year Ended 30 Sep 2019 (S$' mil)
Mobile
- Mobile service
- Sale of equipment
- Handset operating lease income
3,292.6

3,875.5
Data and internet
1,716.1
1,803.0
Infocomm Technology
1,522.3
1,412.5
Digital businesses
422.2
603.5
Fixed voice
298.2
376.7
Pay television
143.8
158.7

Others
29.4
34.9
Total
7,424.6
8,264.8
Australia contributed to the majority of Singtel's revenue at 52%, while Singapore brought in 39%. The remaining 9% came from the US and other countries where Singtel operates in.
Moving on, pre-tax profits from Singtel's regional associates' (excluding one-off items) rose 10.5% to S$833 million on the back of Airtel's improved performance. But this was partly offset by lower profits from Telkomsel, AIS and Globe.
Singtel's Profit 
The telco's underlying net profit, which excludes one-off items, tumbled 36% to S$837 million.
However, with lower one-off losses added in the latest period, net profit for 1HFY21 stood at S$466 million, a major improvement from the net loss of S$127 million seen last year.
The following chart summarises Singtel's latest financial performance:
Singtel's Dividend
Singtel will be dishing out an interim dividend of 5.1 Singapore cents for the latest period, down 25% from 6.8 cents per share a year ago.
The latest dividend of 5.1 cents represents around 100% of Singtel's underlying net profit for 1HFY21, which is risky given the company needs cash to prepare for the 5th generation (5G) mobile network too.
Singtel said that the total dividends for FY21 are not expected to exceed its underlying net profit.
Annualising Singtel's 1HFY21 underlying net profit and assuming it would pay out 100% of its underlying net profit as total dividends, the total dividend per share for FY21 would be 10.2 Singapore cents, which is a fall from 12.25 Singapore cents paid out in FY20.
In any case, the telco said that it will review its dividend policy at the end of the financial year when there is more clarity on the pandemic's impact on its businesses.
Shareholders should note that for Singtel's 1HFY21 dividend, the scrip dividend scheme will apply. This means that investors can choose to receive the latest dividend in shares instead of cash.
The scrip issue price will be set at the average of the daily volume-weighted average share prices on 26 November and 27 November 2020.
There will be no discount applied to the issue price though.
Singtel will announce the scrip issue price on 27 November 2020.
Want to Discuss Further?
Why not check out the SeedlyCommunity and participate in the discussion surrounding stocks like Singapore Telecommunications Limited (SGX: Z74) and many more!
Disclaimer: The information provided by Seedly serves as an educational piece and is not intended to be personalised investment advice. ​Readers should always do their own due diligence and consider their financial goals before investing in any stock.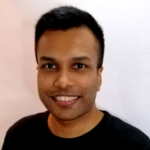 About Sudhan P
It isn't fair competition when only one company in the world makes Monopoly. But I love investing in monopolies. Before joining the Seedly hood, I had the chance to co-author a Singapore-themed investment book – "Invest Lah! The Average Joe's Guide To Investing" – and work at The Motley Fool Singapore as an
analyst
.
You can contribute your thoughts like Sudhan P
here.