Want To Be As 'Rich' As A Hawker? You Need At Least $18,000 Just To Start
While I was scrolling through my FaceBook feed, I stumbled upon this:
Yep, you read that right.
They're offering $2,500 to $3,400 for you to cook prawn noodles! And considering this economy that we're in, that's damn good, please.
But this also got me thinking… If they can afford to pay this much for a cook, how much do I actually need to be a hawker in Singapore? And more importantly, can I be rich as a hawker?
---
TL;DR: How Much Does It Cost To Be A Hawker?
You'll need to cough up $18,198 upfront in order to be a hawker
Best case scenario where you get 200 customers a day and sell your prawn noodles at $5 a bowl, you can expect to make

$5,802 profit

in the first month

A more realistic scenario (since you're just starting out) is where you get 50 customers a day, sell your prawn noodles at $4 a bowl, and expect to make -$12,918 loss in the first month
---
How Do I Become A Hawker?
Before we go any further, here're a couple of basic requirements that you'll have to meet if you plan to be a hawker.
You MUST be:
A Singapore Citizen or Permanent Resident
21 years old and above
And you MUST NOT be:
A former assistant or nominee who was de-registered by NEA
Already renting or a joint operator of 2 cooked stalls managed by NEA
An undischarged bankrupt
Banned by the Government/Statutory Boards from taking part in all business tenders
Banned from holding a hawker license by NEA (erm… duh?)
---
Bidding For Your Stall Under NEA's Tender Scheme
NEA's monthly Tender Scheme, for hawker stalls under NEA management, typically starts on the 13th of every month and ends on the 26th of the same month.
If you're successful in the bid, you will rent the stall for three years.
Tender Document and Submission Envelopes A and B: $10
---
Monthly Hawker Stall Rental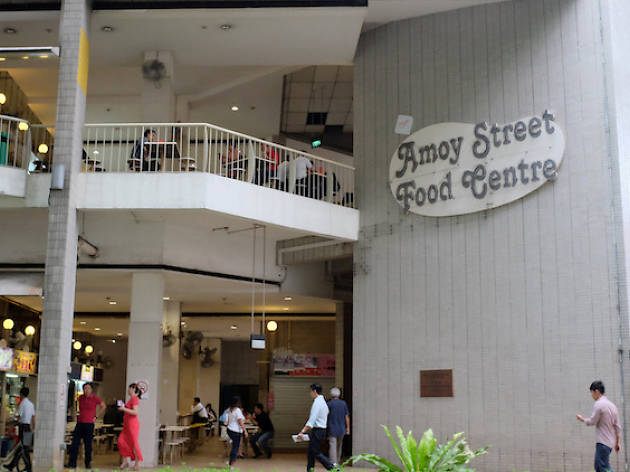 Your monthly rental for your hawker stall is subjected to a bid. Obviously, a hawker stall in a popular place like Amoy Street Food Centre is going to cost more.
This starts anywhere from $49 a month for an Indian cuisine stall at Mei Chin Road, to a whopping $10,218 a month for a drink store at Chomp Chomp Food Centre. To be fair, that last amount was an outlier – the tenant ended the tenancy agreement on the same day of signing it.
I mean, can you imagine how many cups of sugarcane you'd have to sell a day just to make rent? Damn siao, please.
According to NEA, the average successful tender bid for cooked food stalls under NEA is around $1,514 in 2018.
You'll also have to put down a deposit of two month's rent. Of which one month's rent should be put down as a Cashier's Order that will be forfeited if you do not commence operations within three months of successful bidding.
Deposit for two months of rental: $3,028
---
Hawker License
This is pretty straightforward.
You drive a car in Singapore also need a driver's license right…
Hawker license for three years: $39
---
Basic Food Hygiene Course (BFHC)
You'll also need to undergo a 7-hour Basic Food Hygiene Course, followed by a 1.5-hour assessment. Oh, the assistant whom you hire to handle food will also need to go through the course.
Cost of attending the BFHC for you and one assistant (before SkillsFuture funding): $321
---
Setting Up Your Hawker Stall
For reference, I found the above stainless steel chicken rice stall on Carousell for $850.
This will probably form the bulk of your sunk cost if you're really serious about being a hawker. Because you'll need stuff like:
Metalwork (eg. kitchen counters, hoods, food prep surfaces etc.)
Kitchen equipment (eg. stoves, ovens,  etc.)
Utensils (eg. cutlery, plates, bowls, cups, glasses etc.)
A really, really conservative guess-timation with regard to how much you need to make your stall look and operate legit: $8,000
---
Operating Fees
Apart from monthly rental, you'll also have to pay:
Table cleaning fees (~$400, might be higher if it's a hawker centre with dishwashers and etc.)
Service & conservancy fees (~$200)
Refuse disposal fees, and etc.
A conservative monthly expectation: $1,000
---
Hiring An Assistant
While 545 Whampoa Prawn Noodles is offering $2,500 a month as a starting salary for a cook. That kind of remuneration is not really the industry standard.
However, assistants don't come cheap either.
They're going to have to:
Brave the heat of the kitchen
Man the stall with you in the wee hours of the morning till night (if you wish to maximise your profits)
Prep the food and maybe even cook some
Wash and clean up the stall
So they'll be expecting something like $1,800 to $2,400 a month.
You're going to need at least one person with you to take orders or serve customers while you whip up your dishes.
Assuming you only hire one assistant at the lowest rate possible: $1,800
---
Raw Materials
According to a CNA interview, a prawn noodle hawker typically spends about $2,400 on prawns in a week – this is assuming he sells about 20kg of prawns daily and works six days a week.
Let's say we decide to sell prawn noodles as well. We'll need to factor in other ingredients like:
Fishcake
Meat
Noodles
Oil
Onions
And we ignore the fact that you might mess up and drop stuff, or food might spoil in this ridiculous Singapore heat.
An agar-ation of how much you'd be spending on raw materials in your first month: $4,000
---
How Much Does It Cost To Be A Hawker?
Yeah… It'll cost you more than that…
| Breakdown | Cost |
| --- | --- |
| Tender Document | S$10 |
| Rental (2 Month's Deposit) | S$3,028 |
| Hawker License | S$39 |
| Basic Food Hygiene Course (2 Pax) | S$321 |
| Initial Setup | $8,000 |
| Monthly Operating Fees | S$1,000 |
| Assistant's Salary | S$1,800 |
| Monthly Raw Materials | S$4,000 |
| Total Upfront | S$18,198 |
And this is just the upfront cost you need to fork out to START as a hawker. I didn't even go into monthly overheads like utilities and etc.
---
Are Hawkers Really Rich?

We all know the myths.
The uncle standing behind the counter frying char kway teow, probably drives to work in a BMW 5 Series and lives in some 2-storey tall bungalow on Nassim Hill Road.
Similarly, the makcik dishing out nasi padang probably carries thick wads of $50 and $100 notes stuffed in her battered, old purse – enough to pay the downpayment on a 3-room HDB flat.
That might have been true in the past, but it's hard to make a living now as a hawker.
How hard you ask?
Well… I asked the uncle selling prawn noodles at Bedok Interchange Hawker Centre (his business is quite brisk and there are even long queues on the weekends) what's the most number of customers he has ever seen on a good day. His answer: 200.
Assuming you start your own prawn noodle store, and you somehow magically have a recipe which attracts a regular stream of customers EVERY. DAMN. DAY. You'll be expecting about 200 customers a day. And at $5 a bowl of prawn noodles, that means you're looking at a $1,000 daily revenue.
If you work six days a week, for an entire month, that makes it: $1,000 x 24 days = $24,000 monthly revenue.
So technically within the first month, you should be able to make: $24,000 – $18,198 = $5,802 profit.
Heck, that's even more than I make (hint hint, Bossman).
.
.
.
However, the reality is more like this:
When you start your own prawn noodle store, you'll have to wait for business to pick up and for your reputation to grow. You'll probably get about 50 customers a day, and at $4 a bowl of prawn noodles, that means you're looking at a $200 daily revenue.
If you decide to pia (Hokkien for 'fight it out') and work seven days a week, for an entire month, that makes it: $200 x 30 days = $6,000 monthly revenue
Your earnings in the first month: $6,000 – $18,198 = -$12,918 loss.
Doesn't look so easy now huh?
And that's just for the first month, if you're lucky and your prawn noodles are good, your monthly revenue should pick up and eventually cover your startup as well as your monthly cost. If footfall sucks and your prawn noodles get 0 out of 5 stars on Food King and Daniel Food Diary, then you #passaway sia.
About Kenneth Fong
I threw all of my money into the longkang once... because I wanted to see my
cash flow
.
You can contribute your thoughts like Kenneth Fong
here.