A Singaporean's Guide to ERP Rates, Gantries & Operating Hours in Singapore (April 2021)
If you're a driver or someone who takes taxis and uses ride-hailing services regularly.
The biggest bane that you face is the Electronic Road Pricing (ERP) charge.
With ERP rates varying anywhere between $1 to as high as $3 which is lower than the $6, we saw pre-COVID.
Yep.
There's a reason why we're constantly ranked amongst one of the most expensive city in the world.
The small reprieve we get is that ERP rates and charges are reviewed every quarter.
And we usually see these adjustments during the June and December holiday period.
But now that we're in Phase 3, ERP rates will be reviewed every five weeks instead.
So what are the latest ERP rates?
Let's find out!
---
TL;DR: Changes in ERP Rates in Singapore 2021 With Effect From 12 April 2021
We've been enjoying low ERP rates islandwide since the start of the COVID-19 pandemic...
But given that traffic volume has been building up during weekday peak hours as more people start returning to work…
LTA is reverting to the pre-COVID-19 ERP gantry prices to manage traffic once more. 😢
Following this adjustment, ERP will be charged at 12 gantries.
Here're the results from the LTA's latest ERP rate review:
P.S. 'ERP Rates' refer to the ERP rate per Passenger Car Unit (PCU). Also, rates for other time slots at previously announced gantries remain unchanged.
Latest ERP Rates

Time
ERP Rates
w.e.f. 12 Apr 2021
Orchard Cordon & Rest of CBD Gantries
Bugis-Marina Centre
All times
$0.00
Shenton Way-Chinatown
Orchard
YMCA Gantry & Fort Canning Tunnel Gantry
Handy Road Gantry
New Bridge Road, South Bridge Road, southbound Fullerton Road and southbound Bayfront Avenue
Eu Tong Sen St at Central, northbound Fullerton Road and northbound Bayfront Ave
Arterial Road Gantries
Bendemmer Road southbound after Woodsville Interchange, Woodsville Tunnel
All times
$0.00
Geylang Road westbound before Kallang River
Thomson Road southbound after Toa Payoh Rise
Dunearn Road eastbound after Dunkirk Ave
Upper Bukit Timah Road southbound after Hume Ave
Lorong 6 Toa Payoh from Braddell Road
Kallang Bahru from PIE
Geylang Bahru westbound after Geylang Bahru Terrace
Upper Boon Keng Road near Lorong 1 Geylang
Expressway Gantries
AYE between Portsdown Road and Alexandra Road
All times
$0.00
BKE between Dairy Farm Road and PIE
All times
$0.00
Southbound CTE after Braddell Road & PIE Slip Road into Southbound CTE (4 gantries)
7.30am - 8:00am
$1.00
8:00 - 8:30am
$2.00
9:30 - 10:00am
$1.00
CTE slip road to PIE (Changi) / Serangoon Road
8:00am - 9:30am

$2.00
9:30am - 10:00am
$1.00
Southbound CTE before Braddell Road
7:00am - 8:00am
$1.00
8:05am - 8:55am
$2.00
8:55am - 9:00am
$1.50
9:00am - 9.30am
$2.00
9:00am - 10.00am
$1.00
ECP (City)
All times
$0.00
MCE Westbound before exit to Central Boulevard and before
exit to Maxwell Rd
KPE southbound after Defu Flyover
8:30am - 8:35am
$0.50
8:35am - 8:55am
$1.00
8:55am - 9:00am
$0.50
KPE slip road into citybound ECP
All times
$0.00
PIE after Kallang
Bahru exit, PIE Slip
Road into Bendeemer
Rd
PIE eastbound after Adam Road and
Mount Pleasant slip
road into the eastbound PIE
PIE slip road into CTE
8:00am - 8:05am
$0.50
8:05am - 8:30am
$1.00
8:30am - 8:35am
$1.50
8:35am - 9:25am
$2.00
9:25am - 9:30am
$1.00
PIE westbound before Eunos Link
All times
$0.00
CTE northbound between Jalan Bahagia and PIE
CTE northbound between PIE and Braddell Road, PIE to CTE northbound before Braddell Road
5.30pm - 6:00pm
$1.00
6:00pm - 6:05pm
$1.50
6:05pm - 6:25pm
$3.00
6:25pm - 6:30pm
$2.50
6:30pm - 6:55pm
$2.00
6:55pm - 7:00pm
$1.00
ECP Eastbound before KPE
All times
$0.00
MCE eastbound after entry from Mawell Road, on slip road after Marina Boulevard
Tuasbound AYE - after North Buona Vista
Citybound AYE Set of 3 gantries
(after Jurong
Town Hall, Clementi Ave 6 into AYE, Clementi Ave 2 into AYE)
8.30am - 8.35am
$0.50
8.35am - 9.25am
$1.00
9.25am - 9.30am
$0.50
5.30pm - 6.30pm
$1.00
Source: LTA
But, this is still better than the 77 gantries where ERP was charged pre-COVID.
Wanna save time searching for this article every time you want to check what are the latest ERP rates?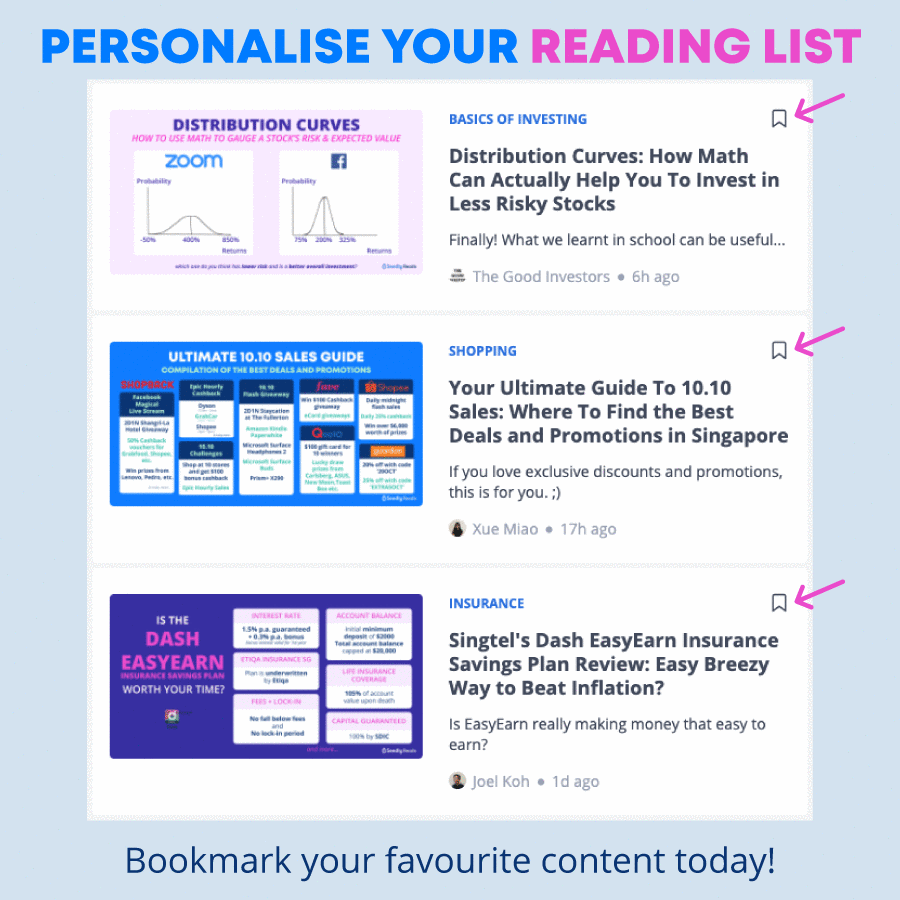 Just bookmark this article using the Seedly Bookmark feature!
.
.
.
And as promised, here are the best hacks to avoid ERP fines:
Hacks to Avoid ERP Fines

EZ-Pay
Nets Contactless CashCard
Nets vCashCard
Subscription Fee
$0
$5
(one-time fee for the Contactless CashCard)
$0
(if you already have a CashCard)
Top-Up Fee
$0
$0.30
(via Nets bank cards)

$0.50
(via cash, credit or debit cards)
$0.50

Note: waived for AMEX, DBS/POSB and UOB cardholders
Can Pay For Carpark Charges?
Yes
(not all)
Yes
Yes
Bank Cards Accepted For Payment
Citibank
DBS/ POSB
DBS/ POSB
OCBC
UOB
AMEX
DBS/ POSB
OCBC
UOB
Cons
Available to Citibank and DBS/POSB customers only
Not all carparks accept Contactless CashCards
$0.50 top-up fee
Take this time to get these payment systems sorted out so once the ERPs start charging (islandwide) again.
You won't find yourself in a situation where you'll be slapped with an unnecessary ERP fine.
---
An Introduction to the ERP System
The ERP system is basically the government's way of managing road congestion.
Whenever you pass through an ERP gantry during its operational hours, you will incur charges.
The ERP is to encourage drivers to:
seek alternative routes to their destination
travel outside ERP operation hours, or
take public transport
This coupled with our high Certificate Of Entitlement and crazy petrol prices.
It's basically the government subtly hinting, "Eh… Don't drive lah…"
So… Where Will I Find ERP Gantries?
You'll mostly find ERP gantries all over the Orchard cordon as well as the rest of the Central Business District.
That might not sound like a huge area but get this.
There are a total of 93 ERP gantries in operation — as of the time of writing.
ERP Rates in Singapore
The amount of ERP charge you pay depends on two things: your vehicle type and what time you pass the gantry.
Bigger vehicle types usually pay more.
For cars, in general, the ERP rates vary from anywhere between $0.50 to as high as $6.
As a rule of thumb, ERP charges are the highest from 8am to 9am because that's when everyone is heading to work.
ERP Operating Hours and ERP Rate Reviews
ERP operating hours are only from Mondays to Saturdays.
And start as early as 8am until as late as 8pm.
The time periods are set in 30-minute or 1-hour intervals.
The only saving grace is that there are no ERP charges on Sundays and all public holidays.
Oh, you'll also be pleased to note that the ERP also stops operating at 1 pm onwards on:
Chinese New Year
Christmas Day
Deepavali
Eve of New Year's Day
Hari Raya Puasa
Otherwise, the rates are reviewed once every quarter and also during June and December school holidays (read: kids don't need to be sent to school and families are usually on vacation):
January (for February to April)
April (for May)
May (for June)
August (for September to November)
November (for December)
The reviews usually affect the following ERP gantries:
AYE after North Buona Vista Road (towards Tuas)
AYE after Jurong Town Hall
CTE before Braddell Road
CTE after Braddell Road
CTE slip road to PIE
CTE southbound after Serangoon Road (and PIE)
ECP (City)
Kallang Road
KPE after Defu Flyover
PIE after Adam Road and Mount Pleasant
PIE Bendemeer Road and Woodsville Tunnel
Thomson Road
If you're kiasu like me.
I usually check the LTA Newsroom to get the latest updates on ERP rate changes.
Can I Don't Pay for ERP Charges?
CAN…
Just be ready to pay an ERP violation fine instead.
As long as you pass a gantry and did not pay your ERP charges due to:
defective IU
expired CashCard
improperly inserted CashCard
insufficient value in CashCard
You'll hear a long beep emanating from your car's IU unit.
After that, you'll receive a notification within a couple of days notifying you to make payment within 2 weeks.
Here're the ERP violations and accompanying fines at a glance:
ERP Violation
Fine
Demerit Points
Passing through ERP gantry with:

improperly inserted stored-value card

OR

insufficient value in stored-value card
ERP charge + $10 admin fee
-
Evasion of ERP charges (eg. stopping on the road shoulder to wait for ERP charges to be lifted)
$130 to $160 + $10 admin fee
4
FYI: You can save $2 by paying for your violation through:
AXS station, e-Station, m-Station
S.A.M kiosks
iNETS kiosks
Internet or electronic banking
If you fail to pay within 2 weeks, you'll be slapped with a $70 fine and a Notice of Traffic Offence.
And if you still don't pay after 28 days, you'll be invited to attend a court hearing.
Long story, short?
JUST PAY LAH.
Hacks To Avoid An ERP Fine
The best way to avoid paying an ERP fine is to make sure that you always have a fully topped up, functioning CashCard that is properly inserted into your IU unit.
But a smarter way would be to automate this just in case you ever forget or can't find a functioning Nets Top-Up machine nearby.
Here are four simple hacks to avoid EVER having to pay an ERP fine.
1) EZ-Pay
EZ-Pay is a post-paid, cardless payment service by EZ-Link.
It's a free service to use.
Basically, it allows you to use your bank credit or debit cards to pay for ERP and parking charges.
Simply register for an EZ-Pay account with your vehicle number and NRIC/FIN number.
Add the details of your preferred credit or debit card.
Note: only VISA and MasterCard credit or debit cards issued by Citibank and POSB/DBS are accepted for now.
An email with the effective start date of EZ-Pay for your vehicle will be sent to you within 2 working days.
Even if you forget to insert a card into the IU or have insufficient value, the ERP charge will simply be deducted from your EZ-Pay account!
2) Nets Contactless Cashcard
You can purchase a Nets Contactless CashCard at:
Convenience stores (eg. 7-11 and Cheers) for $10 (inclusive of $5 stored value)
NETS Online Sales Portal for $5 (not inclusive of stored value)
VICOM for $10 (inclusive of $5 stored value)
Then all you have to do is heads to the NETS website and register for Auto Top-Up.
Whenever your Contactless Cashcard's balance is insufficient, it will automatically be topped up with your stipulated amount.
This way, you'll never forget to top-up your cashcard or have to look for a NETS Top-Up machine to do so.
Note: there are some carparks which aren't equipped to read contactless cashcards yet so you'll still need to have a chip-based cashcard, just in case
3) Nets vCashCard
Virtual CashCard (vCashCard) is a pre-paid, cashless payment service.
Best of all, it's a free service to use.
However, a $0.50 top-up fee is charged for each auto top-up of $50 (fixed amount).
Note: only AMEX, VISA, and MasterCard credit or debit cards are accepted for now.
For DBS/POSB and UOB cardholders, the top-up fee is waived until further notice.
All you have to do is register for a vCashCard account and top it up with your registered credit or debit card, or bank account.
If your CashCard is in the IU when passing through a gantry, the ERP charge will be deducted from the CashCard.
If your CashCard has insufficient value, the full ERP amount will be deducted from the vCashCard that you registered.
Related Articles
About Kenneth Fong
I threw all of my money into the longkang once... because I wanted to see my
cash flow
.
You can contribute your thoughts like Kenneth Fong
here.