Government Payout 2023: Step-by-Step Guide to Checking Your Government Benefits for 2023 and Beyond
Unless you have been living under a rock.
You may have heard about a little thing called Budget 2023, where Deputy Prime Minister and Minister for Finance Lawrence Wong announced a slew of measures to help Singaporeans cope with the rising cost of living in Singapore:
But if you feel a bit overwhelmed by the sheer number of schemes, fret not.
We got you.
Here's a step-by-step guide to determine what Government benefits you and your household are eligible for in 2023 and beyond!
---
TL;DR: How to Check Your Government Payout in 2023 and Beyond Using the Support for You Calculator
1️. Input Age and Assessable Income
2️. Input Property Information
3️. Add Other Household Members (Optional)
4️. Click 'Show Estimated Benefits'
---
Support Go Where: Support for You Calculator to Check Your GST Voucher Eligibility and More
For the uninitiated, SupportGoWhere is a one-stop portal for individuals and families in Singapore to find support schemes and services by LifeSG and GovTech.
Part of their efforts includes this helpful and aptly named Support For You Calculator:
Check Assessable Income (AI) for GST Voucher, Assurance Package and Other Government Benefits
To make full use of this calculator, you will need to first find your assessable income (AI) and the annual value (AV) of your home.
According to the Inland Revenue Authority of Singapore, 'Your AI includes all forms of income from trade, business, profession or vocation, employment, and taxable rental income.'
Your AI can be found on your tax bill (or Notice of Assessment) that you receive each year if you are required to pay taxes. You may visit iras.gov.sg [login to myTax Portal using your Singpass > Notices/Letters > Individual, select Year of Assessment (YA) 2021/2022] to view your Notice of Assessment.
For this year's payouts, you will need to input your YA2021/2022 AI as listed on the Goods and Service Tax (GST) Voucher website:
Check Annual Value of Property Singapore (2023)
As for the Annual Value of your property, you may refer to the latest data from IRAS to get an estimation:
Property Category
Median AV of Property in 2021
HDB Flats
1- or 2-room
$5,340
3-room
$8,220
4-room
$10,140
5-room
$10,980
Executive and Others
$11,340
Private Property
Non-landed (including Executive Condominiums)
$23,400
Landed
$37,200
But for a more accurate reading, you can simply check it for free using the View Property Portfolio tool on IRAS' site. If you do not own the property, you will need to get the homeowner to check it for you.
With that out of the way, here is the guide.
1. Input Age and Assessable Income
For this guide, I have come up with the example of a small family consisting of two parents and one child living in a 4-room flat which is the only property they own:
Father aged 61 in 2023 with AI of $21,000
Mother aged 58 in 2023 with AI of $25,000
Daughter aged 30 in 2023 with AI of $50,000.
I will start things off with the daughter, adding her age and AI:
2. Input Property Information
Next up, her property information:
3. Add Other Household Members (Optional)
This step is optional, but for this example, I'll be adding the Dad and the Mom's information:
Father aged 61 in 2023 with AI of $21,000
Mother aged 58 in 2023 with AI of $25,000.
4. Click 'Show Estimated Benefits'
Next up, press the 'Show estimated benefits' button, and voila: here's your estimate of the Government benefits you and your household can get for 2023 and beyond!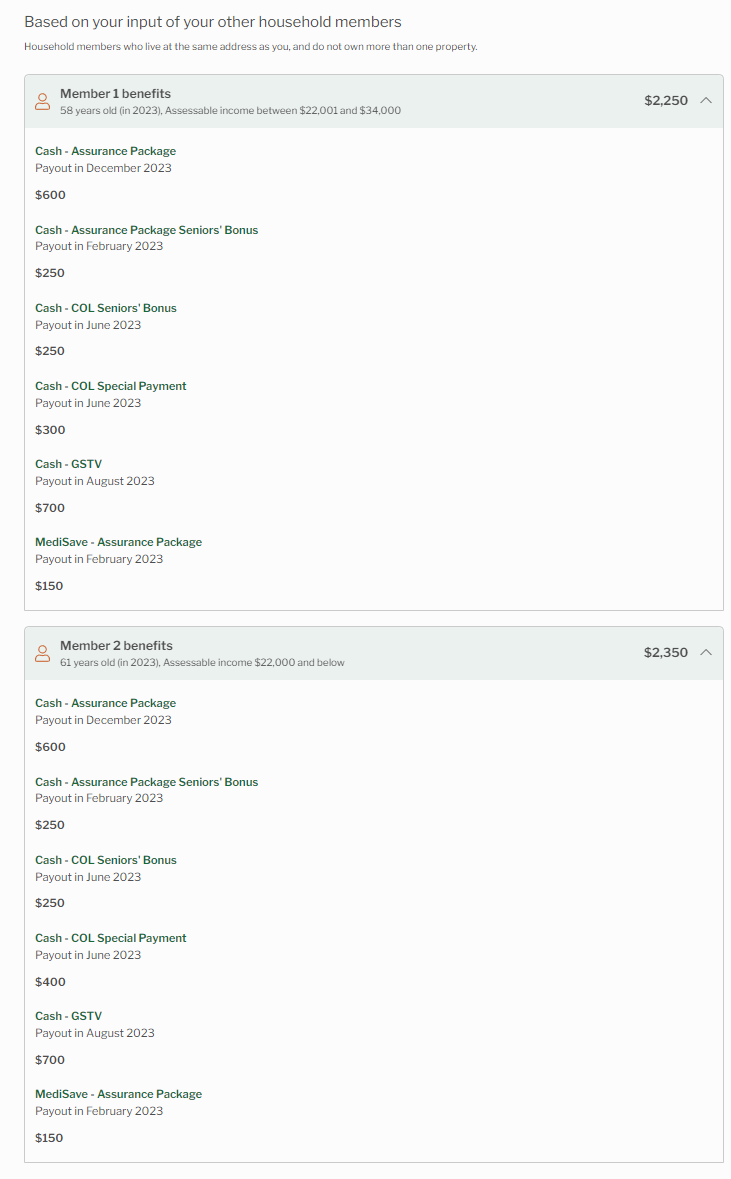 ---
Read More Budget 2023 Coverage
About Joel Koh
History student turned
writer
at Seedly. Before you ask, not a teacher. I hope to help people make better financial decisions and not let money control them.
You can contribute your thoughts like Joel Koh
here.