NTUC Income Gro Capital Ease: 3-Year Endowment Plan with 1.58% p.a. Guaranteed Returns
The interest rates of our popular savings accounts have been plunging in view of the current economic climate.
Here's a quick glance of the interest rate that savings account can generate: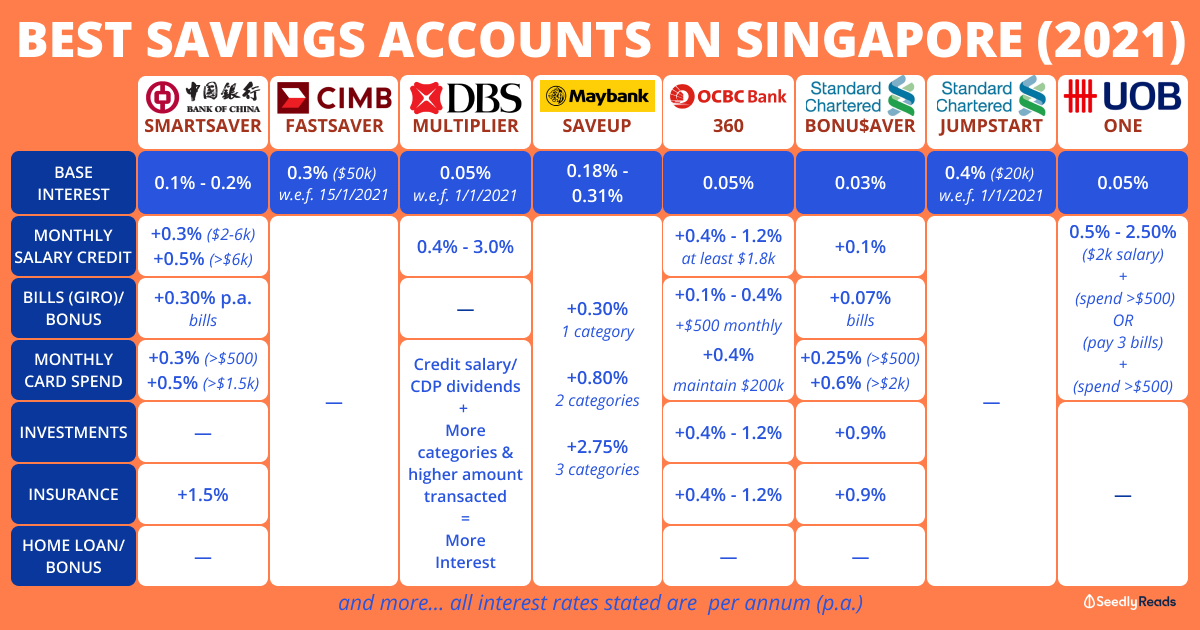 Even one of the most commonly used financial instruments, Singapore Savings Bonds (SSB) was not spared.
Are you someone who's looking for a place to hold your savings for the short term?
NTUC Income will be launching a new tranche of Gro Capital Ease with a return of 1.58 p.a over 3 years.
Disclaimer: This is not a sponsored post, and this does not constitute financial advice. We just hope to share information to help you make smarter personal finance decisions. Readers should always do their own due diligence and consider their financial goals before investing.
---
TL;DR: Is the NTUC Income Gro Capital Ease Worth It?
This is a single-premium endowment plan that provides guaranteed benefits only.
Here's a breakdown of the Gro Capital Ease launched on 19 January 2021, 10am.
Do note that the product is only available for online purchase as of the launch date and time.
NTUC Income Gro Capita Ease
Coverage
3 Years
Premium
Single premium (one lump sum)

$5,000 via online, $20,000 via agent (min)

$200,000 (max)
Payment Options
Payment by cash, eNets, PayNow QR, eGIRO or Supplementary
Retirement Scheme (SRS) funds.
Death Benefit
Within 1 year from cover start date: Net single premium payout

After 1 year from cover start date: 105% of net single premium
Guaranteed Maturity Benefit
1.58% p.a.
Issuance
Guaranteed acceptance regardless of health condition
Entry Age
Insured: 10 (min), 80 (max)

Policyholder: 10*(min), no max

*Parental/legal guardian's consent required for 10 to 15 years old (age last birthday)
Policy Protection
Up to specified limits by SDIC
Credit Rating of Insurance Company
AA-
Gro Capital Ease with 1.58% p.a Returns
---
What is an Endowment Plan?
An endowment plan is a life insurance policy that gives you a death benefit and helps you save at the same time.
Once your policy matures, you'll be able to collect your principal plus any accrued interest.
For such plans, you usually either pay regularly or make a lump sum payment (aka "single premium").
The Gro Capital Ease plan is a good example of a single-premium endowment plan.
Endowment plans are usually used for people to have 'forced savings' in the short term.
All You Need to Know About the NTUC Income Gro Capital Ease Endowment Plan
NTUC Income launched a similar plan back in September 2020 with a tenure of 3 years at a 1.96% return per annum.
This latest plan promises a lower return per annum.
1. Guaranteed Issuance
The issuance of the NTUC Income Gro Capital Ease Plan is guaranteed as no medical underwriting is required.
2. Guaranteed Capital
The capital is guaranteed at 1.58% p.a. IF you hold this plan to its maturity (3 years).
Upon maturity, you can receive 104.82% (round up to the nearest dollar) of your principal sum invested, assuming you've paid a single premium of $10,000.
After three years, you'll receive a guaranteed maturity benefit of $10,481.50. A $481.50 return.
3. Death Benefit & Total and Permanent Disability Benefit
This policy also covers death and total and permanent disability (TPD) before age 70.
| Time the Insured Event Happens | Benefit |
| --- | --- |
| Within one year from the cover start date | The net single premium |
| After one year from the cover start date | 105% of the net single premium |
4. Invest with eNETs, PayNow or SRS Funds
If you're interested in applying, the steps are really simple!
You can apply for this plan online, and make payment easily via eNETs or PayNow.
The minimum single premium for online purchase starts at $5,000.
If you prefer applying through a financial adviser, you can choose to use either cash or your Supplementary Retirement Scheme (SRS) funds to invest in this plan.
Application through a financial adviser requires a minimum sum of $20,000.
However, if you're thinking of doing a lump sum top-up of $20,000 for payment via SRS, you might want to note that the maximum yearly contribution limit for SRS is $15,300 for Singapore citizens and PRs.
As such, please ensure that there is sufficient balance in your SRS account before proceeding with this.
---
How Gro Capital Ease Can Grow Your Savings
We probably do not all have $100,000 readily for us to cash it all in.
However, the minimum sum of $5,000 seems to be reasonable to be set aside for this. This can be helpful in gaining some returns in this low-interest-rate environment.
Gro Capital Ease with 1.58% Returns
Should I Invest In NTUC Income Gro Capital Ease Plan?
If you have been on a lookout for somewhere to place your savings and don't mind the short-term lockup period, this endowment plan can be added to your list for consideration.
If you might need that sum of money within the next two years, this would not be the most ideal option.
If you're looking at it for insurance coverage, this might be a little too basic for that.
Do ensure that you're adequately covered by having policies that meet your insurance needs.
Do note that this plan is available on a limited tranche and is of a first-come, first-served basis.
Despite that, please do sufficient homework before diving into it, and also read through the terms and conditions carefully.
Please don't get it just because you're feeling the FOMO (fear of missing out).
About Xue Miao
A
millennial
who is learning to adult. She doesn't believe in the rat race and hopes to live on a farm someday.
You can contribute your thoughts like Xue Miao
here.