Top 10 Things to Do in JB Now That Malaysia Has Finally Reopened Its Borders
Remember going for an overseas getaway to Malaysia?
Yea, felt like eons ago.
Thankfully, after two years of border closures, Malaysia will reopen to Singaporeans on Friday, 1 April 2022!
We can finally take a quick drive to Johor Bahru (JB) for karaoke, cheap food, shopping and whatever else you've been missing out on.
But for those of us who are unsure what can be done in JB now that the pandemic has hampered businesses, here are the top 10 things to do in JB in 2022!
---
TL;DR: Top 10 Things to Do in JB
Activity
Price
Recommended Place(s)
Legoland
Adult: From RM142
Child: From RM112
-
Karaoke/Entertainment
Minimum RM1000 spend for 10-pax room (RM100/pax) or RM2000 for 15-pax room (RM133/pax)
SKY 26
Massage
RM 100 (for 2 massage packages)
SQ Massage & Nails
ATV
From RM80/ATV
ATV Park Johor
Shopping
-
Johor Premium Outlets, Paradigm Mall, Toppen
Horse Riding
From RM11
Amigos Horse Riding School
Try Out Good Food
-
Salahuddin Bakery, Hiap Joo Bakery
Go-Kart
From RM55
RUD Karting
Golf
From RM110/9 Holes, RM220/18 Holes
Horizon Hills Golf & Country Club
Pump Petrol
Save ~$51
-
---
Things to Note Before Entering Malaysia
But before you go rushing in for a shopping spree on 1 April, do consider that there will be many who are on the way to meet family and friends.
So don't go contributing to a causeway jam as I'm sure your vacation can wait just a few days more.
Plus, you'll need to ensure that you have everything prepared, so you can enter Malaysia under the current regulations.
If you're unsure, check out CNA's article on what you need to know before crossing the border.
---
Top 10 Things to Do in JB
With all that out of the way, here are the top 10 things to do in JB for a quick vacation!
1. Visit Legoland Malaysia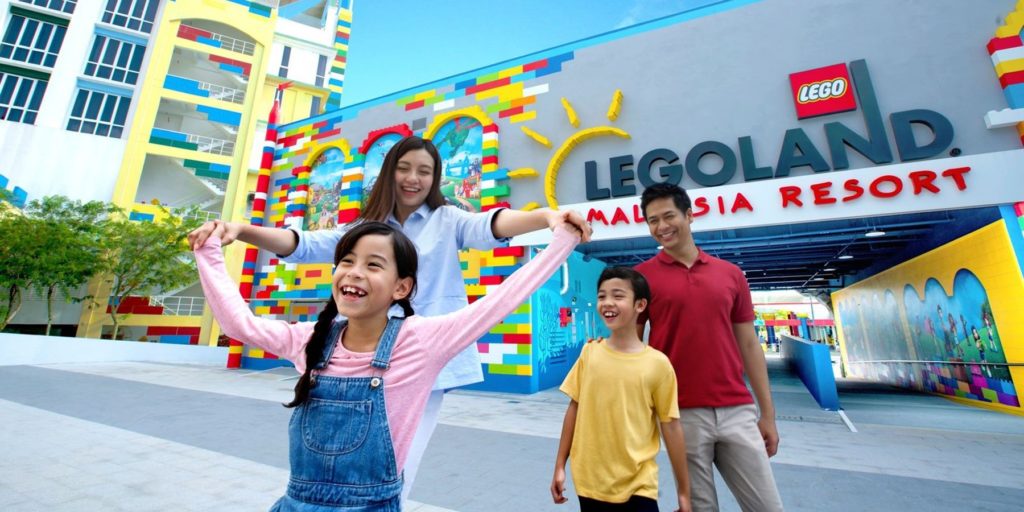 Sick of going to Universal Studios Singapore or Adventure Cove in Singapore?
Visit Legoland Malaysia in JB that'll give you a fresh fix of theme park thrills with your family and friends!
Relive your childhood Lego building sessions in this mega theme park featuring popular Lego names like Ninjago, Technic and Lego City across the Lego Theme Park, Water Park and SEA Life Aquarium.
Legoland Malaysia
Price
Adult: From RM142
Child: From RM112

Location: 7, Persiaran Medini Utara 3, 79100 Nusajaya, Johor, Malaysia
Opening Hours: 9am – 6:30pm, Daily (excluding public holidays)
2. Go For a Karaoke Session
Itching to have a karaoke session since Singapore still hasn't allowed the reopening of KTVs?
Well, you can sing your heart out in JB at places like SKY 26, coupled with amazing views and good food.
All you have to do is meet the minimum spend of RM1000 for a 10-pax private KTV room which equates to about RM100 per person or ~S$32 per person.
SKY 26
Price
10-pax room: Minimum spend of RM1000 (RM100/pax)
15-pax room: Minimum spend of RM2000 (RM133/pax)
Location: 260 Jalan Dato' Sulaiman Taman Abad 80250 Johor Bahru, Johor, Malaysia
Opening Hours: 5pm – 12am, Wed – Mon, 6pm – 12am, Tues
3. Indulge Yourself With a Cheap Massage
If you're a JB regular, you'll know that going to JB for a cheap massage is a staple among many Singaporeans.
Massages in JB are what many of us love: cheap and good.
And while there are many massage parlours around, we personally recommend SQ Massage & Nails which offers any two 60-minute massage packages for just RM100 or ~S$32!
What a steal!
SQ Massage & Nails
Price: RM100 (Choose two 60-minute packages)
Location: GE-006, Ground Floor & L2-01a, KSL CITY, 32, Jalan Seladang, Taman Abad, 80250 Johor Bahru, Johor, Malaysia
Opening Hours: 10am – 10pm, Daily
4. Have a Joyride in an ATV
Want to explore nature without all the tiring hikes? Consider taking a trip through forest trails on an All-Terrain-Vehicle (ATV) and explore Johor through a different lens.
You'll get to enjoy all of nature, and might get a taste of it too when riding too close to your travel companion on a muddy trail.
Jokes aside, come prepared by wearing appropriate attire and put on lots of repellent unless you're one of the few immune to mosquitoes.
ATV Park Johor
Price: From RM80/ATV
Location: Lorong ciku, kg baru sri aman 81300 Johor Bahru, Johor, Malaysia
Opening Hours: 9am – 11pm, Daily
5. Go On a Shopping Spree at Paradigm Mall, Toppen And/or Johor Premium Outlets
With prices of goods in Singapore increasing due to inflation, make your wallet happy by going on a shopping spree for cheap at malls such as the popular Paradigm Mall and Toppen in JB.
Want to splurge a little more on luxury goods such as Gucci, Prada and Louis Vuitton?
Head on over to Johor Premium Outlets where you can get authentic luxury goods for much cheaper than in Singapore. Hooray for a strong SGD!
But of course, remember to spend within your means while you're shopping.
Paradigm Mall
Location: No.1, Jalan SS7/ 26A, Kelana Jaya, 47301 Petaling Jaya, Selangor Darul Ehsan.
Opening Hours: 10am – 10pm, Daily
Toppen
Location: Toppen Shopping Centre, No. 33A, Jln Harmonium, Taman Desa Tebrau, 81100 Johor Bahru, Johor
Opening Hours: 10am – 10pm, Daily
Johor Premium Outlets
Location: Jalan Premium Outlets, Bandar Indahpura, 81000 Kulai, Johor, Malaysia
Opening Hours: 10am – 10pm, Daily
6. Ride Along the Coast on a Horse
With car and petrol prices skyrocketing these days, going back to the old days of horse-riding might just be the cheaper solution.
I'm kidding of course. But for those of us who want the best bang-for-buck horse riding experience, Amigos Horse Riding School offers rides from just RM11, including a 45-minute ride through a jungle trail that takes you along the coastline for RM110 or ~S$35.
Amigos Horse Riding School
Price: From RM11
Location: Tanjong Puteri Golf Resort, Pasir Gudang, Jalan Tanjong Puteri 1, 81707 Johor Darul Takzim, Malaysia
Opening Hours: 7am – 7pm, Daily (Closed on Mondays)
7. Try Out Good Malaysian Food
Whether you believe Singaporean food is better than Malaysian food or vice versa, we can all agree that Malaysia has some really delicious food that we all enjoy.
The best part? Food is cheap.
Based on what many have said online and our past experiences, Singaporeans must eat at the famous Salahuddin Bakery and Hiap Joo Bakery, offering wood-fired curry puffs and traditional banana cakes respectively.
Salahuddin Bakery
Location: 26, Jalan Dhoby, Bandar Johor Bahru, 80000 Johor Bahru, Johor, Malaysia
Opening Hours: 9am – 6pm, Daily (Closed on Tuesdays)
Hiap Joo Bakery
Location: 13, Jalan Tan Hiok Nee, Bandar Johor Bahru, 80000 Johor Bahru, Johor, Malaysia
Opening Hours: 7:30am – 5pm, Daily (Closed on Sundays)
8. Rev Your Go-Kart Engines at RUD Karting
Feeling the need for speed? Challenge your family and friends at RUD Karting starting from RM55.
With a 16-turn racetrack and various karts to choose from, RUD Karting offers one of the best Go-Karting experiences in JB.
RUD Karting
Price: From RM55
Location: PTD 200284, Persiaran Medini Sentral 6, Bandar Medini Iskandar, 79250 Nusajaya, Johor, Malaysia
Opening Hours: 11am – 2am, Daily
9. Go Golfing at an RM10 Million Golf Course
Since opening in 2008, Horizon Hills has quickly become one of the best golf courses not just for its amenities and food, but for its top-class customer service as well.
The RM10 million golf course features a water hazard-heavy design that poses a challenge even for seasoned pros and its golf packages provide everything from buggy services to Golfer's insurance, so you can expect the full 5-star treatment.
RUD Karting
Price: From RM110 for 9 Holes, RM220 for 18 Holes
Location: No. 1 Jalan Eka,Horizon Hills,79100 Iskandar Puteri, Johor Darul Takzim
Opening Hours: 6:30am – 8pm, Daily
10. Pump Petrol
Petrol prices have gone nuts since the invasion of Ukraine and while many of us Singaporeans love to pump petrol to save on costs, we could not do so for almost two years.
So once you're done with your trip in JB, remember to fill up your tank as you could potentially save up to ~S$51 based on Motorist's calculations.
---
Top 10 Things to Do in JB
With this guide, we hope that you'll have an idea of some exciting things to do in JB, and save money in the process.
To enjoy a peace of mind during your travels, do look for the best travel insurance to enjoy great coverage in the case anything undesirable happens.. Also, remember to use relevant credit cards and multi-currency cards when paying for these experiences so you can save even more!
About Justin Oh
Your average Zillennial who is obsessed with anime, games, movies and of course, personal finance. Join me as I break down personal finance into easily digestible and fun bits!
You can contribute your thoughts like Justin Oh
here.