Can You Afford Cancer Treatment? An Insight On The True Cost Of Cancer Treatment In Singapore
When I accompanied my relative to the National Cancer Centre Singapore, I found myself sitting next to an elderly couple who was waiting to make payment at the registration counter.
While my relative was lucky enough to have her treatment covered by insurance, the elderly couple beside me was not so fortunate.
The man, in his seventies, was passing whatever debit card he can find in his wallet, just to have them all rejected by the system.
"My CPF?", he asked hopefully.
Just to have the lady at the counter shake her head and apologise.
That was when it hits me. This SH*T is REAL.
---
Seedly's Fight Against Cancer
As part of Seedly's social outreach, we have decided to partner with the Singapore Cancer Society to help Singaporeans in need.
The Singapore Cancer Society is a community-based voluntary welfare organisation dedicated to maximising life by minimising the impact of cancer through advocacy, public education, screening, financial assistance, patient services and support, and rehabilitation.
You can support our social cause here.
Support our cause! It doesn't matter if you have a $1,000 or $1 to give.
Every dollar matters.
All donations are channeled directly to the Singapore Cancer Society.
---
Treatment of Cancer Costs $8,000 to $17,000 per Month
To provide you with a quick overview, we referenced the release of Singapore Cancer Registry 50th Anniversary Monograph.
Here are some facts about cancer in Singapore:
39 Singaporeans get diagnosed with cancer every day
This means that 14,253 Singaporeans are diagnosed with cancer per year
15 people die of cancer every day
This means that 5,546 of our loved ones die of cancer on a yearly basis
Treatment of cancer per month is estimated to be between $8,000 to $17,000
The statistics above mean that one in four people in Singapore may develop cancer in his or her lifetime.
Editor's note: This article is part of Seedly's Social Outreach Campaign to raise funds for the Singapore Cancer Society. In case you are wondering, we are not sponsored to do so. This is purely to shed light and hopefully garner help or some of the less fortunate Singaporeans.
---
Treatment for Later-stage Cancer Can Cost You More Than $100,000 Per Year
While it only takes seconds to receive the news of getting diagnosed with cancer, their world will be changed forever. Any dream right up to the point of diagnosis will not matter anymore.
As we were covering the true cost of healthcare treatment in Singapore, we noticed that the average cost of treatment is not readily available online.
We worked together with the Singapore Cancer Society to get more information on the treatment cost for later-stage cancer. We found out that it can easily range from $100,000 to $200,000 yearly. That works out to be $8,400 to $16,700 per month.
The gross monthly income of an average Singaporean? $4,534.
---
Rooms For Improvement For Singapore's Healthcare System
For a developed country such as Singapore, our lack of transparency when it comes to healthcare cost is shocking.
While the availability of grants and Medisave benefits are plastered all over the websites of hospitals, the actual cost of each treatment is seldom presented.
Even if is it, it is not immediately obvious to consumers.
This means that I can go all day highlighting the benefits one can receive from Medisave, without realising that the cost to fork out in cash is still pretty high.
---
15 Singaporeans Die From Cancer Every Day
Cancer is actually something that is very real and close to us, Singaporeans. In fact, cancer takes away 5,546 loved ones from families on a yearly basis in Singapore.
For every 3 deaths, 1 is attributed to cancer, making it the top killer in Singapore.
Here's a closer look at the numbers:
14,253 Singaporeans are diagnosed with cancer each year
An average of 39 Singaporeans receive the news that they are diagnosed with cancer on a daily basis
And unfortunately, 15 people passed on from cancer every day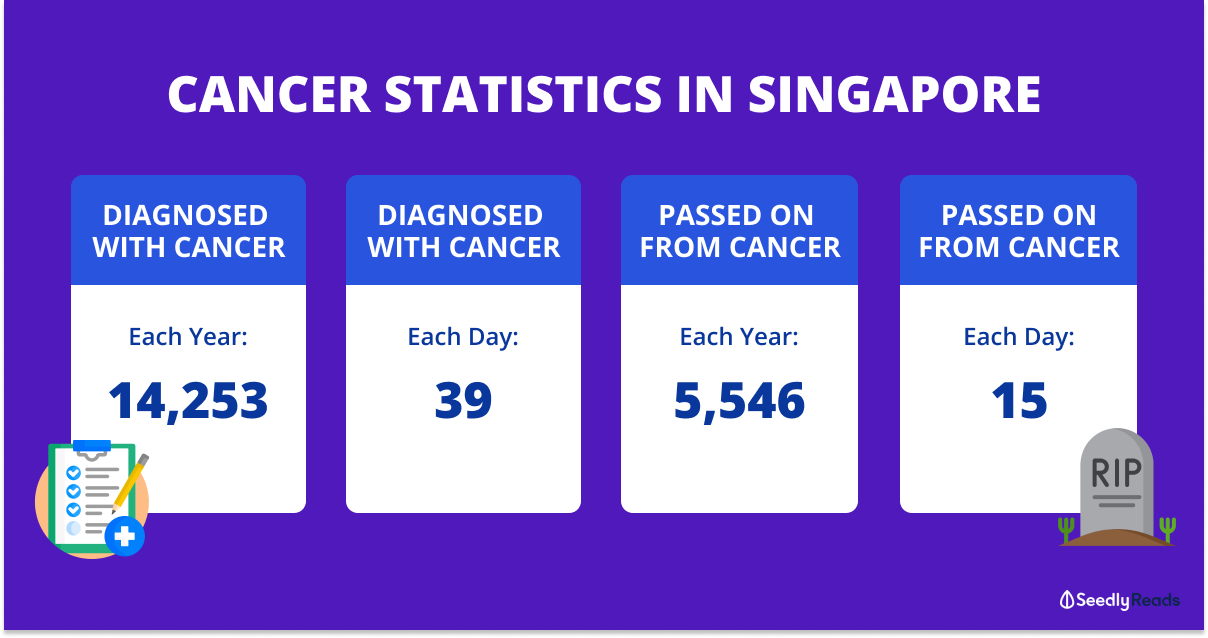 Top 10 Cancers Amongst Male and Female Singaporeans
Different genders are more prone to different types of cancer.
The type of cancer will impact your chance of recovery and the cost that comes with it, depending on the procedures required.
Here's a breakdown of the top 10 cancers amongst male and female Singaporeans:
Source: Singapore Cancer Registry Interim Annual Report
| Type of cancer (Female) | Incidence | Type of cancer (Male) | Incidence |
| --- | --- | --- | --- |
| Breast | 29.3% | Colon & rectum | 16.9% |
| Colon & rectum | 13.3% | Prostate | 14.8% |
| Lung | 7.5% | Lung | 14.0% |
| Uterus | 7.2% | Liver | 7.6% |
| Ovary | 4.9% | Lymphoid Neoplasms | 6.5% |
| Lymphoid Neoplasms | 4.7% | Non-melanoma skin | 5.5% |
| Non-melanoma skin | 4.1% | Stomach | 4.4% |
| Thyroid | 3.9% | Kidney | 4.0% |
| Stomach | 3.0% | Myeloid Neoplasms | 3.4% |
| Cervix | 2.8% | Pancreas | 3.1% |
---
One Main Challenge Of Being Diagnosed With Cancer
For someone who just got diagnosed with cancer, the cost of treatment becomes the immediate concern.
Often, the victim of cancer is in a state of shock and confusion and their priority is to not be a burden to their family members.
One main issue from our personal experience is the lack of transparency in terms of cost when it comes to cancer treatment.
Despite the benefits of MediShield Life and Medisave being plastered all over hospital websites, it certainly did nothing to appease the many questions on a victim's mind. (eg. a $300 benefit is simply a dent on a $30,000 hospital bill)
It is understandable that the procedures differ from individual to individual, which further adds on to the challenges of coming out with an accurate estimation of the cost involved.
The cost of treatment depends on a few factors:
Patient's body condition
Stage of the cancer
Type of cancer
Type of treatment that is required
Here's an example of what we mean: a stage 4 cancer patient will be expecting more cycle of chemotherapies as compared to someone in the initial stage.
Cancer growth detected at more vital organs also increases the difficulty to get it treated.
---
Subsidies for Cancer Cost by the Singapore Cancer Society
After chatting with the Singapore Cancer Society, we managed to compile the average subsidies provided for cancer treatment.
Procedures/Medical Needs
Cost
Remarks
Surgery as part of cancer treatment
$3,000
This is excluding hospital stay.

More complex organs and procedures may result in higher charges.
Chemotheraphy
$1,500 for 1 cycle
Each treatment involves a 3-4 cycle, followed by a CT scan to track progress of treatment.
Milk for patients under hospice care
$200
2 weeks supply
Adult diapers (if required)
$100
2 weeks supply
Ostomy Bags
(for colorectal cancer survivor)
$50
1 week supply
Transportation to hospital for treatment
$20
1 trip
*Do note that the above numbers are based on the average amount of subsidies that Singapore Cancer Society provides to needy cancer patients. it is not meant to be an exhaustive or definitive list of examples.
We have also compiled some of the cancer-related procedures and their costs
Condition/Procedure
Median Costs
Remarks
Admission for breast cancer
(Day surgery)
$1,034 - $5,665
(Private)
Private
$218 - $$668
(Subsidised)
Subsidised
Admission for Breast, Surgical Removal
$8,212 - $10,600
Ward A
$25,059 - $29,324
Private Hospital (1 Bedded)
$21,880
Private Hospital (2 Bedded)
$22,782
Private Hospital (4 Bedded)
$8,481
Ward B1
$6,037
Ward B2+
$1,794 - $4,260
Ward B2
$1,389 - $1,579
Ward C
$1,602 - $2,432
Day Surgery (subsidised)
Cancer Therapy with drugs
$730
Ward B2
$2,115
Day Surgery (Private)
$64
Day Surgery (Subsidised)
Admission for Intestine/ Stomach, Gastrointestinal Cancer
$4,356
Ward A
$6,375
Private Hospital (1 Bedded)
$3,393
Ward B1
$639 - $1,557
Ward B2
$708 - $1,837
Ward C
Admission for Liver Cancer
$4,259 - $5,264
Ward A
$3,243
Ward B1
$839 - $2,144
Ward B2
$999 - $1,519
Ward C
Surgery for removal of prostate gland due to cancer
$51,596
Private Hospital (1 Bedded)
Admission for Lung Cancer
(excludes surgical treatment)
$2,597 - $5,056
Ward A
$4,063
Ward B1
$812 - $1,987
Ward B2
$780 - $1,303
Ward C
Admission for Lung Cancer with complications
(excludes surgical treatment)
$2,056 - $3,407
Ward B2
$1,598 - $2,639
Ward C
source: www.moh.gov.sg
---
Singapore Cancer Society Factsheet
In the year 2018, the Singapore Cancer Society disbursed over $3.17 million to support 1,892 individuals financially.
About Ming Feng
A stint in
Bloomberg
gifted me with a beer belly, which only grew larger when I moved on to become a Professional Trader. Now I turn caffeine into digestible finance-related content.
You can contribute your thoughts like Ming Feng
here.