Budget 2022 Singapore Summary: 11 Key Announcements Singaporeans Need to Know
As a personal finance platform in Singapore, one of the year's most significant events is the Singapore Budget. The reason for this is simple.
The budget will have a material impact on the personal finances of everybody living in Singapore.
This year's Singapore Budget 2022 is no different as hot button issues like the rising cost of living in Singapore, a re-examination of wealth taxes, and the 2024 revised carbon tax rate will be covered.
We will be covering the key things you need to know about Singapore Budget 2022 and how it will affect Singaporeans and Singapore!
---
TL;DR: Budget 2022 Singapore Summary — Charting Our New Way Forward Together
---
Singapore Budget 2022 YAYS
Here are the positives of the Singapore Budget 2022.
1. Jobs and Business Support Package
Singapore's Minister for Finance, Lawrence Wong stated that the Government is well aware of the challenges posed by rising inflation and the cost of living.
As such, businesses will be supported with the extension of the Temporary Bridging Loan (TBL) programme for another half a year. Loans for the domestic construction sector will be extended.
In addition, the Government will be providing support for eligible Small and Medium Enterprises (SMEs) in affected sectors.
Workers will not be left out either, as the Job Growth Incentive will be extended to September 2022. This will encourage the hiring of senior and more vulnerable workers.
Enhanced Productivity Solutions Grant
Another $600 million will be set aside to enhance the Production Solution Grant and encourage increased adoption of productivity solutions by Small and Medium Enterprises (SMEs).
Alongside infrastructure improvements, an additional $200 million will be set aside over the next few years to enhance schemes that build digital capabilities in our businesses and workers.
There will also be support for business to train their employees with increased SkillsFuture Enterprise Credit.
2. $560 Million Household Support Package
For households, the Government will be introducing a new $560 million household support package for 2022 to help Singaporeans with the cost of utilities, children's education and bills.
Eligible households will be given double the Goods and Services Tax (GST) U-Save Rebates, and children (aged 20 and below) will receive top-ups to their respective education accounts.
In addition, another $100 worth of Community Development Council (CDC) vouchers will be given out to all households in 2022.
The CDCs will provide more information about the vouchers at a later date.
3. Enhanced Fresh Start Housing Scheme: Support For Lower-Income Families to Purchase Housing
The Fresh Start Housing Scheme help second-timer low-income families purchase a home of their own.
This scheme will be enhanced to better support families in their journey towards homeownership.
KidSTART is on track to support 5,000 children by 2023. The Government will scale up nationwide progressively to support even more eligible families.
4. Support For Lower Wage Workers: Extended Progressive Wage Model + Enhanced Workfare Income Supplement Scheme
MOF has also stated that:
the Progressive Wage Model will be extended to the retail, food services and waste management sectors. It will also extend to in-house cleaners, security officers, landscape workers, administrators, and drivers across all sectors.

Under the Progressive Wage Credit Scheme, the Government will co-fund the wage increases of lower-wage workers between 2022 and 2026. It will also provide some support for workers earning above $2,500 and up to $3,000, at a lower co-funding ratio.
The Workfare Income Supplement (WIS) scheme will also be enhanced from January 2023.
Workers will get higher payouts, the income cap for the scheme will be increased, and the scheme will be extended to workers aged 30 to 34:
5. GST Increase Postponed to 2023 and 2024
The GST hike from 7% to 9% has been at the back of our minds ever since it was announced back in 2018.
But fret not; the impending hike has been delayed till 2023 and will be increased progressively in two steps.
The first increase will take place from 1 Jan 2023, with GST going up from 7% to 8%.
Whereas the second increase will take place from 1 Jan 2024, with GST going up from 8% to 9%.
6. GST Support
In addition, there will be support for Singaporeans affected by the impending GST hike.
Firstly, there will be:
No increase in Government fees and charges next year (2023) when GST is increased to 8%
You will not pay GST on publicly subsidised healthcare and education
You will not pay additional GST on Service and Conservancy charges as the Government will provide a grant to Town Councils to absorb the additional GST payable
The Regular GSTV Cash payouts have been enhanced to $250 – $500 from $150 – $300 previously

The assessable income threshold for the regular GSTV-Cash has been increased from $28,000 a year to $34,000 a year. This means more Singaporeans aged 21 and above will get the GSTV-Cash
The amount you get is dependent on the annual value of your home as well.
GST Support: Enhanced $6.6 Billion Assurance Package
Secondly, the Government will enhance the $6.6 billion Assurance Package. This package will mitigate the impact of the GST hike for Singaporeans.
The support comes in the form of GST vouchers (GSTV) and Government support where:
About 2.8 million adult Singaporean aged 21 above will receive an additional $700 – $1,600 in cash payouts over the next five years (e.g. $140 ($700/5) – $320 ($1,600/5) a year)
But, the amount you get depends on your salary and your ownership of properties
There will be anywhere from $330 – $570 worth of GST-U-Save rebates given out to eligible households to help them with their utility bill over the next four years
Eligible seniors aged 55 and above will receive a special GSTV Senior's Bonus. This is a cash payout of $600 – $900 that will be distributed over the next three years
In addition, Singaporean seniors aged 55 and above, as well as Singaporean children aged 20 and below,

 will receive a

$450 MediSave top-up

over the next three years
You can find out more about the GST vouchers (GSTV) and Government support below:

Budget 2022: Nays
In contrast, here is the not so positive stuff about Budget 2022.
1. Increased Carbon Tax
Singapore aims to achieve net-zero emissions by around 2050. To get there, we will have to increase the costs of generating carbon dioxide.
Singapore has kept carbon taxes low for the longest time as businesses currently only had to pay $5 a tonne in carbon tax.
However, the carbon tax will be raised to $25 per tonne in 2024 and 2025 and $45 per tonne in 2026 and 2027, with a view to reaching $50 to $80 per tonne by 2030.
For households, the higher carbon tax will be felt mainly through an increase in utility bills.
MOF has stated that:
at $25/tonne, the increase in carbon tax would result in households in an average 4-room HDB flat paying about $4 a month more for their utility bill.
But support, in the form of additional U-Save rebates, will help cushion the impact.
2. Senior Workers Face Increase in CPF Contribution Rates + CPF BRS Amount
It is a bit of a mixed bag for senior workers as they will have to contribute more to their Central Provident Fund (CPF).
Total CPF contribution rates for seniors aged 55-70 will increase by another 1.5%-2% in 2023.
This will help with their retirement, but I foresee that some may not like this move.
On the bright side, the Government will help employers with the employer CPF contributions in 2023.
In addition, the CPF Basic Retirement Sum (BRS) for seniors turning 55 in the years 2023 to 2027 will be raised.
But more importantly, seniors will not be required to top up their CPF to meet the BRS.
If You Are Rich
If you are blessed to earn a high income and own many properties, you might have to pay more taxes in the future.
1. Personal Income Tax Rate Adjustments
With effect from Financial Year (FY) 2024, the top marginal personal income tax rate will be increased.
FYI: For FY2024, the assessable period for personal income tax is 1 Jan to 31 Dec 2023.
Rather than taxing those with chargeable income exceeding $320,000, a marginal rate of 22%, those with chargeable income exceeding $500,000 (up to $1 million) will be taxed at a marginal rate of 23%.
Those with chargeable income exceeding $1 million will be taxed at a marginal rate of 24%.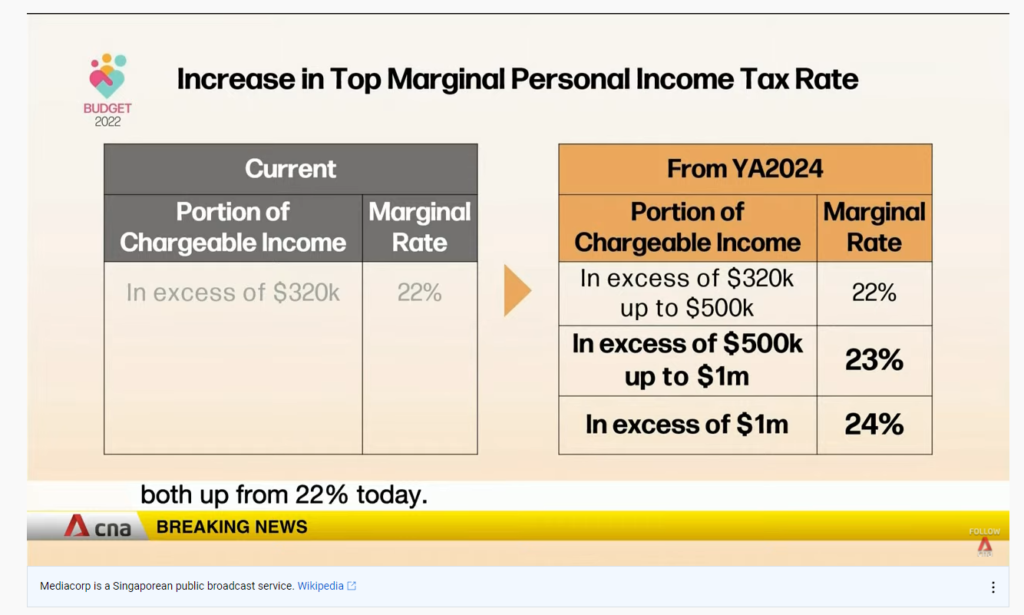 These changes to personal income tax rates are expected to affect only the top 1.2% of taxpayers and will help to generate about $170 million of additional tax revenue yearly.
2. Property Tax Rates Increase
Effective FY2024, Singapore's marginal property tax rates will see significant adjustments.
All non-owner-occupied properties (including investment properties) will have their tax rates increased from the original 10% to 20% to the new 12% to 36%, regardless of Annual Value tiers.
Additionally, owner-occupied properties will have their tax rates increased from the original 4% to 16% to the new 6% to 32%, for a portion of their annual value that exceeds $30,000.
These changes are made as the principal method of taxing wealth is through fixed assets such as properties.
3. Additional Registration Fee (ARF) Tier to Be Implemented For Luxury Cars
To make our vehicle tax system more progressive, the Govt will be introducing a new ARF tier for cars.
Cars with an Open Market Value (OMV) higher than $80,000 will be taxed at a rate of 220% in this new ARF tier.
---
Singapore Budget 2022 FAQ
Also, here are some frequently asked questions about the budget.
What Is Singapore Budget About?
I'm stating the obvious here, but you need to spend money to run a country.
Singapore's healthcare, housing, education, economy, security and sustainability all come at a cost.
This is where the Singapore Budget comes in.
Before the start of each financial year (FY), the Singapore Government will consider the country's needs to develop the annual budget.
FYI: The financial year starts on 1 Apr and concludes on 31 Mar the year after.
The annual budget can be broken down into two main components:
The revised Government revenue and expenditure for the current FY
And Government revenue and spending for the following FY.
In addition, the budget will answer questions like:
How does the Government plan its revenue and spending each year to provide services for those in Singapore?

How are finite resources allocated for national development?

Will there be more tax incentives to attract multinational companies?

Are the plans sustainable and financially viable for future generations?
What trade-offs will be made?
What is being done to ensure sustainable Government finances?
What proposed measures will there be for Budget 2022?
What is the Government's tax strategy? Will there be tax reliefs or a wealth tax?
How will the Government deal with the budget deficit incurred in the past two years or so (FY2020 and predicted deficit for FY2021) after it drew on Singapore's reserves to cushion the ill effects of the COVID-19 pandemic?
When Is the Singapore Budget 2022 Happening
So you might be wondering when these questions will be answered.
The budget will be presented by the incumbent Minister for Finance, Mr Lawrence Wong, on Friday, 18 Feb 2022, at 3.30pm.
This will also be the first time Mr Wong will be presenting the budget statement in Parliament as Singapore's Finance Minister, having taken over the role from Deputy Prime Minister Mr Heng Swee Keat back in April last year.
What Is the Singapore Budget 2022?
As mentioned above, this year's budget will cover the revised Government revenue and expenditure for FY2021 and Government revenue and spending for FY2022.
Who Makes the Law and Approves Singapore's Budget?
For the FY2022 budget, the primary entity responsible is the Ministry of Finance (MOF), Singapore, led by Mr Lawrence Wong.
The budget will then have to be approved by Singapore's Cabinet Parliament and finally the incumbent President of Singapore, i.e. Madam Halimah Yacob.
You can check out the breakdown of this whole process below:
Where Does Singapore Get Its Revenue?
Like many Governments around the world, Singapore's Government gets its revenue from taxes like:
Statutory boards' contributions
Property tax (E.g. stamp duty)
Customs, excise and carbon taxes
GST
Betting taxes
Water conservation tax.
The Government also gets revenue from fees and charges like:
Licenses and permits (e.g. environment, housing and properties, commerce etc.)
Service fees (e.g. fire and police service fees, professional services fees etc.)
Sales of goods (publications, commercial goods etc.
Rental income
Fines and forfeitures
Reimbursements.
In addition, Singapore's annual budget is supplanted by the Net Investment Returns Contribution (NIRC).
According to MOF, NIRC comprises:
The annual NIRC amount is published in each year's Government Budget.
If you are interested, you can find a full breakdown of FY2021's revenue and expenditure numbers here.
Which Ministry Has the Highest Budget?
Well enough about revenue.
You might be wondering which ministry has the highest budget.
Well, the answer is straightforward if you look at the Singapore Government's projected expenditure for FY2021.
The Ministry of Health has the highest budget as its expenditure is the highest.
What Does Singapore Spend Most On?
As mentioned above, Singapore spends the most on healthcare, with the Singapore Government allocating 18.4% of its total expenditure to healthcare:
About Joel Koh
History student turned
writer
at Seedly. Before you ask, not a teacher. I hope to help people make better financial decisions and not let money control them.
You can contribute your thoughts like Joel Koh
here.