The Seedly HDB BTO Guide: Your Ultimate Step-by-Step Guide to HDB BTO Application
Ready to take the next step into adulthood?
Short of having a wedding or trying for a kid, that probably means that you're ready to buy your first home.
More specifically, you're looking to purchase your first HDB Built-to-Order (BTO) flat.
RELAX.
Mai kan cheong (Hokkien: Don't be nervous).
Whether it's deciding which BTO project to apply for.
Or whether you should go with an HDB or bank loan to service your mortgage…
I gotchu bruv.
---
Your Personal Guide to Purchasing Your First HDB BTO
Buying your first home is a daunting task.
But with this guide in hand, you'll know exactly what you're getting yourself into.
And if you're still unsure or need advice from people who've gone through the BTO process…
You can ask the friendly SeedlyCommunity your BTO-related questions and get answers!
What Are the Upcoming HDB BTO Sales Launch 2020?
Missed the most recent HDB BTO launch?
Fret not.
Because HDB BTO projects are launched every quarter — or once every three months.
That means you can try applying for a BTO flat during February, May, August, and November of every year.
However, this might change from time to time at HDB's discretion.
Here's a look at what are the upcoming HDB BTO sales launches in 2020 and 2021.
November 2020 HDB BTO Launch
For the HDB BTO Launch in November 2020, there'll be an estimated total of 5,770 units up for grabs.
Town
Flat Type
Estimated No. of Flats
Non-Mature
Sembwawang
2-Room Flexi
3-Room
4-Room
5-Room
720
Tengah
2-Room Flexi
3-Room
4-Room
5-Room
1,570
Mature
Bishan
2-Room Flexi
3-Room
4-Room
1,500
Tampines
2-Room Flexi
4-Room
5-Room
750
Toa Payoh (Bidadari)
3-Room
4-Room
5-Room
1,230
February 2021 HDB BTO Launch
Town
Flat Type
Estimated No. of Flats
Non-Mature
Bukit Batok
2-Room Flexi
3-Room
4-Room
5-Room
960
Tengah
2-Room Flexi
3-Room
4-Room
760
Mature
Kallang/ Whampoa
2-Room Flexi
3-Room
4-Room
630
Toa Payoh (Bidadari)
3-Room
4-Room
5-Room
1,200
If you'd like to receive alerts about HDB BTO sales launches, you can subscribe to HDB's eAlert Service.
But since we're watching the HDB site like a hawk…
Trust me when I say that you'll want to bookmark this page for your future reference.
What Is the Most Recent HDB BTO Sales Launch 2020?
The next upcoming one would be the November 2020 HDB BTO Sales Launch.
Want a little more insight into which project you should apply for?
We did a little analysis to help you figure it out:
And because this is a pretty HUGE step for most Singaporeans.
Chill.
You'll usually have almost a week to decide which project you would like to apply for before submitting your application online.
It's important to note that the application is NOT on a first-come, first-served basis.
So take your time to decide which project you would like to apply for before applying!
Things to Think About Before Applying for Your First HDB BTO
Before you apply for your first BTO flat.
You might want to find out what I wished I knew before buying my first BTO.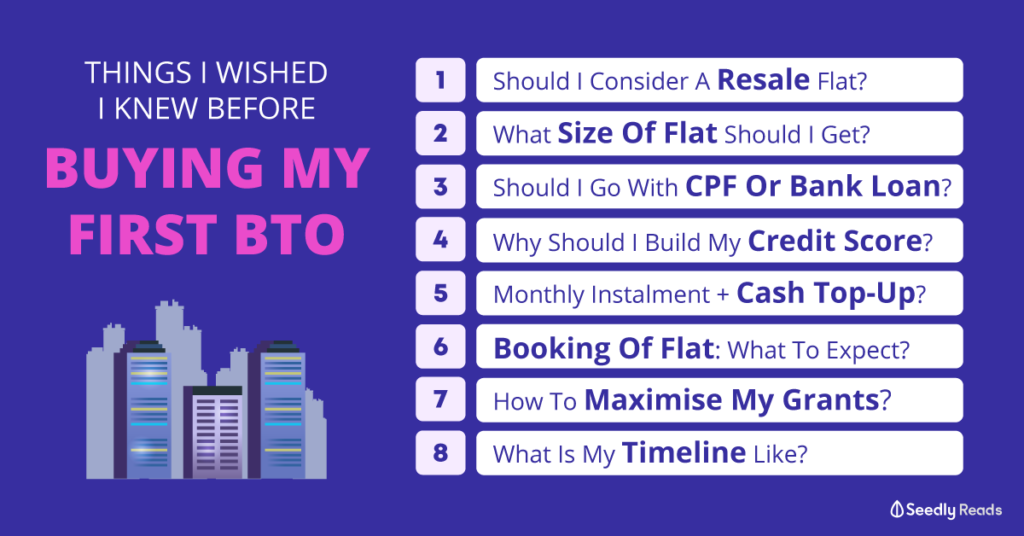 After all, it's always better to learn from someone else's mistakes than to make our own right?
Next, you'll need to consider your finances and figure out what type of HDB flat can you afford? (read: the old myth of buying the largest flat you can get is not the wisest advice to follow.)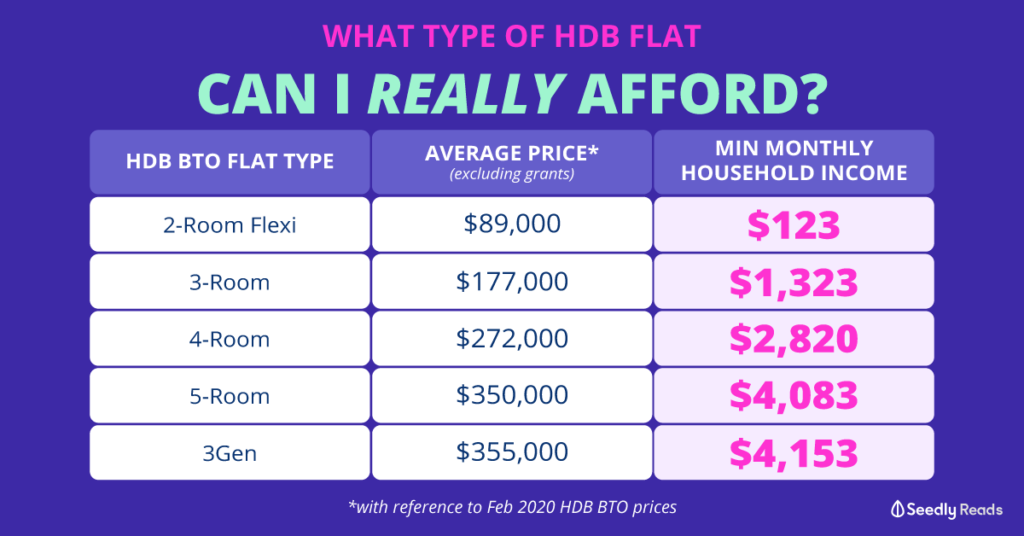 Only buy as much house as you can afford lest you find yourself in a situation where you cannot afford to pay for the roof above your head.
Finally, you'll also want to evaluate where your relationship is at.
This is particularly important because breaking up during the BTO process could potentially mean that you'll lose more than $77,000!
On top of that, you'll even lose first-timer privileges and access to grants!
So think carefully before you do the "Ai BTO mai" tango…
How To Apply For Your HDB BTO Flat
The application process is pretty simple actually.
Just follow this step-by-step guide, which includes the prices for the various flat types available!
What Is the Maximum HDB Grant That I Can Get?
If you're baulking at the listed prices, take comfort in the fact that there are various HDB housing grants like the Enhanced Housing Grant (EHG) to help keep HDB flats affordable.
Now all you have to do is wait for the computer ballot to determine if you're a successful applicant or not.
What If I'm Successful With My Application?
This is where it gets a little bit more serious.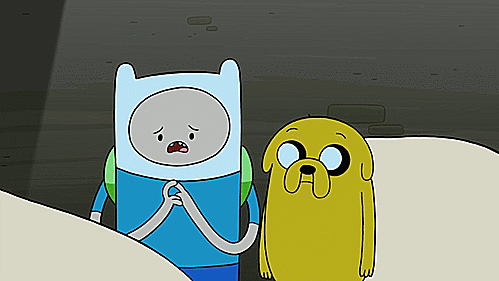 You'll need to decide on a couple of things like:
Bank Loan Vs HDB Loan, Which Is Better?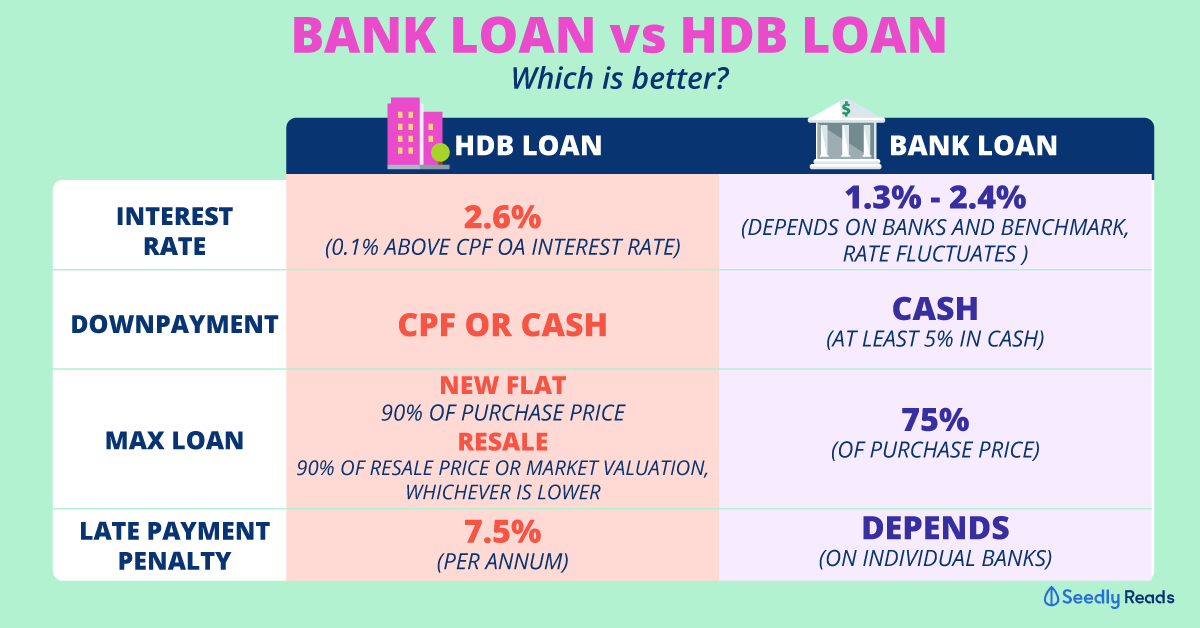 Besides the interest rates, there are plenty of other things to consider when deciding between using a bank loan or an HDB loan to pay for your new BTO flat.
Unless you can afford to pay for your new home fully in cash… erm… then you can skip this part.
If you've decided to go with a bank loan to pay for your new home, this compilation of housing and mortgage loans (fixed and floating) should come in handy.
Toldja that I gotchu bruv.
Is the HDB Optional Component Scheme Really Worth It?
Before going down to the HDB Hub for your Booking of Flat, you'll also need to decide if you want to opt-in for the HDB Optional Component Scheme.
It's essentially a cost-effective way to get your home ready with the essential finishes and fittings you'd need so you can move in immediately once you collect your keys.
What Do I Need to Do When I Collect the Keys to my HDB BTO?
Once you collect your keys, you'll want to do a defects inspection.
While you can hire people to get it done for you.
Why not try doing it yourself with this FREE step-by-step HDB BTO defects inspection checklist?
It's not that difficult and you can put that money to better use too!
About Kenneth Fong
Owner
of a 4-room HDB BTO and married to a financial clutz. Probably the closest to an adult you can find on the Seedly team.
You can contribute your thoughts like Kenneth Fong
here.