The Seedly Wedding Playbook: Your Ultimate Wedding Guide For A Sensible Wedding
Weddings.
They should be a celebration of a couple's union.
Yet in this day and age where our private lives are put on display through social media.
The unexplainable need to one-up our peers and throw a "unique" or "more Insta-worthy" wedding has led to a lengthy list of wedding expenses that have somehow become the norm.
Think gatecrashes, live singers and bands, photo booths, dessert tables, multiple wedding gown changes…
You get the picture.
There's really no point in spending all your savings on one night when you can put that money towards a roof over your heads and a comfortable retirement.
So if you need help planning and paying for a financially sensible wedding, Seedly's gotchu bruv.
---
Your Personal Guide To Planning A Financially Sensible Wedding
Here's a useful guide with price lists to help you better plan for a financially sensible wedding.
Whoever said that you can't celebrate your special day with your significant other while being prudent?
---
Cost Of Wedding
How Much Does A Wedding Cost?
Your wedding is arguably one of the biggest financial milestones in your life.
And if you're wondering how much it'll cost you…
Especially if you plan on getting married in a year, we've worked out that you'll need to save $2,300 a month in order to afford an "average" wedding.
Now that you've recovered from sticker shock, it's time to start saving early!
Alternatively, you could have your wedding in a kopitiam (Hokkien: coffeeshop) which could save you up to $32,000 (we're not joking, by the way).
In fact, there are plenty of alternative venues where you can hold your wedding.
Some of which might look nicer and are more affordable than having a banquet in a hotel.
Or you could just pay the $42 marriage fee at the Registry of Marriage for a marriage certificate and use your combined savings to buy a home and invest the rest for your retirement… #justsaying
Oh, and if you've ever entertained the thought of having an overseas wedding in a place like Bali…
We've got the costs worked out for you as well.
Saving As A Couple
Whether you choose to go with a kopitiam wedding or want to throw a banquet in a fancy hotel, it's always good to start talking about this milestone event EARLY and how you plan to pay for it.
To do this, you'll need to practice open communication and ideally share the same financial goals.
If you want an actionable plan, we've even got a couple's cheat sheet for saving together.
And since we're talking about saving together, we've also got a Savings Account Calculator which you can use to find the best high interest savings account
so you can reach your goals even faster!
Find The Best High Interest Savings Account Now!
Want to take the extra step and save an extra $120,000?
All you have to do is follow this very simple budgeting rule.
Pro-Tip For Planning Your Wedding With A Smaller Budget
Most couples would go with a wedding package when it comes to settling their wedding needs.
They're convenient to use because these are one-stop-shops where you can get your wedding gowns, florists, photographers and make-up artists, all neatly curated in a package of your choice.
However, the downside of such wedding packages is that you often lack the ability to customise the package to your liking or budget.
If your budget is lower than the package, you would have to take on extra cost just to qualify for it.
Conversely, if you would like a particular wedding gown that is not included in your package, you'd have to pay more in order to upgrade your package.
So if you're a bride-to-be with exacting standards or have a budget that's for a simple, no-frills wedding.
You might want to consider going the ala carte route instead.
This way you can hire whichever gown boutique, florist, photographer, or make-up artist (MUA) you like.
It will take a little more time as you have to search for them individually.
But if you do your homework right and talk to the right wedding vendors, you can create the wedding of your dreams with a budget that is more agreeable on the pocket.
To help you do that, the following wedding vendors listed in this wedding guide will all be ala carte options.
---
Wedding Dress And Gowns
The first thing on the minds of most brides-to-be would arguably be their wedding dress.
I mean, which girl wouldn't want to look her best on her wedding day right?
If you're planning to visit a wedding boutique to pick out wedding dresses, gowns, or evening gowns for your special day, then you're in luck.
We rounded up a couple of boutiques offering everything from ready-made, bespoke, to rental wedding dresses and managed to get their rates to help you better plan your wedding budget.
---
Wedding Florist
If you plan to have flowers at your wedding, especially fresh ones, they can really add to the cost of your wedding.
To help you plan your budget, we managed to get the wedding florist rates for some commonly asked-for wedding floral decorations like:
Bridal bouquet
Groom's boutonniere
Floral arch
Reception table centrepiece
Note: you don't necessarily have to get them all. Just pick and choose whatever's the most important to you.
---
Wedding Photography And Videography
When it comes to memories, we "can't possess reality [but] we can possess images" (Susan Sontag, On Photography).
As a means to commemorate your wedding, you'll probably want photographs to immortalise your wedding day.
If you have friends or family members who're great with cameras, then you're in luck.
If not, then you're most likely going to hire a wedding photographer or videographer.
It's not going to cheap as:
Actual Day Wedding Photography (10 hours) would cost between $1,800 to $3,000
Actual Day Wedding Videography (10 hours) would cost between $1,888 to $4,000
If you've got a strict budget to stick to, look for wedding vendors who offer a photography and videography package as they might offer discounts!
Alternatively, some photographers, florists, and MUAs are preferred partners who can also offer similar deals if you choose to use them.
Here're a couple of actual day wedding photographers and videographers, along with their rates.
---
Optional Wedding Expenses Which Are NOT A Must
If you'd like to keep your wedding simple, then the option(s) listed here aren't an absolute must.
Wedding Cakes And Dessert Tables
Don't need flowers but can't live without cakes?
Here're a couple of wedding cake and wedding dessert table options (with prices) which should be useful if you're on a tighter budget.
---
Wedding Angbao Rates
If you're aren't busy planning for your wedding, then you're probably attending weddings.
So this Definitive Guide To Wedding Ang Bao Rates In Singapore should come in handy.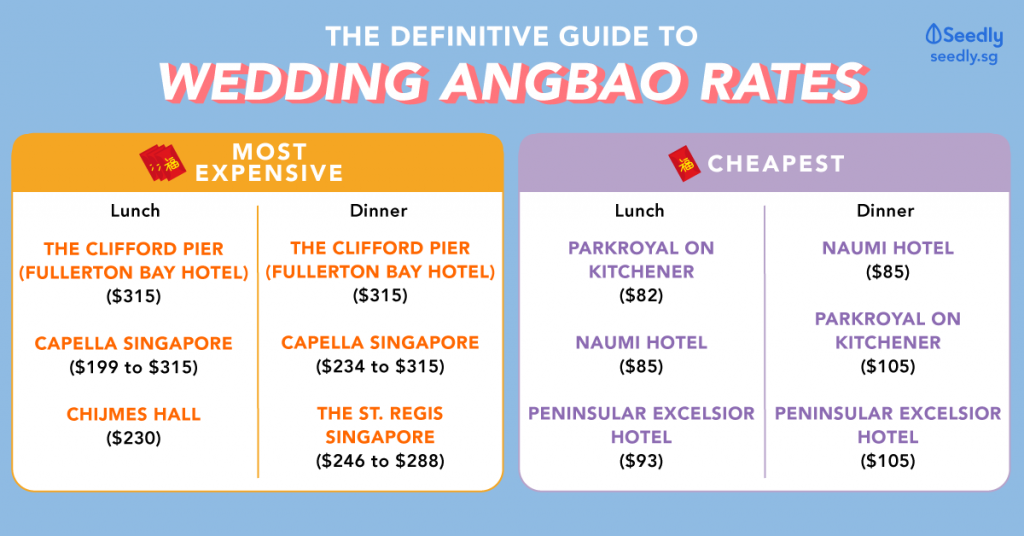 P.S. these guides are only meant as an estimate if you wish to get a ballpark estimate of how much the hotel banquet costs.
As a guest, you are obviously not compelled to pay a ridiculous sum of money just because it is the couple's choice to invite you to their matrimonial celebrations.
As the married couple to be, invite your guests without the expectation that they should help you recoup the 'loss' you're making.
Ultimately, it's a special day to celebrate the couple's union that is being shared with close friends and family.
It's NOT a competition to throw the fanciest party for one night only to be saddled with debt.
About Kenneth Fong
I threw all of my money into the longkang once... because I wanted to see my
cash flow
.
You can contribute your thoughts like Kenneth Fong
here.