All You Need To Know About Disney Plus in Singapore: Launch Date, Price, Content and More! (2021)
Just today (11 Dec 2020), Disney announced that it will be launching its Disney+ streaming service in Singapore, starting 23 February 2021.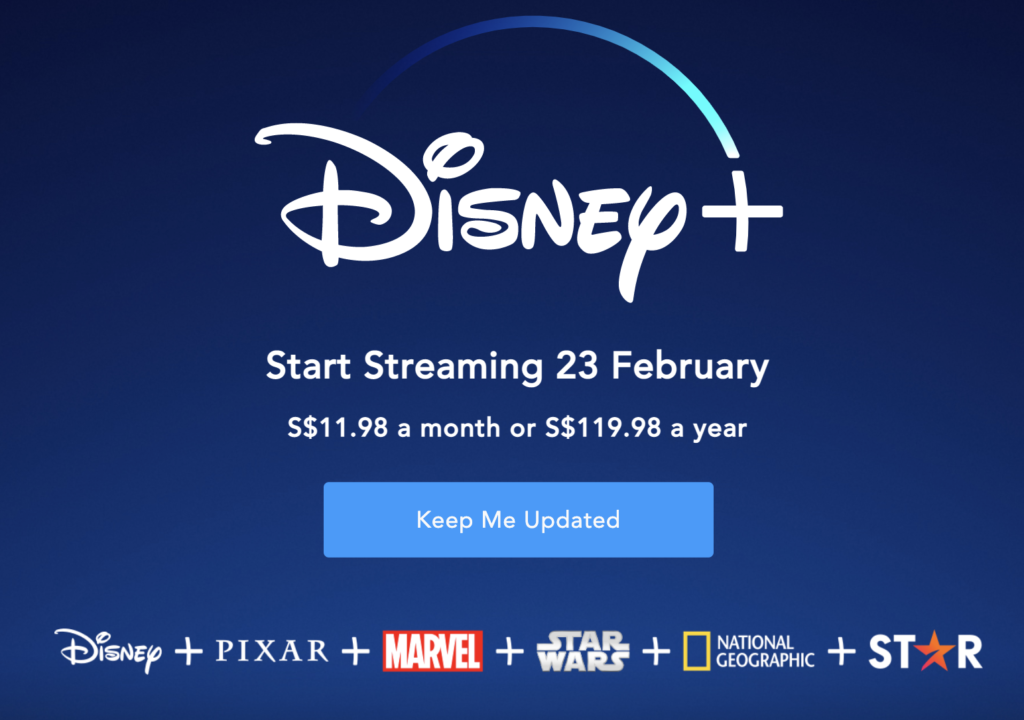 For just S$11.98 a month or S$119.98 a year (~S$10 a month), you will be able to stream over 500 movies and 15,000 episodes of content from Disney's vast content library.
Subscribers will be able to catch content from these content brands owned by the company, which include:
Disney
Pixar
Marvel
Star Wars
National Geographic.
Also included in the subscription is content from Star, Disney's international answer to Hulu.
Star which is catered to older teens and adults, will carry a number of titles from the company's other non-main franchise brands like FX and 20th Century.
This means you will be able to stream hit TV series like Atlanta, How I Met Your Mother, Family Guy and movies like Deadpool and Logan.
Excited?
Here is all you need to know about the launch of Disney+ in Singapore!
---
TL;DR: All You Need to Know About Disney Plus Singapore
Details
Disney+ Singapore
Launch Date
From 23 February 2021
Price
S$11.98 a month
S$119.98 a year (~S$10 a month)
Content Brands
Disney
Pixar
Marvel
Star Wars
National Geographic
Star
Titles
Frozen 2
Finding Dory
WandaVision (15 Jan 2021)
The Mandalorian
National Geographic Documentaries
Deadpool 1 and 2
And More...
---
What Is Disney Plus?
Disney+ (or Disney Plus) is an up and coming video streaming service, owned by gigantic media conglomerate The Walt Disney Company.
And as you've guessed it, Disney+ will be competing with other video streaming services such as Apple TV+ Amazon Prime Video, Netflix, and HBO Go. 
What Is The Disney Plus Release Date in Singapore?
As mentioned above, Disney+ will be launching in Singapore from 23 February 2021.
Disney Plus Singapore Price
To entice Singapore users onboard, Disney will charge just S$11.98 a month for the Disney+ streaming service in Singapore.
In addition, the company is offering subscribers who commit longer to a discount, as it costs just S$119.98 for a year-long subscription to Disney+ (~S$10 a month).
This is still a bit more of expensive than the Disney+'s US subscription fee of US$7(S$9.34) per month, or US$70 (S$93.44) a year if you have been using a Virtual Private Network (VPN) to subscribe to Disney+ in the US.
What Will Disney Plus Offer To Consumers in Singapore?
It goes without saying that a streaming service is nothing without its content.
Disney is going to be offering subscribers content from these six content brands:
Disney
Pixar
Marvel
Star Wars
National Geographic.
Star
Since Disney has acquired so many different companies and production houses, here's a preview of what to expect from the streaming service.
Disney Original Movies
Subscribers will be able to catch some of Disney's animated classics like The Lion King, Aladdin, Beauty and the Beast; as well as their live-action remakes.
This includes the recently released Lady And The Tramp live-action remake too.
You will also be able to catch some of Disney's more current animated hits like Big Hero 6, Frozen 2 and more.
Disney Pixar
Not forgetting the animated movies from Pixar, which includes favourites like The Incredibles 2, Finding Dory, the Toy Story franchise and more.
Marvel Studios
And of course, our favourite superheroes.
Subscribers will be able to watch Avengers: Endgame, Avengers: Infinity War, Black Panther, and the upcoming WandaVison TV series that is scheduled to debut on 15 January 2021.
Star Wars
Fans of Star Wars rejoice as you will be able to catch content like the hit series The Mandalorian, as well as a majority of the Star Wars universe's content.
National Geographic
Fans of National Geographic rejoice! Your documentaries will be included too. 
Star
Disney also has something for a more mature audience.
On Star, you will be able to stream hits like the Deadpool franchise, Logan as well as hit TV series like Atlanta, How I Met Your Mother, Family Guy and more.
But parents fret not! You can password protect titles with mature age ratings on Disney+ to prevent your children from watching content that is not suitable for them.
Other Things To Note
If you still remember High School Musical (who doesn't!) they will be on Disney+ too, together with other beloved Disney Channel series.
Programs from FOX, like The Simpsons will also be on Disney+ as well.
If you would like to know what other titles are on Disney+, CNET has a list of titles that Disney has confirmed.
Something to note here: Disney shows will not be available on other streaming services like Netflix after they are made available on Disney+.
In fact, this shouldn't come as a surprise as the more perceptive binge-watchers and investors will have noted that Disney has been holding back their releases on platforms like Netflix.
They have also cancelled Netflix Original TV series like Daredevil, Jessica Jones, Luke Cage and Iron Fist.
Disney Plus vs Amazon Prime Video vs Netflix vs Apple TV+ vs HBO Go Price Singapore
In terms of price, Disney+ is middle of the road in terms of competitiveness.
Disney+
Amazon Prime Video Cost
Apple TV+
Netflix Sinagpore
HBO GO
Monthly Subscription Fee (SGD)
$11.98
$2.99 (promo rate)

$6.98
Netflix Basic: $11.98
Netflix Standard: $15.98
Netflix Premium: $19.98
$13.98
Yearly Subsciption Fee (SGD)
$119.98 (~$10 monthly)
—
Disney+ loses out to Amazon and Apple's streaming services as both companies are still heavily subsidising their streaming services in a bid to gain more market share.
Not to mention Amazon's Prime video subscription gives you access to Amazon's Prime service as well.
But compared to HBO GO and Netflix, Disney+ is still quite competitive as it is priced the same as Netflix's streaming service and is slightly cheaper than HBO GO.
For a more thorough comparison, you might want to check out our piece comparing some of the best streaming services in Singapore.
How to Subscribe to Disney Plus Singapore
Disney+ will be released in Singapore starting from 23 February 2021.
If you will like to stay updated on the launch, you can head over to Disney's website and register your interest.
Closing Thoughts
"For decades, the Disney Group has been entertaining the world with long-lasting valuable content. Disney+ platform is being built on that foundation, one that no other content or technology company can rival." (Ahem, Netflix?)  — Bob Iger, Chairman and CEO
It appears that the streaming wars are well and truly starting in Singapore.
Sadly, it seems like Cable TV all over again.