Best Credit Cards for Public Transport (2023)
Xue Miao
●
I remember owning my first EZ-link card.
(It was something like that, just 50% less cute.)
As a kid unaware of the world of credit cards, holding this card felt so powerful.
With so many ways to choose from, I decided to look for the method that can maximise my public transport spending.
When I was using my trusty EZ-link card, I was always happily redeeming curry puffs from my EZ-link app.
I've since switched to credit cards as my go-to card to keep my wallet lean and to also reap some credit card benefits.
---
TL;DR: Best Credit Cards For Public Transport in 2023
Click here to jump:
Disclaimer: The various credit cards all come with their respective terms and conditions. So please read through them before deciding which credit card to get!
---
SimplyGo VS EZ-Link
Besides the regular good ol' EZ-link top-ups that we have been doing at the General Ticketing Machines, we now have the cashless option of SimplyGo.
SimplyGo is an account-based ticketing platform that enables commuters to top up on the go and view fares at their convenience.
Besides getting a SimplyGo EZ-Link card, charm, or wearable, you will be delighted to know that modern-day credit cards offer card benefits for public transport rides that are billed SimplyGo.
You can use contactless bank cards as your travel card on public transport!
And by bank cards, I meant a MasterCard or Visa credit card. With these cards being stored on your smartphone, you can even leave the physical cards at home.
By using SimplyGo, you can avoid having not enough balance on your EZ-Link card as this function charges your transport fares straight to your debit or credit card.
You can also earn cashback or air miles when you use your credit cards.
If you're still wondering what the differences between traditional EZ-Link card and SimplyGo are, here's a summary for you:
Ticketing Method
EZ-Link
SimplyGo
What Is It?
The usual EZ-Link card used on buses and MRTs
1) A service where you can link your debit/credit card with the SimplyGo app, and pay for your transport with your credit/debit card

You can earn credit card rewards such as cashback and miles along the way

2) Buy a SimplyGo EZ-Link card (formerly known as Account-based EZ-Link cards)
Cost
EZ-Link card: $10 ($5 non-refundable deposit per card)

EZ-Link charm: Varies
NIL
Rewards
1 point per 10 cents spent via EZ-Link

Varies, depending on the credit or debit card used
Has Auto Top-up?
Yes, need to be linked to an account-based card
Yes, need to be linked to an account-based card
Do note with the exception of Citibank and OCBC, all banks award points for SimplyGo transactions. All SimplyGo transactions have a merchant code MCC 4111: Transportation – Suburban and Local Commuter Passenger, including Ferries.
Is It More Expensive To Use a Credit Card SimplyGo For MRT or Bus?
Contrary to what most people think, the MRT or bus fare is the same when you're using a credit card with SimplyGo for public transport!
Unless you have a missing entry (i.e. "Missing Entry" or "Missing Exit"), you'll be charged a flat rate of $2.10 for MRT, and in the case of buses, you'll be charged either from the point of entry to the end of the bus route or from the first stop of the bus route to the point of exit.
---
Best Cashback Credit Cards For Bus or MRT
The thing about cashback is that there is an earned rate for spending and often, a minimum spend to meet in order to get an effective cashback yield.
So, to help those who're looking to maximise your cashback earned rate and spend minimally $100 per month on public transport, these cards are for you.
Citi SMRT Card
The Citi SMRT Card offers a base rate of 0.3% on qualifying retail spend and a bonus rate of up to 4.7% on a monthly qualifying retail spend of $500 and above.
Citi SMRT Card
Base Rate
Bonus rate
on monthly qualifying retail
spend ≥S$500
Total Earned Rate
Groceries
0.3%
4.7%
5%
Online (excludes mobile wallet & travel-related transactions)
0.3%
4.7%
5%
SimplyGo transactions
0.3%
4.7%
5%
Taxis (including private-hire rides)
0.3%
4.7%
5%
Other qualifying retail spend
0.3%
NIL
0.3%
Do note that if you spend less than $500 per statement month, you will earn the base rate of 0.3% only.
The bonus rate of 4.7% is also only awarded based on the following Merchant Category Code (MCC) and transaction description, where applicable:
Categories
Merchant Category Code (MCC)
Transaction Description
Groceries
MCC 5411
Not required
Qualifying Online Spend (excludes mobile wallet and
travel-related transactions)
Not applicable. Awarded based on the online indicator.
SimplyGo
MCC 4111
BUS/MRT
Taxis
MCC 4121
Taxis including private hirer operators such as Gojek and Gojek
(Grab ride transactions paid via GrabPay Wallet linked to the Citi SMRT Card are not eligible for bonus SMRT$. For the avoidance of doubt, GrabPay and any other mobile top-ups are also excluded from earning the Bonus rate)
Similarly, the following merchants are not considered Qualifying Online Spend and will not be awarded the 4.7% Bonus rate:
IPAYMY
CARDUP
YOUTRIP
EZ-LINK
EZL AUTO TOPUP
DBS Live Fresh Card
The DBS Live Fresh Card offers an attractive cashback of up to 10% for online and Visa contactless spending, which includes SimplyGo transactions.
It can also be paired with the DBS Multiplier Account to earn higher interest rates!
Do note that this card has a minimum spend of $600, and cashback you can earn from using SimplyGo is capped at $15 ($7.50 each on Sustainable and Contactless category) per calendar month.
This includes the Visa contactless spend category, which is where your cashback will be from your public transport rides.
OCBC Frank Card
OCBC Frank Credit Card offers up to 8% cashback when you pay with a smartphone or watch (i.e. mobile contactless) and an additional 2% cashback at SimplyGo!
This brings us to a total of up to 10% cashback when taking public transport.
There's a catch though. The minimum spend is $800 to earn the maximum cashback capped at $100 monthly.
UOB EVOL Card

UOB EVOL Card is an ideal starter credit card for the outgoing working adult, with little to no financial commitment.
A key feature it has is the 8% cashback for in-person mobile contactless transactions, aka SimplyGo.
A minimum spend of $600 is required per calendar month to enjoy an accelerated cashback earning rate, but this is relatively manageable considering our cost of living.
Do note that cashback is capped at $60 per statement month ($20 online, $20 on mobile contactless spending, and $20 on another spending).
UOB One Card
The UOB One Card is another popular card given how it is usually paired with the UOB One account.
With a minimum of five transactions per statement month for a qualifying quarter (up to 3.33% cashback), you can earn up to 15% cashback depending on your monthly spending.
Minimum spend of $500/$1,000 per month: Up to 5% + additional 6.67% for new cardmembers from 1 Oct 2022 to 30 Jun 2023
Minimum spend of $2,000 per month: Up to 6.67% + additional 5.0% for new cardmembers from 1 Oct 2022 to 30 Jun 2023
This card is also perfect for those who love to take their Grab rides since there is an additional 6.67% cashback on Grab.
The UOB One account has a couple of different categories to hit for different interest rates, so in case you're confused, we've broken it down for you as well!
---
Best Miles Cards For Public Transport
Mile chasers, while public transport might not be the best way to clock miles, it is nonetheless a good way to accumulate!
DBS Altitude Visa Signature Card
The DBS Altitude Visa Signature Card is one of the few cards that allow you to earn miles for SimplyGo transactions.
A fuss-free card to own, this card earns 1.2 miles per $1 spent.
It's a good entry-level card for general spending for anyone into collecting miles!
Standard Chartered Smart Credit Card
The Standard Chartered Smart Credit Card system is kinda confusing for most users as it can be considered both a cashback or miles card.
Essentially, you're getting 1.6 360° Rewards Points per $1 spent, which entitles you to redeem both types of rewards, based on certain criteria.
When a transaction in SGD is made with a Qualifying Merchant, the cardholder's earn rate of the 360° Reward Points consists of:
1.6 base 360° Reward Points per $1 (or 0.5% cashback)
17.6 bonus 360° Reward Points per $1 (or 5.5% cashback)
For the mile chasers, you can get up to a whopping 7.7 mpd (or 19.2 360° Reward Points per $1) on fast food, streaming subscriptions, and public transport (SimplyGO). This is definitely the miles card for your commuting.
But, to get this 7.7 mile per dollar, you'll need to own a Standard Chartered X Card or Standard Chartered Visa Infinite Card as a complementary card.
If not, you'll only be able to redeem your 360° Reward Points as cashback at the minimum rate of 3,200 360° Reward Points = $10 cashback (or 6% cashback in total), which is still, not that bad.
Another benefit is that there is also no minimum spend required, and there is a spending cap of $818 per statement month to earn rewards points.
Do note that the list of qualifying merchants which you can earn rewards points from is rather limited:
McDonald's
KFC
Subway
Burger King
Ya Kun Kaya Toast
Toast Box
Fun Toast
BUS/MRT via SimplyGo
Netflix
Spotify
YouTube
Disney+ in Singapore
UOB KrisFlyer Credit Card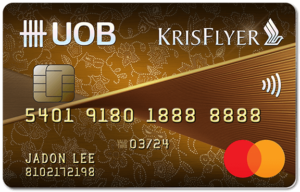 The UOB KrisFlyer credit card offers up to 3 miles per $1 spent.
However, this is with a minimum of $800 spend on Singapore Airlines, Scoot, and KrisShop per year.
Otherwise, this card earns 1.2 miles per $1 spent. You can do the following to earn miles:
Dining includes eating places, restaurants, bars, and fast food restaurants.
Online food delivery includes GrabFood, Foodpanda, and Honestbee.
Online shopping includes card transactions made at fashion websites that sell clothes, shoes, jewelry, accessories, and bags as their main business.
Online travel card transactions include card transactions made at Agoda, Airbnb, Booking.com, Expedia, Hotels.com, Kaligo, Traveloka, Trip.com, and UOB Travel
Transport includes local public buses, trains, taxis, Grab, and other ride-hailing app payments.
Do make sure your transport card transactions fall within the following MCC:
Category
Merchant Category Codes (MCC) or transaction descriptions
Local public buses and
trains
BUS/MRT
Taxis and ride-hailing
4121
UOB Lady's Card or UOB Solitaire Card
A popular card for the ladies, the UOB Lady's Card offers a wonderful rate of 4 miles per $1 spent (20 miles per $5 spent) for SimplyGo rides.
Just make sure you've selected the Transport Category for your spending.
Also, note that the bonus spending cap per calendar month is $1,000! But I doubt anyone would spend $1,000 on public transport.
The UOB Solitaire Card offers the same rates but has a $120,000 minimum income requirement.
This is a good card to consider for the ladies who are looking to own a card with benefits catered to females, such as having customisable categories to earn upsized rewards.
UOB PRVI Miles Visa Card
There was a period of time when the UOB PRVI Miles Visa Card offered a promotional rate of 4.4 miles per $1 spent!
While the promotion has ended, this card still offers 1.4 miles per $1 spent on your SimplyGo rides, making it still a good card to use for public transport.
Do note that this is only valid for UOB PRVI Miles Mastercard and Visa card, and does not apply to American Express cards.
---
How To Fully Skip Physical Cards: Link It To Your E-Wallet
If you're someone who would want to flatten your wallet even further, you can consider linking these cards to your e-wallets instead!
Some popular e-wallets (or rather online payment systems) would include Apple Pay and Google Pay.
One can simply use their mobile phone or even smartwatch to tap in and out seamlessly on public transport now!
And if you're now getting confused by the range of credit cards that are available, why not hop over to SeedlyReviews to help you with your process?
Related Articles:
About Xue Miao
A
millennial
who is learning to adult. She doesn't believe in the rat race and hopes to live on a farm someday.
You can contribute your thoughts like Xue Miao
here.